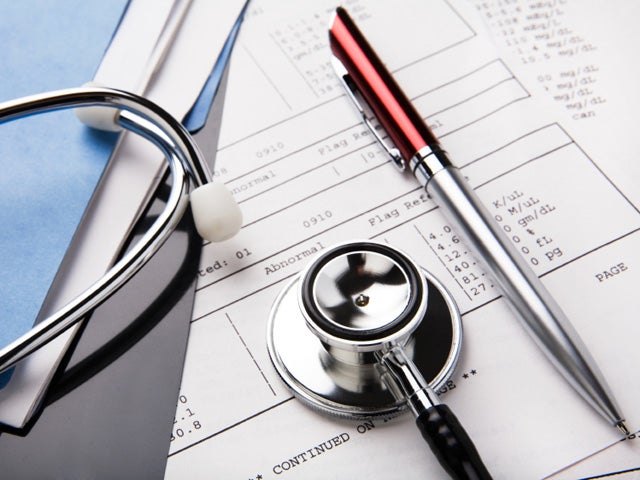 Diagnostic errors put millions of patients at risk, report says
When Lisa Morrise gave birth to her youngest daughter Kirsten, doctors told her the baby was experiencing serious respiratory problems but they weren't sure why.
"She just wasn't getting enough oxygen," Morrise told CBS News. "She had a purple and bluish tinge to her color."
Morrise later learned that Kirsten was born with Pierre Robin Sequence, a rare set of abnormalities affecting the head and face, consisting of a small lower jaw, a tongue placed further back than normal, and cleft palate which obstructs breathing and swallowing. The condition affects an estimated one in every 8,500 to 20,000 babies and requires immediate resuscitation at birth.
But since Kirsten's condition wasn't immediately diagnosed, she did not get the treatment she needed.
Once doctors determined she was breathing, they sent her to the normal nursery, but two hours later a nurse noticed Kirsten was still under distress and rushed her to the NICU. There, she was diagnosed and treated correctly, but Morrise believes that the two hours in which Kirsten did not have sufficient oxygen was a factor in her developing mild cerebral palsy.
Kirsten's story is just one of many who have suffered as a result of a diagnostic error. Such inaccurate or delayed diagnoses are far from uncommon and urgently need to be addressed by the medical community, according to a new report released today by the Institute of Medicine of the National Academies of Sciences, Engineering, and Medicine.
In fact, most people will experience at least one diagnostic error -- an inaccurate or delayed diagnosis -- in their lifetime, sometimes with devastating consequences, the authors report. The paper is a continuation of the Institute of Medicine's Quality Chasm Series.
The committee that wrote the study found that data on diagnostic errors are sparse, there are few measures to accurately track them and most errors are found only in retrospect.
"Despite the pervasiveness of diagnostic error and the risk for patient harm, they have been largely unappreciated within the quality safety movement in health care and this cannot and must not continue," Dr. Victor Dzau, the president of the National Academy of Medicine, said in a press conference this morning.
"The time has come to address diagnostic errors," Dr. Mark Graber, founder and president of the Society to Improve Diagnosis in Medicine, told CBS News. His organization petitioned the IOM to undertake an investigation of diagnostic errors. "Diagnostic errors are nothing new, they've been happening all along and this report emphasizes how significant they are," he said
The report identified several common causes for diagnostic errors, including:
Inadequate collaboration and communication among clinicians, patients, and their families
Limited feedback to doctors about the accuracy of diagnoses
A culture that discourages transparency and disclosure of diagnostic errors, which impedes attempts to learn and improve in the medical community
As health care continues to grow more complex, experts say the problem of diagnostic errors will likely worsen unless steps are taken to address it.
The committee makes several recommendations, but admits it's a complicated problem to solve. "Diagnosis is a collective effort that often involves a team of health care professionals -- from primary care physicians, to nurses, to pathologists and radiologists," Dr. John R. Ball, committee chair and executive vice president emeritus of the American College of Physicians, said in a statement. "The stereotype of a single physician contemplating a patient case and discerning a diagnosis is not always accurate, and a diagnostic error is not always due to human error. Therefore, to make the changes necessary to reduce diagnostic errors in our health care system, we have to look more broadly at improving the entire process of how a diagnosis made."
The committee first calls for patients and their families to be more involved in the diagnostic process. To help them do so, they say doctors and health care organizations should provide patients with greater opportunities to learn about diagnosis. They should also get improved access to electronic health records, including clinical notes and test results.
The report says it's important to create an environment where patients and their family can share feedback and concerns about possible diagnostic errors.
Currently, most health care organizations do not have systems in place to identify diagnostic errors, and the culture of many of these organizations discourages such identification, the authors say.
They recommend reforms to the medical liability system, to help encourage transparency and disclosure of diagnostic errors in an effort to learn from them and prevent them from happening again. Currently, fear of lawsuits often has the effect of discouraging doctors or health care organizations from admitting problems to patients.
In Morrise's case, she never received confirmation from the hospital that Kirsten's delayed diagnosis was the cause of further health problems. But years later, she learned from the nurses who had cared for her daughter that after the incident, yearly training was implemented in identifying the signs of Pierre Robin Sequence and how to administer appropriate treatment.
"That was difficult for me to process because I realized in that moment that the hospital had known that they had made a mistake, and what took years for me to figure out what the impact had been, they had known and never said anything," Morrise said.
Kirsten, now 22 and a student at Utah State studying social work, has undergone a total of 44 surgeries and spent a large part of her life with a tracheotomy tube. After three major procedures, she can now breathe fairly well.
Both she and her mother have become patient advocates, giving regular talks on the subject and working with local hospitals to provide the patients' perspective on improving care.
The authors of the report also highlight the importance of medical education reform in preventing diagnostic errors. They call for changes to the curriculum emphasizing clinical reasoning, teamwork, communication and diagnostic testing. Additionally, they say it's important to improve health information technology and support for both health care professionals and patients.
"In the end improving the diagnostic process is not only possible, but it does represent a moral professional public health imperative," Ball said. "Achieving the goal will require a significant re-envisioning of the diagnostic process and widespread commitment to change."
Thanks for reading CBS NEWS.
Create your free account or log in
for more features.