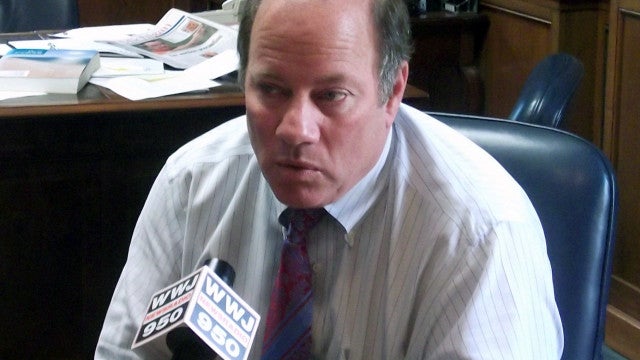 Detroit mayor sees dead mouse, cold students during tour of schools
DETROIT -- Detroit Mayor Mike Duggan says he saw a dead mouse, cold children wearing coats in classrooms and a warped gym floor during a morning tour of some of the city's public schools.
Duggan toured the buildings on Tuesday. He says the condition of Detroit's schools is a "mixed bag" with some buildings in good shape. But he says teachers who have complained about mold, rodents and other workplace issues have legitimate concerns.
Two dozen schools were closed Tuesday due to a sick-out by teachers, CBS affiliate WWJ reported. The district didn't immediately know how many students were forced to stay home. The district serves about 46,000 students in 100 schools.
Duggan visited the schools with city inspectors. The mayor doesn't control the school system but says he can order building improvements. He's promising a plan by Wednesday.
The Detroit Federation of Teachers is not part of the sick-out, which teachers have undertaken to protest pay and large class sizes, among other things. But union officials complained Monday about conditions in the schools after about half of them had to close because of a wave of teacher absences described by an activist as "rolling strikes."
"This is why those sick-outs happened," the union's interim president, Ivy Bailey, told reporters while displaying photographs of mold in schools.
More than half of Detroit's 100 public schools were closed Monday, idling thousands of kids.
Unlike some mayors, Duggan has no control over the schools. Detroit's debt-ridden district of 46,000 students has been under state oversight for nearly seven years. The district is run by an emergency manager appointed by Republican Gov. Rick Snyder.
But the city can inspect the school buildings to make sure they comply with city codes.
"Based on what we find, the city of Detroit will take whatever enforcement action is necessary to make sure all Detroit public schools are compliant with all health and building codes," Duggan said in a written statement.
Duggan said he understands the teachers' frustrations but urged them to return to work. He also urged state officials "to move quickly to address these pressing educational problems."
A teacher and former union president, Steve Conn, said the shutdowns were "great." Conn had warned the district Sunday that parents needed to be notified about the "rolling strikes."
Snyder has called for the state to commit $715 million over a decade to address the district's $500 million debt and relaunch the district under a new name. The plan includes a reorganization that could lead to closing independent, publicly funded charter schools, where more than half of Detroit students are enrolled. However, Snyder's plan has yet to receive support in the Legislature - including from fellow Republicans.
Teachers are upset over class sizes, pay, the condition of buildings and a plan by Gov. Rick Snyder to deal with millions of debt by creating a new district.
At a rally Monday, teacher Theresa Williams held a sign that said, "I have 39 first-graders in my classroom."
WWJ reports that DPS Emergency Manager Darnell Earley said it's clear that teachers are feeling frustrated over the challenges they face, but he stressed that sickouts are not the way to get the support needed to address the issue. He called the sick days "misguided."
Thanks for reading CBS NEWS.
Create your free account or log in
for more features.