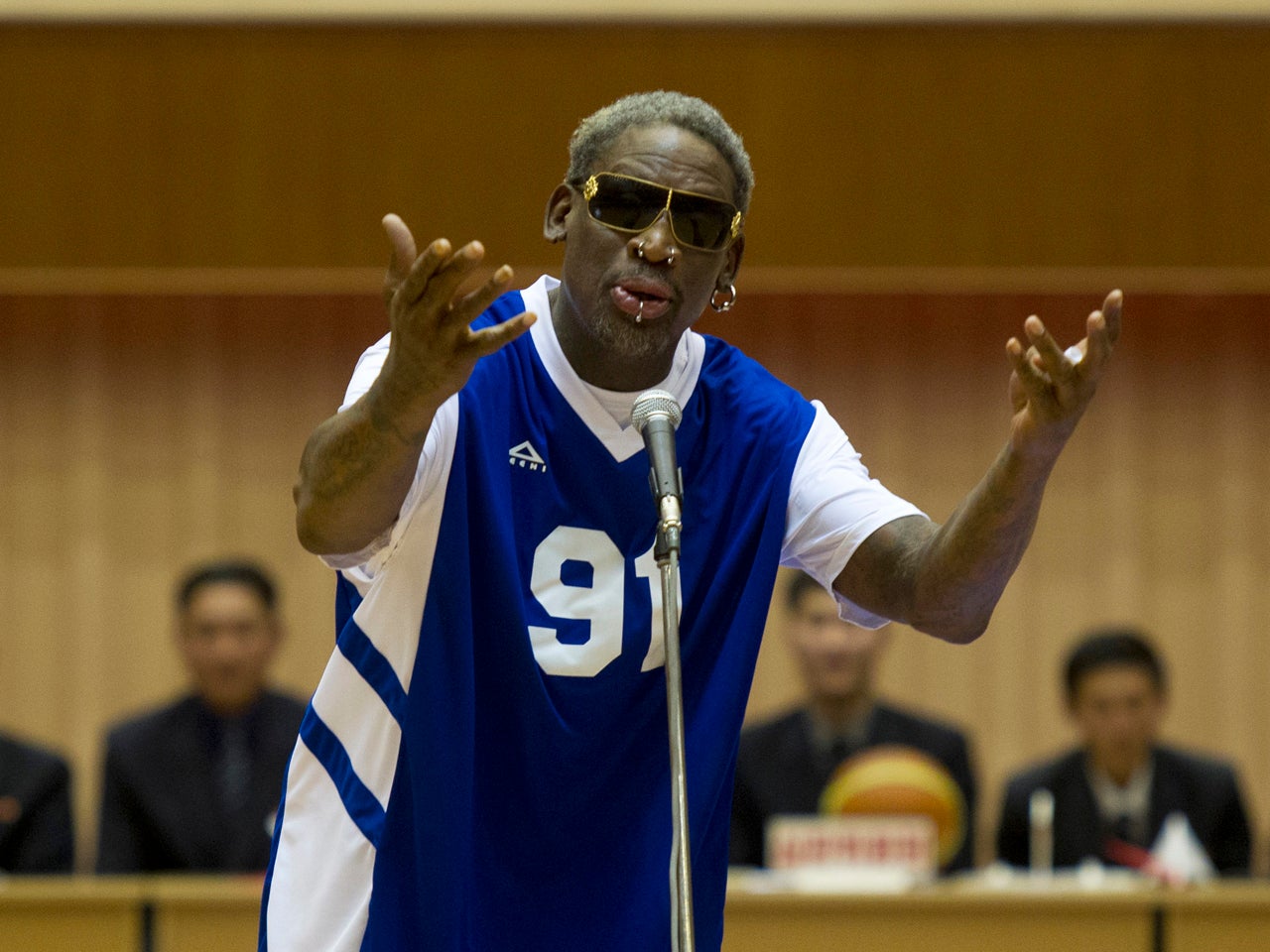 Dennis Rodman sings "Happy Birthday" to North Korean leader
PYONGYANG, North Korea -- Dennis Rodman sang "Happy Birthday" to North Korean leader Kim Jong Un before leading a squad of former NBA stars onto the court Wednesday at a Pyongyang stadium for a game Rodman said is part of his "basketball diplomacy" with the North – which has been heavily criticized in the United States.
In particular, Rodman has been slammed for not using his influence with Kim to help free Kenneth Bae, a Korean-American missionary in poor health who is being confined in the North for "anti-state" crimes.
Rodman raised an outcry at home when, in a television interview on Tuesday, he appeared to suggest that Bae was to blame for his captivity.
Rodman dedicated the game to his "best friend" Kim who, along with his wife and other senior officials and their wives, watched from a special seating area. The capacity crowd of about 14,000 at the Pyongyang Indoor Stadium clapped loudly as Rodman sang a verse from the birthday song.
Along with Rodman, the former NBA players included ex-All Stars Kenny Anderson, Cliff Robinson and Vin Baker. Also on the roster were Craig Hodges, Doug Christie, Charles D. Smith and four streetballers.
Rodman said he was honored to be able to play the game in the North Korean capital, and called the event "historic."
To keep it friendly, the Americans played against the North Koreans in the first half, but split up and merged teams for the second half.
The game is a new milestone in Rodman's unusual relationship with Kim, who rarely meets with foreigners and remains a mystery to much of the outside world.
This was Rodman's fourth trip to Pyongyang. On previous visits, he spent time dining as a guest of Kim, with whom he says he has a genuine friendship, though he did not meet Kim on his third trip.
The visit come weeks after the execution of Kim's uncle, Jang Song Thaek, who until then was one of the most powerful figures. South Korean President Park Geun-hye has described events in North Korea as a "reign of terror."
Kim, who inherited power after the death of his father in late 2011, is believed to be in his early thirties, but his age has not been officially confirmed. Until recently, his birthday was also not widely known - though it was quietly observed elsewhere around the capital Wednesday.
Members of Rodman's team, who average in their late 40s, said they came because they believed the game would be a good opportunity to create a human connection with the people of the isolated country.
But some said they have been concerned by the negative reaction they have seen from the media and critics back home.
"This was a test of faith. We stepped out into the unknown," said former New York Knicks player Charles D. Smith, who has played similar games in other countries and has acted as the team's articulate spokesman to balance Rodman's famously outspoken character.
Smith said he was gratified to see the North Korean crowd enjoy the game, but he added that he had mixed emotions about the two-hour event.
"Emotionally, I don't know what to feel," he told The Associated Press afterward. "I'm indifferent. I'm not totally overjoyed."
Smith said he and the other players did not join Rodman in singing the birthday song.
"We always tell Dennis that he can't sing. He is tone deaf," Smith said. "He did it alone."
Rodman is the highest-profile American to meet Kim. He has carefully avoided getting involved in overtly political activities, saying that he is not a statesman and instead is seeking only to build cultural connections with the North through basketball that may help improve relations between Pyongyang and Washington.
That hasn't stopped many in the United States - including members of Congress, the NBA and human rights groups - from calling his visits to North Korea ill-advised and naive.
During an expletive-ridden interview with CNN about his trip, Rodman seemed to say Kenneth Bae, held in North Korea since November 2012 and convicted in May on charges of crimes against the state, was responsible for his situation.
"If you understand what Kenneth Bae did ... Do you understand what he did in this country? Why is he held captive in this country?" Rodman said, declining to respond to questions to clarify what he meant.
Bae's sister, Terri Chung, said her family was "outraged" by his comments and he could "do a lot of good" by using his access to the North Korea leader to advocate on Bae's behalf, rather than "hurl outrageous accusations" at her brother.
"He is playing games with my brother's life," Chung said in a statement. "There is no diplomacy, only games, and at my brother's expense."
"He is clearly uninformed about Kenneth's case, and he is certainly not in any position to pass judgment," Chung said, adding that Bae never had hostile intentions against the state.
Asked about Rodman's comments, White House spokesman Jay Carney told reporters, "I'm not going to dignify that outburst with a response," emphasizing that the trip was private travel that was not endorsed by the U.S. government.
"I'm simply going to say that we remain gravely concerned about Kenneth Bae's health, and continue to urge DPRK authorities to grant his amnesty and immediate release on humanitarian grounds," Carney said.
Bae, 45, was sentenced to 15 years of hard labor for state subversion in North Korea. He was detained in 2012 as he led a tour group through the northern region of the country. The country's Supreme Court said he used his tourism business to form groups aimed at overthrowing the government.
Following a visit to her son in October, Bae's mother, Myunghee Bae, said her son was "alone and ailing."
A devout Christian, Bae has acknowledged he conducted religious services in North Korea, which has long been hostile to Westerners advocating religious causes.
U.S. Representative Eliot Engel, the leading Democrat on the House Foreign Affairs Committee, criticized Rodman and the other Americans for what he called an "ill-advised" trip.
"As North Korean dictator Kim Jong Un continues to starve and oppress his citizens, it is unthinkable that a few fading celebrities would use such an opportunity to reward his brutal regime," he said.
Rodman has faced both ridicule and harsh criticism for his trips to North Korea, which some U.S. politicians and activists view as serving only as fodder for North Korean propaganda.
But he defended his visit, saying it would help "open the door" and was a "great idea for the world."
"It's amazing how we thrive on negativity. Does anyone know this guy's only 31 years old?" he said of Kim, whom he calls his friend.
"Dennis, he could be 31, he could be 51," said CNN interviewer Chris Cuomo. "He's just killed his uncle. He's holding an American hostage."
Thanks for reading CBS NEWS.
Create your free account or log in
for more features.