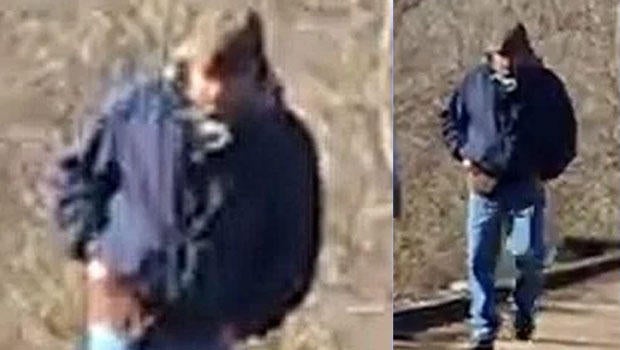 Man seen in photos now deemed "main suspect" in Indiana girls' deaths
DELPHI, Ind. -- A man photographed walking along a northern Indiana trail system around the time two teenage girls later found slain were dropped off by a relative is now considered "the main suspect" in their killings, State Police said Sunday.
The unidentified man previously had been considered a person authorities wanted to speak to in their investigation of the killings of 14-year-old Liberty German and 13-year-old Abigail Williams.
"He's not just someone we want to talk to; we consider him a suspect in these murders," Sgt. Tony Slocum said Sunday. "We're officially calling him a suspect versus a subject we're looking to speak to. He's going to be our main suspect at this time," he said.
The man in the photo released by investigators was seen on Delphi Historic Trails on Monday, around the same time the teens were seen walking, reports CBS affiliate WTTV.
The girls' bodies were found Tuesday about a quarter-mile from an abandoned railroad bridge that's part of a trail system where the teens had planned to go hiking on during a day off school in Delphi, a community of about 3,000 people some 60 miles northwest of Indianapolis.
Their deaths have been ruled a double-homicide, but authorities have not disclosed how the girls died.
Slocum said the fact that the man hasn't contacted authorities in the days since two photos of him were released is just a tiny part of what led them to describe him as a suspect.
"That doesn't make him a suspect by not contacting us. It's the totality of the evidence we've been developing so far that leads us to that," he said.
Slocum is urging the public to call police with tips about the man. Police on Wednesday released two photos of the man walking Monday along the city of Delphi's trail system around the time the girls were dropped off.
On Saturday, a large crowd filled Delphi Community High School for a memorial honoring the two girls. A line of mourners wrapped around the school as people waited to enter the building.
Private funeral services were scheduled for Sunday for the teens.
Anyone who knows about the pictured man or has any information is asked to call the Carroll County Sheriff's Department at 765-564-2413, the Delphi Police Department at 765-564-2345 or the Indiana State Police at 765-567-2125. Callers can remain anonymous.
Thanks for reading CBS NEWS.
Create your free account or log in
for more features.