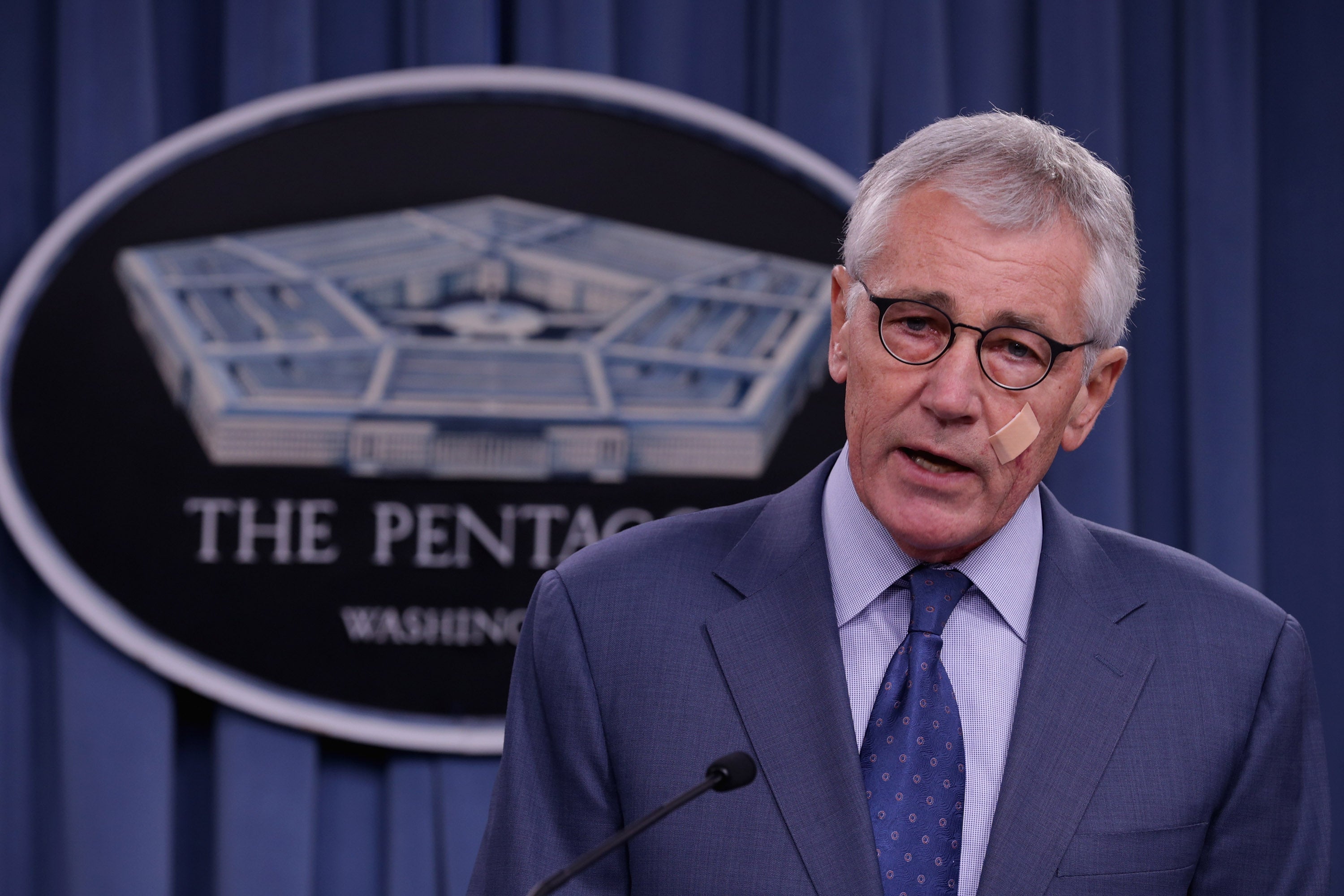 Defense Secretary Chuck Hagel resigning
After less than two years at the helm of the Pentagon, Defense Secretary Chuck Hagel is resigning.
Hagel approached President Obama last month about stepping down, Mr. Obama announced Monday from the State Dining Room of the White House, with Hagel and Vice President Joe Biden by his side.
"Chuck Hagel has been an extraordinary Secretary of Defense," Mr. Obama said. "As the first enlisted combat veteran to serve in that position, he understands our men and women in uniform like few others... He sees himself in them, and they see themselves in him."
A senior defense official told CBS News National Security Correspondent David Martin the resignation is a "mutual decision" between Hagel and Mr. Obama. Hagel will stay in office until his replacement is confirmed.
Mr. Obama noted that Hagel took on the job as the Defense Department was entering a "period of transition" that included the drawdown in Afghanistan, new budgetary restrictions, and a revamping of the military to build a more flexible fighting force.
"Thanks to Chuck, our military is on a firmer footing," Mr. Obama said. Having guided the Pentagon through that transition, Hagel thought that now -- as the Obama administration moves into its final two years -- would be the appropriate time for his resignation, the president said.
After the president spoke, Hagel said, "We have set not only this department, the Defense Department, but the nation on a stronger course towards stability, security and prosperity."
Mr. Obama called Hagel a "great friend of mine," recalling how he got to know Hagel when Mr. Obama was a "green-behind-the-ears freshman senator" and they both served on the Senate Foreign Relations Committee. Hagel also traveled with Mr. Obama to Afghanistan and Iraq in 2008, when Mr. Obama was a presidential nominee. The president hailed Hagel for showing that kind of bipartisan cooperation.
"That's the kind of class and integrity that Chuck Hagel's always represented," Mr. Obama said. He told the outgoing defense secretary, "You said you'd always give me your honest advice and informed counsel, and you have. You've always given it to me straight, and for that I will always be grateful."
Nevertheless, there was tension between Hagel and the rest of the administration.
Martin reports that Hagel was was fed up with micromanagement from the White House, while the White House was unhappy that Hagel was not a vocal defender of the administration's policies.
Hagel was Mr. Obama's third defense secretary, following Robert Gates, a holdover from the Bush administration, and Leon Panetta, who also served as the CIA director prior to his retirement in 2013.
Sen. John McCain, R-Arizona, said in a radio interview Monday morning that he recently spoke with Hagel, who was "very frustrated" with the White House.
"It was a job he was given where he never was really brought in to that real tight circle inside the White House that makes all the decisions, which has put us in the incredible debacle that we're in today throughout the world, so I thank Chuck Hagel for his service and I know that he was very, very frustrated," McCain told Arizona station NewsTalk 550 KFYI, the Hill reports.
Hagel's resignation comes as the U.S. is tackling several crises abroad, ranging from the rapid rise of the Islamic State of Iraq and Syria (ISIS) in the Middle East, to ongoing international talks to curb Iran's nuclear program to the spread of Ebola in West Africa.
Additionally, the president quietly moved to expand the U.S. military role in Afghanistan in 2015 so that U.S. troops can go on the offensive against Taliban or Haqqani fighters preparing to attack American or coalition forces and conduct counter terrorism operations against al Qaeda. The U.S. will also be able to provide close air support to Afghan forces.
With his foreign policy coming under scrutiny and sagging poll numbers in the past two years, Mr. Obama felt he had to make a change in his team, Martin reports. Secretary of State John Kerry was spearheading the Iran negotiations, so he was not a viable option, and the president did not want to replace National Security Adviser Susan Rice, with whom he has a close personal relationship.
Once Mr. Obama started talking about the future, Hagel saw the handwriting on the wall and submitted his resignation.
In an interview last week, he told CBS This Morning co-host Charlie Rose that Mr. Obama has faced more trying challenges than any of his predecessors.
"What bothers me the most, concerns me the most is, are we going to be -- our leaders, all of us together -- are we going to be able to get through this time, which is a very defining time and a difficult time," Hagel said when asked about his biggest concerns. "I told the president not too long ago, I don't know of a time that has been more difficult to be president of the United States or lead in this country than right now."
But he also seemed uncertain about his role in that fight. When Rose asked him whether he had the confidence of the president, Hagel responded, "I don't think I'd be here if I didn't. But you'd have to ask him that."
He also said he had not yet begun thinking about his legacy, even though it would later become clear he already had a foot out the door.
"I'm not thinking about that, I'm not worried about it," he said. "Actually I've always just done every job the best I could, as honestly as I could, as straight forwardly as I could. And then I'll let the rest-- they'll sort it out."
Mr. Obama nominated Hagel, a former Republican U.S. senator from Nebraska, in January 2013, to replace Panetta. He was confirmed in late February 2013 after a contentious set of confirmation hearings.
Despite his party affiliation, several Republicans denounced his past statements about Iran and Israel. Outside advocacy groups were also swift to get involved, spending hundreds of thousands of dollars on television ads aimed at torpedoing Hagel's chances.
Additionally, he was a vocal critic of former President George W. Bush's policies in Iraq.
He was ultimately confirmed in a final vote of 58 to 41, with just four Republicans joining Democrats in favor.
In a statement to the Defense Department, Hagel promised to fully support the administration and the Pentagon for as long as he remains in office.
"The world is still too dangerous, the threats too numerous, for us to lose focus," he said.
He also told the Department, "Please know how much I respect and admire your service and that of your families. As I gather with my own family this Thanksgiving holiday -- a luxury I realize not all of you will enjoy -- it will be the privilege of having worked with you these last two years for which I will be most grateful."
Thanks for reading CBS NEWS.
Create your free account or log in
for more features.