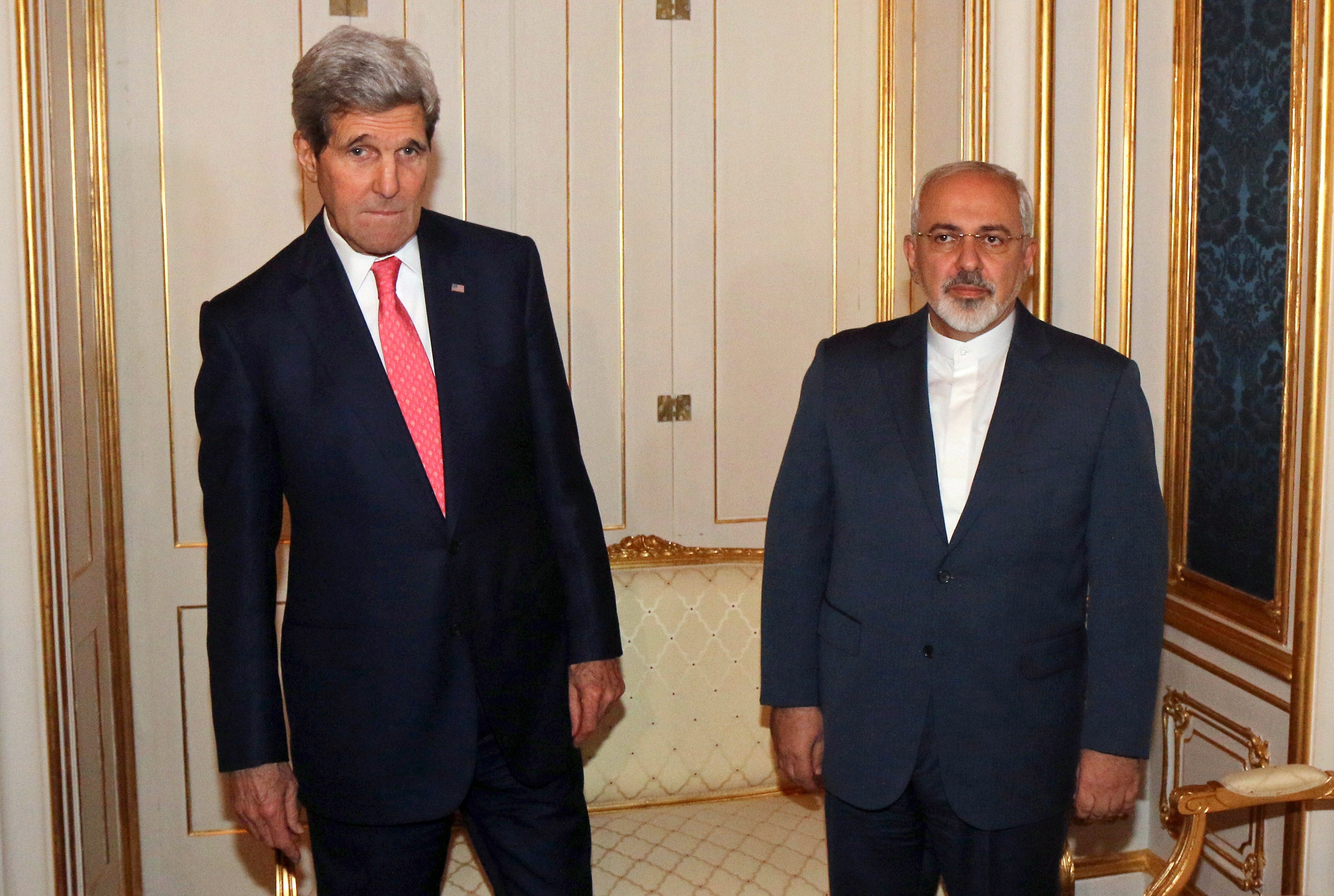 U.S. tells Iran to consider extending nuclear negotiations
VIENNA -- The U.S. has told Iran it's time to consider extending nuclear talks past their deadline, a senior American official said Sunday.
The move marks the first formal recognition by Washington that a deal won't be reached by the target date of midnight Monday, creating the need for additional talks.
The official said U.S. Secretary of State John Kerry made the proposal to Iranian Foreign Minister Mohammad Javad Zarif in the latest of a series of meetings since Kerry arrived on Thursday to add his diplomatic weight to the talks.

The decision comes a little more than a day before the target date for a deal focusing on capping Iran's nuclear activities in exchange for lifting sanctions on the Islamic Republic.
At the same time, formal talks with Iran on bridging the differences are continuing.
The U.S. official spoke on condition of anonymity because of a lack of authorization to discuss the talks.
The development reinforced growing expectations since the start of the current round Tuesday that the U.S.-Iran dispute would prove unsurmountable by the target date.
CBS News State Department correspondent Margaret Brennan reports that the two main sticking points remain the sequencing of sanctions suspension - specifically, whether the world powers and the UN would simultaneously agree to suspend sanctions - and the exact combination of centrifuges and enriched uranium that Iran is allowed to maintain.
Reaching an agreement that allows for more negotiations could be difficult. Beyond assurances that the Iranians aren't just talking for the sake of winning time, the U.S. administration wants to show to congressional skeptics that there is sense to continuing the talks. That means Washington might push the Iranians to accept at least one of their demands on the table.
Should such a plan be agreed upon, talks could resume in early December when Kerry plans to return to Europe for a previously scheduled NATO foreign ministers meeting in Brussels, and an international conference in London.
Outlining some differences between Washington and Tehran in general terms, President Barack Obama said the U.S. goal is "to shut off a whole bunch of different avenues whereby Iran might get a nuclear weapon, and at the same time make sure that the structure of sanctions are rolled back step for step as Iran is doing what it's supposed to do."
"I think Iran would love to see the sanctions end immediately, and then to still have some avenues that might not be completely closed, and we can't do that," he told ABC's "This Week" in comments aired Sunday
As the clock ticked down, other foreign ministers from the six negotiating powers were converging on Vienna in a concerted effort to at least get an acceptable way to extend the talks even if the deal deadline is missed.
The best case scenario involves all parties brokering a broad political agreement - a brief 5-page proposal - in the next two days that will allow technical details to be hammered out in weeks to come, Brennan reports.
More likely is simply an extension of the existing terms of the 2013 Joint Plan of Action which requires Iran to freeze its nuclear program in exchange for limited sanctions relief. A Western official pointed out that while not ideal, the terms of that prior deal have effectively rolled back Iran's ability to produce a weapon by putting its development program on hold.
The foreign ministers of Germany, Russia and France were already in Vienna by late Sunday. Britain's foreign secretary was en route, and China's foreign minister was scheduled to arrive Monday.
Kerry, who arrived Thursday, also met with Saudi Foreign Minister Saud al-Faisal, whose country is vying for Middle East influence with Iran. Diplomats said Saud flew to Vienna from Paris solely for the briefing, and the two talked in his plane parked on the Vienna Airport tarmac.
Thanks for reading CBS NEWS.
Create your free account or log in
for more features.