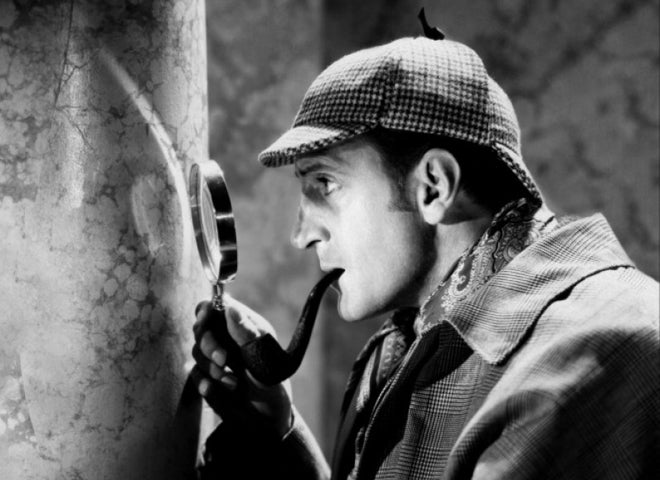 Deducing the timeless popularity of Sherlock Holmes
Sherlock Holmes' enduring popularity cries out for an explanation. Fortunately, our Mo Rocca is on the case:

It's been more than 125 years since Sherlock Holmes first appeared in print, but devotion to fiction's greatest detective hasn't dimmed in the slightest.
Welcome to 221B Con, a convention named for Holmes' Baker Street London address. But this door's an ocean away, in Atlanta, Georgia, where fans don't just admire the master of deduction -- they want to be him.
One can deduce that David McCallester (festooned with a deer stalker hat) has been reading Sir Arthur Conan Doyle's stories a little bit longer than most of the attendees here.
"How does it make you feel to see so many people that are younger, dressed up and devoted to this whole story?" Rocca asked.
"This is absolutely terrific," McCallester replied. "It just shows that Sherlock Holmes is timeless. And each generation finds its own way to express the appreciation for these characters and the interest in Conan Doyle's works."
All of this Sherlock-mania grew out of a "curious case of frustration."
Sir Arthur's, that is. "It always annoyed me how in the old-fashioned detective story, the detective always seemed to get at his results either by some sort of lucky chance or fluke or else it was quite unexplained [how he got there]," Doyle said in 1927. "I began to think of turning scientific methods, as it were, onto the work of detection."
In other words, Holmes didn't rely on dumb luck; he used reason and close observation to solve crimes.
Basil Rathbone (as Holmes): "Furthermore, I'd say that Dr. Mortimer had a small practice in the country and was the owner of a dog."
Nigel Bruce (as Dr. Watson): "How can you tell that?"
Rathbone: "Quite simple. From the teeth marks."
"Conan Doyle's great coup as a popular writer was the idea that he could keep the same character in a series of stories," said Michael Dirda, a Pulitzer Prize-winning book critic for the Washington Post.
Dirda says Sherlock was the first serialized character.
"Rather than have a new detective for each story, he would just keep Watson and Holmes coming back," said Dirda. "They built up a natural kind of interest in them, so that this idea of the mastermind detective became very popular."
New Yorker Abby Armada came to Atlanta to compete in the convention's costume contest. She came dressed as Sherlock Holmes' fireplace. "I'm the fireplace from 221B," she explained.
Sherlock kept a skull on his mantelpiece, "so I painted my face as a skull," Armada said.
Of all the Holmes stories -- 56 short stories and four novels in all -- one of the most popular is "The Hound of the Baskervilles." The hound made Doyle a fortune in 1901, and is still making money today.
Chris Coover, the senior manuscripts specialist for Christie's auction house in New York, showed Rocca an actual leaf from Arthur Conan Doyle's manuscript for "Hound of the Baskervilles." "I like it particularly because the cross-outs show his second thoughts as he's going along."
This single page sold for more than $150,000.
Don Hobbs' library is proof of Sherlock love on a whole different scale. His 11,000-volume collection spans the globe.
"Sherlock Holmes has been translated into 98 languages; I've been able to find 92 of those," Hobbs said.
Including editions from Egypt, Bulgaria, even an Eskimo language "Hound of the Baskervilles."
What doesn't he have? Tajikistan? He's got it.
Uzbekistan? "I do," he replied.
On the set of the CBS series "Elementary," Rocca asked Jonny Lee Miller (who plays Holmes) what message he would have for somebody who has 11,000 volumes of Sherlock Holmes, including one in Inuit?
"Well done!" he replied.
Miller and Lucy Liu are the stars of "Elementary," which updates the Victorian tale to modern-day New York.
Rocca asked, "Are you the first tattooed Sherlock Holmes?"
"Well, I don't know about that, because I haven't seen the other Sherlock Holmeses naked," Miller replied.
Well, everyone else has! Whether it's Robert Downey Jr in the movies, or Benedict Cumberbatch in the critically-acclaimed BBC TV show, "Sherlock" -- or Miller himself -- today's Sherlock is pushing all kinds of boundaries.
Lucy Liu plays Holmes' partner-in-crimesolving, Doctor JOAN Watson.
To Sherlockians who think that might be a step too far, Liu says, "They can criticize all they want, it's not going to change the situation. I'm not going to get any kind of sex change any time soon. It's going to stay where it is."
"Right -- maybe for sweeps?" Rocca asked.
"For sweeps! In our fifth year something may happen," she laughed.
Well, that wouldn't faze the fans in Atlanta. Most of them met in cyberspace, on sites like the Baker Street Babes, Always1895.net, Better Holmes and Gardens.
Caz Cronin is the proprietress of the blog, "Wear Sherlock," so naturally she hosted the convention's costume contest.
"When you're part of an online community, this is the only place where you're going to find these people that know how passionate you are," she said.
"Sherlock Holmes is your social network, in a way?" asked Rocca.
"Yeah, that's the best way of explaining it!" she laughed.
Who else to put it all in perspective than Ashley Polasek, who's getting her doctorate in -- what else? -- the cinema of Sherlock Holmes.
Rocca asked, "What does the astonishing popularity of this character say about us?"
"We long for order and reason," Polasek said. "This is a guy who can walk into a room and see all the things going on in the room and go, 'That matters. That matters. And none of the rest of it does.' And we would love to be able to do that."
For more info:
Thanks for reading CBS NEWS.
Create your free account or log in
for more features.