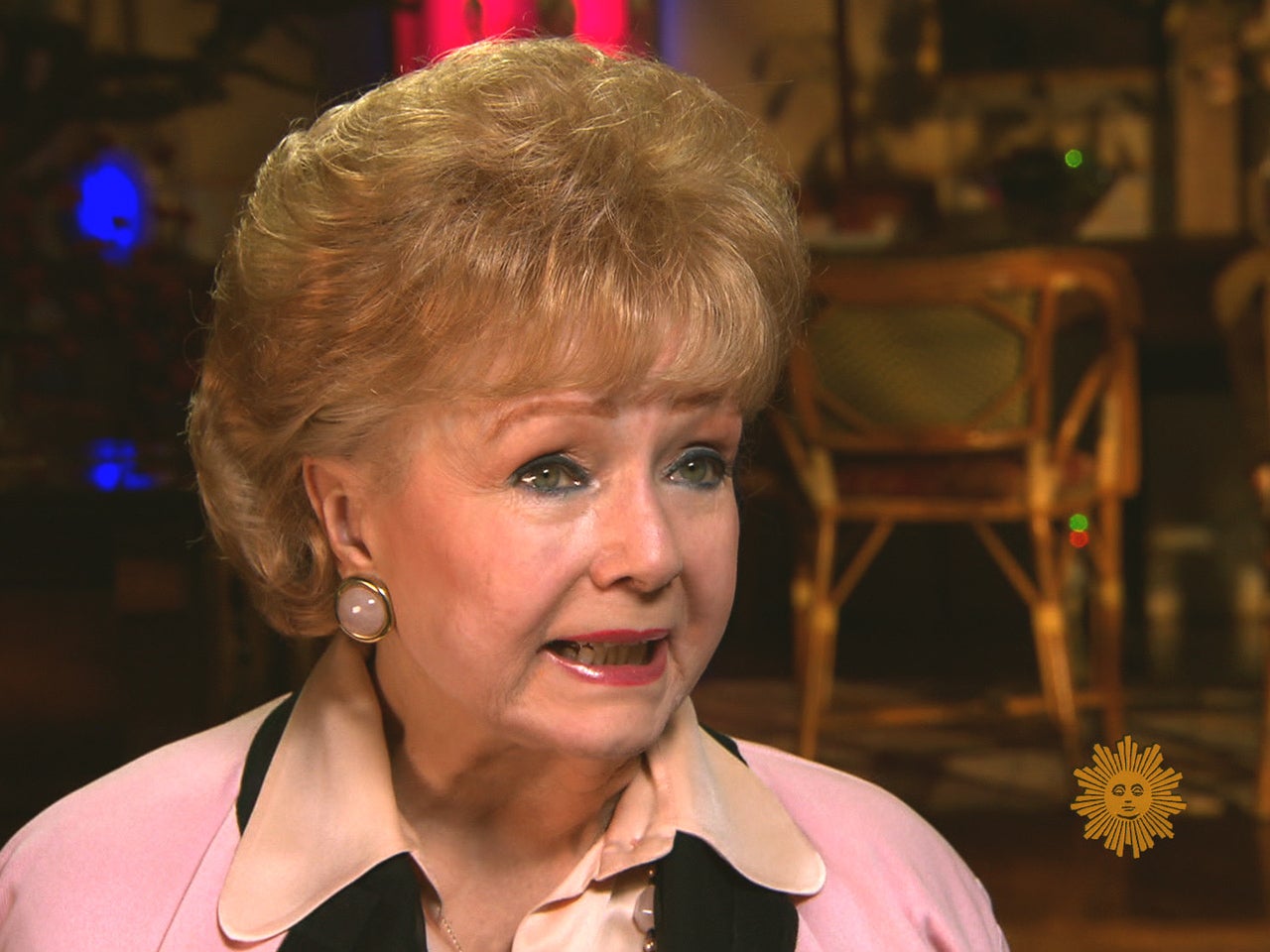 Debbie Reynolds: Ever and always a trouper
(CBS News) Debbie Reynolds is a Hollywood performer who's played countless roles during her long career. Yet it's one real-life role that often seems to overshadow all the others. She talks about it with Mo Rocca:
In the pantheon of Hollywood's great triple-threat performers, you can count Debbie Reynolds: acting, singing and dancing for nearly 65 years.
"Is it fair to say that you're the ultimate trouper?" asked Rocca.
"I'm stubborn," she offered. "I'm very stubborn. And I would never give up, ever, about anything."
That can-do spirit came in handy when, at the age of 19, she was cast opposite Gene Kelly in "Singin' in the Rain." Twenty years younger than Kelly, she'd had dance training - no training of any kind."
It took three months of intensive dance lessons, but when the cameras rolled, Reynolds kept in step with co-stars Kelly and Donald O'Connor.
"We danced 10, 12 hours every day. There were no days off," she said.
"You say your feet were bleeding -- what else hurt?" asked Rocca.
"I think your heart hurt -- were you going to be able to do it? Could you keep up? Were you going to fail?" Reynolds said. "And Gene Kelly kind of scared me, because he was the boss, and he was brilliant, and he was a wonderful teacher. He had to teach me. And to be given a little kitty cat, and expect it to be a lion, it didn't happen overnight. I had to work, work, work without question."
And just like her character, Kathy Selden, Reynolds emerged a bona fide "movie star." Funny, since all Mary Frances Reynolds wanted to be was . . . a gym teacher.
But when she won the Miss Burbank beauty pageant in 1948 (she got a free blouse for entering), Reynolds was discovered by a Warner Brothers talent scout.
Reynolds recalled her screen test: "There was a camera there, and they said, 'Look in the camera.' And I said, 'Okay.' And they said, 'Now just talk, just ad-lib.' I said, 'Why would I do that? I don't know what I'm doing here, this is all so silly.'
"And they said, 'Well, you want to be a movie star, don't you?' And I said, 'No. I don't know anything about it. I'm just here 'cause I won this contest, and I got a free blouse and scarf. That's the only reason I'm here. I don't know what you guys are doing wasting your time on me.'
"So Jack Warner saw the test, and he said, 'Well, she's funny. Let's put her under contract, $65 a week.'"
WEB EXTRA VIDEO: Debbie Reynolds tells Mo Rocca about the struggles her daughter, Carrie Fisher, fought through in order to "sur-thrive." To watch click on the video player below.
Mary Frances became Debbie, and soon enough was palling around on the MGM lot with Elizabeth Taylor.
"Elizabeth was really a gal, you know? She was a dame," Reynolds said. "She called me a little Girl Scout -- She was right about that, I was just not a sexual, I didn't know anything about that world. I didn't know about the worldly world. And she knew everything about the worldly world, and shared it with me.
"She was funny. She was really a bawdy broad. And I loved being with her. We had a lot of fun together."
And then Reynolds met the crooner Eddie Fisher.
"He was so cute, just adorable," Reynolds said. "He had big brown eyes, and he was a very talented young man. We were both very young -- and I was pretty cute myself!"
America's sweethearts married in 1955. The newlyweds even hammed it up for Edward R. Murrow on "Person to Person."
The marriage produced two children: actress and writer Carrie, and younger brother Todd.
Todd Fisher says of his mother's early movies, like "Tammy and the Bachelor," "Shoot, that's just her. She is an innocent, a true innocent. And she always has been. That's why she gets so horribly screwed over sometimes."
That's ONE way of describing what happened with her first marriage. She and Fisher were close to Taylor and her husband Mike Todd; they were matron of honor and best man at their wedding.
When Todd died in a plane crash in 1958, Fisher rushed to comfort Taylor . . . and never came back.
"You must get tired of talking about Eddie Fisher and Elizabeth Taylor," Rocca said to Reynolds.
"No, I don't get tired of it. I'd just like to clear it up for everybody," she replied. "Everybody still seems to be so upset over it because, you know, when it happened, it just seemed to be such an explosion of people upset for me. And I appreciated it."
Once Taylor met Richard Burton on the set of "Cleopatra," she promptly dismissed Fisher.
At that point, Rocca asked, might Reynolds have taken Fisher back?
"No," she laughed. "But I did laugh. I laughed when Elizabeth threw him out, because I told him, you know, 'You'll last a year and a half, and she'll throw you out as soon as she meets somebody really funny.' Elizabeth liked men that were really terrifically funny.
"I said to him, you know, 'It's just ridiculous, can't break up a marriage for this affair you're having with Elizabeth because she's never going to keep you there with her, because you're not enough for her. You're just not enough.' He laughed -- of course, he thought it was not true. But he found out when she threw him out that it WAS true. She DID throw him out."
Reynolds didn't have as many marriages as Elizabeth, but they were no less dramatic. As the 80-year-old writes in her new book, her second and third husbands left her broke.
"What is it with these men who just want to take your money and bankrupt you?" asked Rocca.
"Ah, let me think, which one are you speaking -- you know, I always have more than one it seems," Reynolds laughed. "Marriage and movie stars don't seem to work out. The only ones that made it married a doctor, and they seemed to stay with them. Claudette Colbert, Irene Dunn, Ann Blythe - they married doctors."
"Could there be a doctor in your future?" Rocca inquired.
"There can't be any man in my future, or woman," Reynolds laughed. "There will be none of that -- marriage and relationships. I want to be allowed to have my own life and my own problems."
Ultimately, she dug herself out of the hole by auctioning off her vast Hollywood collection of costumes and memorabilia, amassed over decades, for tens of millions of dollars, Marilyn Monroe's dress from "The Seven Year Itch" fetched $5.3 million.
But three husbands and two bankruptcies haven't hardened the heart of former Girl Scout Debbie Reynolds.
"You know, I'm not a person that cries a lot," she said. "The only reason that I get emotional is, it's so wonderful that I can't believe that I have this life and live in this country so great, that I always well up. You know, there's a huge feeling inside that just pops forward.
"What is it people say? I cry at a good steak. Well, I don't cry at a good steak. But I sure do cry for all the lucky things I've had happen to me."
For more info:
Thanks for reading CBS NEWS.
Create your free account or log in
for more features.