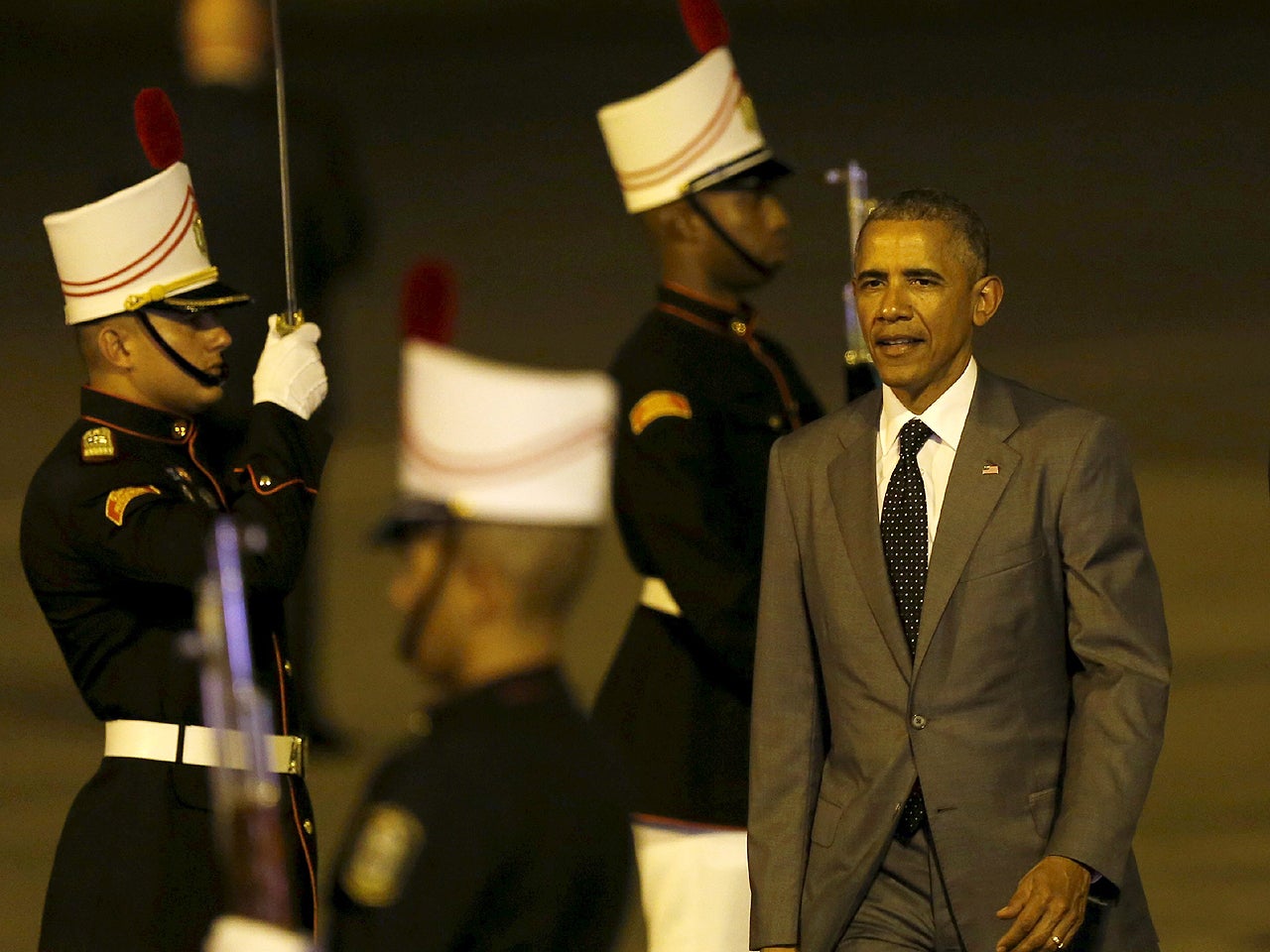 What Cuba would gain by dropping off U.S. terror list
HAVANA -- Few on the island doubt that Cuba's removal from the U.S. State Sponsors of Terrorism list is coming. It's a dishonor the nation has carried for 33 years, and which it shares with only Iran, Sudan, and Syria.
President Obama is widely expected to make the announcement at the current Summit of the Americas in Panama, where he arrived late Thursday. The summit will also be attended this year, for the first time, by the leader of Cuba, President Raul Castro.
But regardless of when the presumed announcement comes there's much expectation of the practical impact the move could have, particularly on Cuba's struggling economy.
Orlando Marquez, director of the Catholic Church magazine Palabra Nueva (New Word) of the Archdiocese of Havana, says a decision of this type has been awaited ever since President Obama's December 17 announcement of a Cuba policy turnaround.
"I think it will be positive for the reestablishment of diplomatic relations between the two countries," he said. "It will also have repercussions in other countries and international institutions."
Those international institutions include banks. Last year, the U.S. Justice Department fined the French bank BNP Paribas nearly $8.9 billion for handling currency for countries on the sanctions list. It was the largest sanction in Justice Department history, four times larger than a 2012 fine of nearly $1.3 billion against HSBC.
It's no wonder then, say Cuban analysts, banks don't want to deal with Cuba as long as it remains on that list.
Diplomats at Cuba's Interests Section in Washington eagerly await the day they can raise their national flag outside the building they occupy on 16th Street NW. But since 2014 they have struggled to carry out consular activities and have been forced to pay utility bills in cash, according to officials in Havana. Those officials blame the banks in the U.S., which refuse to deal with them out of the fear of potential fines and the extensive paperwork required because Cuba is on the infamous list.
Philip Brenner, director of American University's Graduate Program in U.S. Foreign Policy and National Security, agreed with that assessment.
"Once it is off the list, Cuba will not be subject to some provisions of the U.S. Patriot Act that had deterred banks from allowing Cuba to open an account in the United States. An embassy could not function without access to a bank account," Brenner said, noting that being removed from the list would "also make banking operations in Cuba easier for international banks, which should reduce the price of some imported goods for Cuban consumers."
Philip Peters, President of the U.S.-based Cuba Research Center, said that for Cuba being dropped from the terror sponsor list, "may have more impact than anything else President Obama has done, because it will end U.S. financial sanctions that harm the entire Cuban economy."
"Cuba will be able to do business with major international banks, interest rates and transaction costs will go down, and Cuba's foreign investment climate will improve," said Peters, who recently brought a delegation of more than 80 American farmers and agricultural industry representatives down to the island to explore possible trade and investment opportunities.
With its Venezuelan ally and key trading partner in the grip of a deep domestic economic crisis, Cuba is keen to attract foreign investment from a wide array of other countries, and has already invested $1 billion -- financed mostly by Brazil -- in a new deep water port and special economic zone at Mariel, west of Havana, to increase its attractiveness as a shipping hub.
Being removed from the State Sponsors of Terrorism list, and even the reestablishment of diplomatic relations with the U.S., won't be enough to totally open markets in Cuba nor to guarantee the success of Mariel.
The U.S. Congress would still have to lift the more than five-decade-old trade embargo on the island before there can be any direct two-way trade, and there is a Cuban American bloc in both the U.S. House and Senate staunchly opposed to any softening of Cuba policy.
Prominent members of that bloc have spoken out against the potential removal of Cuba's terror sponsor designation.
Cuban-American Senator and likely Republican presidential candidate Marco Rubio, said the changes afoot would only serve to "tighten this regime's grip on power for decades to come."
Congress doesn't have the power to prevent President Obama from removing Cuba from the terror sponsor list indefinitely. The Obama administration will, however, have to defend its decision on Capitol Hill, and Rubio, along with fellow Republican presidential hopeful Ted Cruz, who also has family ties to the island, is likely to present fierce opposition during those sessions.
Still, other countries and international blocs, including the European Union, are already responding positively to the expected changes by engaging the Cubans in talks with a view to expanding trade and investment.
All this creates a win-win situation in the view of Cuba's Catholic Church.
"If this is finally implemented it will help to overcome the mutual suspicion and confrontation that has inflicted so much damage on us," said Marquez, the church magazine's director.
"It's very important that both governments continue to take positive steps toward the full normalization of relations, which is the desire of a majority of Cubans and U.S. citizens," he told CBS News.
Thanks for reading CBS NEWS.
Create your free account or log in
for more features.