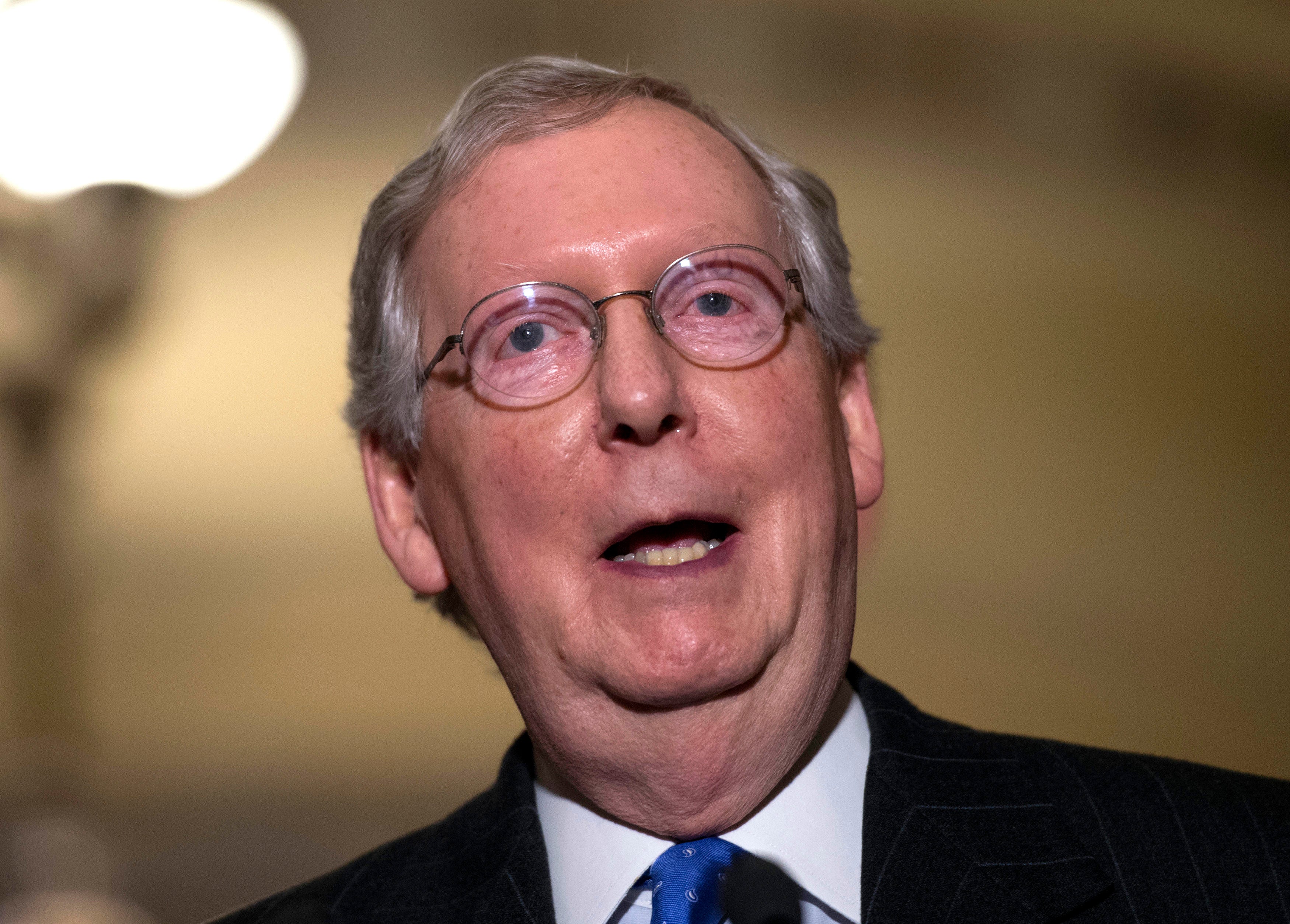 Trump's remarks on Russia draw sharp GOP rebuke
Senate Republicans are balking at President Trump's latest defense of Russian leader Vladimir Putin.
In an interview with Fox News' Bill O'Reilly scheduled to air today, Mr. Trump seemed to dismiss criticisms of the Russian president as a "killer" and appeared to equate the foreign power's morality with the U.S.
"I do respect him," the president said of his Russian counterpart. "I respect a lot of people but that doesn't mean I'm going to get along with him."
When the Fox News host said, "Putin's a killer," the President Trump responded by saying: "There are a lot of killers. We've got a lot of killers. What, you think our country is so innocent?"
But despite the warmer relationship Mr. Trump may be trying to build with Moscow, his words have already had a chilling effect on some Congressional leaders at home.
When Senate Majority Leader Mitch McConnell was grilled by CNN anchor Jake Tapper about Mr. Trump's interview, McConnell offered up a mild rebuke of the statements.
"Does it trouble you that he said this?" Tapper questioned the Kentucky Republican. "I'm trying to imagine your response if President Obama defended the murderous reign of Vladimir Putin by saying, 'you think our country is so innocent?'"
"I'm not going to critique the president's every utterance," McConnell responded. "But I do think America is exceptional, America is different, we don't operate in any way the way the Russians do."
"I think there's a clear distinction here that all Americans understand," added McConnell. "And no, I would not have characterized it that way... I don't think there's any equivalency between the way that the Russians conduct themselves and the way the United States does."
The majority leader said he "obviously" doesn't "see the issue the same way [Mr. Trump] does."
Sen. Marco Rubio, R-Florida, gave a more strident statement Sunday in response to the president's comments about Putin, and alluded to the Russian leader's reported use of nefarious techniques to get his political opponents out of the way.
Rubio then escalated his criticism of Putin, blasting the Russian president for "violations" of Ukraine's "sovereignty," a reference to Russia's annexation of Crimea and the ongoing war along Ukraine's eastern border.
Another Republican senator, Ben Sasse of Nebraska, came out with his own fierce condemnation of Mr. Trump's remarks.
"Is the U.S. at all like Putin's regime? Not at all," Sasse told ABC News in an interview Sunday. He went on to enumerate the differences: "The U.S. affirms freedom of speech; Putin is no friend of freedom of speech. Putin is an enemy of freedom of religion; the U.S. celebrates freedom of religion. Putin is an enemy of the free press; the U.S. celebrates free press."
He added: "There is no moral equivalency between the United States of America -- the greatest freedom-loving nation in the history of the world -- and the murderous thugs that are in Putin's defense on his cronyism."
The staunchest defense of Mr. Trump's comments has come from within his administration.
On Sunday, Vice President Mike Pence said on CBS' "Face the Nation" that Mr. Trump was only expressing a willingness to "start afresh with Putin and to start afresh with Russia."
"I simply don't accept that there was any moral equivalency in the president's comments," Pence said. "Look, President Trump throughout his life, his campaign, and in this administration has never hesitated to be critical of government policies by the United States in the past. But there was no moral equivalency."
Democrats, predictably, have also expressed their outrage at Mr. Trump's sentiments.
Sen. Amy Klobuchar of Minnesota said in an interview on ABC News that she "resent[s]" that the president would equate Russia with the U.S.
"You cannot compare any leaders in our country to what Vladimir Putin has done," Klobuchar said. "This is a man and a regime that has taken down a passenger plane in Ukraine, killing hundreds of people. This is a regime that has been known to poison human rights activists."
Thanks for reading CBS NEWS.
Create your free account or log in
for more features.