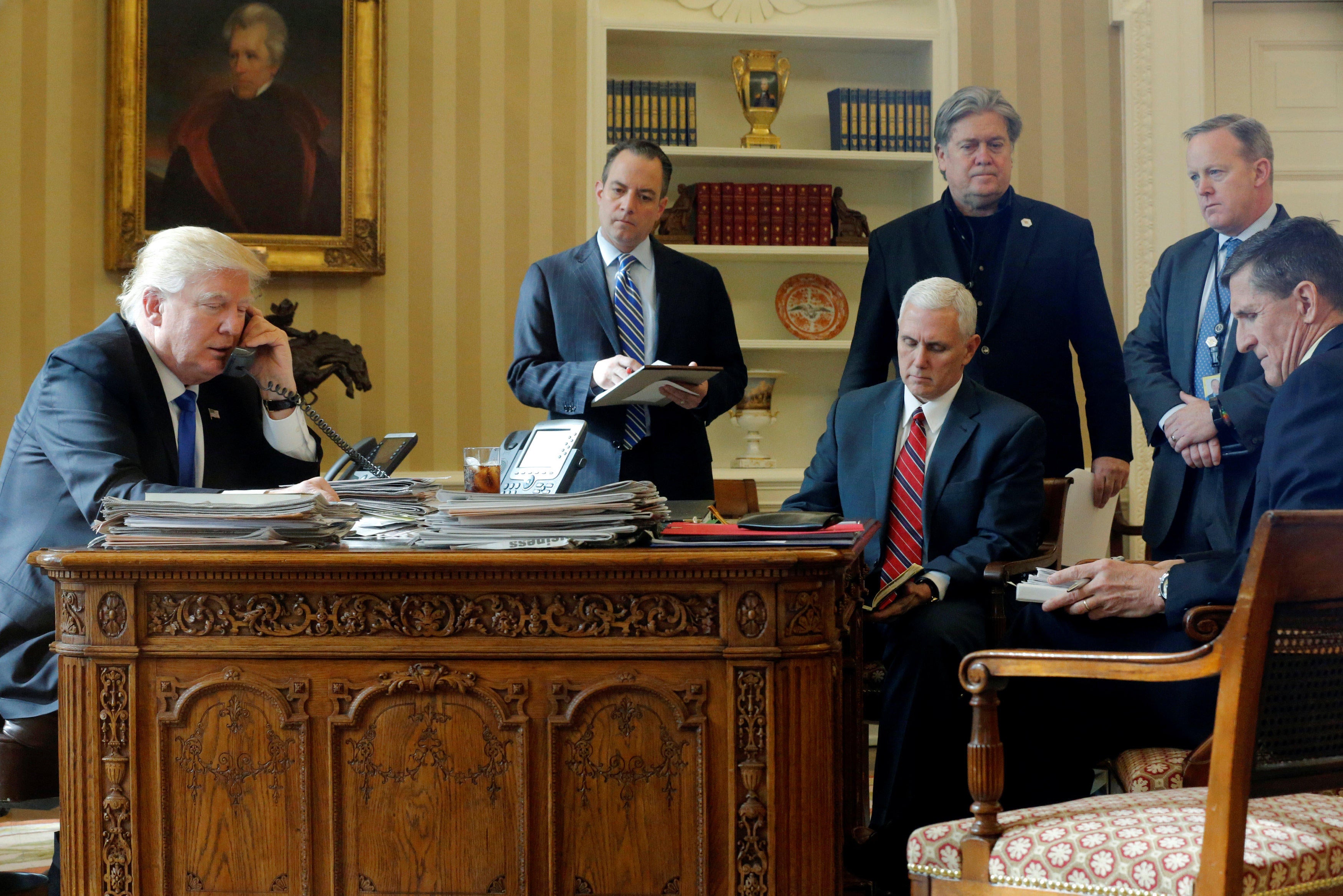 Trump administration relaxes U.S. sanctions on Russia imposed under Obama
The Trump administration appeared to loosen U.S. sanctions Thursday that the Obama administration had imposed against Russia in response to its cyberattacks in the 2016 presidential election.
The Treasury Department published a license that authorizes certain transactions between U.S. companies and the FSB, Russia's security service and for the importation, distribution or use of "certain information technology products in the Russian Federation." Such transactions had been prohibited under Obama administration sanctions imposed on Russia in late December. At the time, the U.S. sanctioned nine entities and individuals including the FSB and GRU. The Obama administration said that the FSB had assisted and provided material support to the GRU in its efforts to interfere with the U.S. election.
White House press secretary Sean Spicer was asked at his daily press briefing about why the U.S. is easing sanctions against Russia, but he said that the move is a "fairly common practice" in which the Treasury Department looks for "specific carve-outs" for certain industries after sanctions are put in place. He said it's a "regular course of action that Treasury does quite often."
A recent story from The Moscow Times said RBC newspaper warned that the sanctions could affect the importation of electronics to Russia. The report said it would affect devices with an encryption feature including cell phones and tablets.
A senior Treasury official said Thursday that the license allows very limited interaction with the FSB in coordinating exports to Russia of cell phones and tablets with low-level encryption software like consumer devices and consumer software. The official said that it took the department until now to make the exception because officials needed time to engage with the private sector.
The Trump administration's move on Thursday comes after the president spoke to Russian President Vladimir Putin on Saturday by phone. On Friday, Mr. Trump said it was still "too early" to consider lifting sanctions on Russia. Last month, Mr. Trump was briefed by then-Director of National Intelligence James Clapper, CIA Director John Brennan, NSA Director Admiral Mike Rogers and FBI Director James Comey. After the briefing, the president seemed to accept the fact that Russia had interfered with the election, but said that the cyberattacks "no effect on the outcome of the election."
Senate Majority Leader Mitch McConnell, R-Kentucky, told Politico last week that he is "against lifting any sanctions on the Russians."
"These sanctions were imposed because of their behavior in Crimea, eastern Ukraine and now we know they've been messing around in our elections as well," he said, according to the report.
Thanks for reading CBS NEWS.
Create your free account or log in
for more features.