​Coldplay in the adventure of a lifetime
The rock group Coldplay is warming up for a very high-profile performance next Sunday night, and they're leaving nothing to chance, as Anthony Mason will show us:
On the lot of Sony Pictures Studios in Los Angeles, in Soundstage 14, Coldplay started rehearsals this past week for their Super Bowl halftime show.
"This is the Super Bowl stage, without any of the gadgetry," explained Chris Martin.
"So you've basically created a stage that's the same size as the Super Bowl stage?" asked Mason.
"Hopefully!" he laughed.
For Coldplay's four principals -- guitarist Jon Buckland, drummer Will Champion, bass player Guy Berryman, and frontman Chris Martin -- it's the biggest gig of their career.
"What's the audience for this? It's like a gazillion people," said Mason.
"I think it's three gazillion, actually," Martin clarified.
"If something goes wrong, that's gong to be a big part of it," said Buckland.
Martin added, "My daughter said the sweetest thing yesterday. 'How you feeling about the Super Bowl?' 'Of course, we're a little bit nervous.' She said, 'Dad, the worst that could happen is you'll get turned into a meme. And after a month or so people will just forget!'"
Their biggest show will also be their shortest: "I loved the whole concept of trying to present your entire musical life in 12-and-a-half minutes," Martin laughed. "It's a great challenge!"
"Have you figured out what you're going to do yet?"
"We've possibly got 11 good minutes. So we have some special guests and they'll cover the rest."
Those guests have not been officially named, but there have been plenty of hints on the stage: "This may be Beyonce's footprint," laughed Martin. "I'd say she was here about four hours ago. Let's look for a Bruno one."
Beyonce, who's in Coldplay's new video for the song "Hymn For the Weekend" (below), is expected to join them with another halftime show veteran, Bruno Mars.
"I spoke to one of the other artists who did it a few years ago, and he said, 'It's gotta be muscle memory," Martin said. "Well, I'll tell you, it was Bruce Springsteen, 'cause I realized I was starting to do his gruff accent: 'You gotta know every note, man. Twelve minutes. It ain't long, but it's long enough!'"
The British band that broke through behind their hit "Yellow" in 2000, and has sold some 80 million records, will celebrate its 20th anniversary this year.
Mason asked, "Does it feel like 20 years?"
"No. Not at all. More than half our lives," said Buckland.
"Will and Guy said you guys are as close as probably you've ever been."
"Did they? That's good!" laughed Martin. "Whatever they say, we do."
"I find that we're in this sort of weird limbo," said Champion. "We're not an emerging band anymore. We're no longer a new band. And we're certainly not quite that sort of heritage value."
Berryman explained: "We're entering a new phase of denial about how old we are."
"It's the midlife crisis!" said Champion.
They are, as one critic called them, "the biggest, youngish rock band going."
"We only just had the 'ish' added. Now we're 'ish," said Martin.
But do they feel "youngish"? "I'm happy to be called youngish, I think. Feels good," said Buckland.
Martin asked, "Is 'ish' a compliment?"
It's far from the worst thing Coldplay's been called. The New York Times once branded the mellow rockers "the most insufferable band of the decade."
But Martin says the insults don't sting anymore: "We sound like we always wanted to, and we feel at peace with what we've done to get here."
"Which implies there was a period of time you weren't entirely at peace with it," said Mason.
"Well, I think when you start a band, your purpose is never to offend anybody. And when you get to a certain level of success, and it's apparent that you have offended some people, it took me -- and I think it took us -- a while to let that all go."
"And if some people don't like you, that's fine?"
"Yeah," said Martin. "Yeah, it really is."
The band's now planning a new stadium tour for this summer -- their first in four years.
Mason asked, "Do you like being on the road?"
"I love being on the road," Martin said. "When we're on stage, I feel like I'm saying what I want to say in the way I want to say it. When I'm with my kids, I feel like that's really me. And when we're on stage, I feel that, too."
"What do your kids think of your music?"
"We make it onto our kids' playlists still, which is good!"
"There's such a high threshold with them, because they're not impressed with ..."
"Anything!" said Martin. And when he plays a song for his kids, he admits to feeling "a little nervous."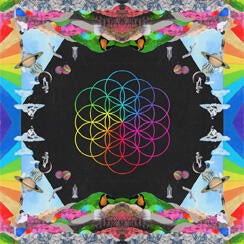 Martin's children with former wife Gwyneth Paltrow, 11-year-old Apple and nine-year-old Moses, sing on Coldplay's latest album, "A Head Full of Dreams," as does Paltrow.
How did that happen? "Just naturally."
In the song, "Everglow," the actress is barely audible in the background as Martin sings:
"How come things move on,
How come cars don't slow,
When it feels like the end of my world?"
"And that was something that she'd said to you?" Mason asked.
"Yeah."
"And so you wanted her to sing it?"
"Yeah."
"That's generous, I think."
"Of her, yeah," said Martin.
When Mason first talked with the group this month, it was just a week after David Bowie died.
"When the news came through about David, that's so ... I don't even know how to talk about it yet," said Martin. "It's very strange to me that he's not here anymore. But he was, in my experience, just lovely."
Martin says he once asked Bowie to play on a song that had come to him in a dream: "He was so wonderfully humorous and kind in his dismissal! We were on the phone, and I said, 'What do you think about this?' He said, 'Oh, it's not one of your best, Chris.' And that was it."
"And what were you thinking?"
"I was like, 'You know what? He's right. This is sh*t!'" Martin laughed. "But at least I can say we sort of worked together!"
Next Sunday, the best-selling band of this century will play before what could be the biggest TV audience ever.
"It's a very different kind of performance, isn't it?" Mason asked.
"I'd be more nervous if they said you gotta play IN the Super Bowl!" Martin said. "That would be way worse!"
Like the title of a Coldplay song, it's the adventure of a lifetime.
For more info:
Thanks for reading CBS NEWS.
Create your free account or log in
for more features.