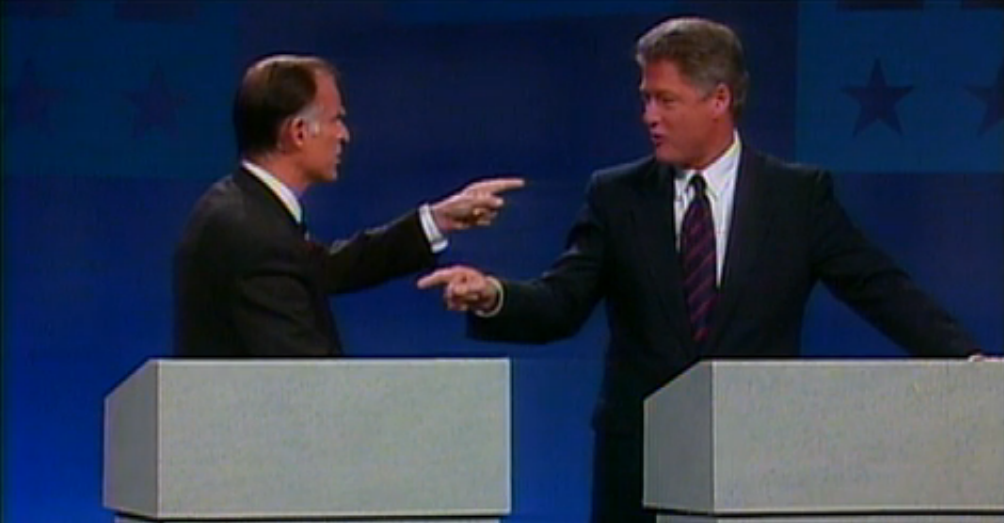 Clinton, Brown trade jabs at 1992 Democratic primary debate in Chicago
(CBS News) -- The 1992 race for the Democratic nomination was paved with a smattering of personal attacks--but perhaps no two candidates hated each other more than former California Governor Jerry Brown and Arkansas Governor Bill Clinton.
Tensions between the two Governors peaked during the March 1992 debate in Chicago, when Brown accused Clinton of "funneling money to his wife's law firm for state business."
"I don't care what you say about me, but you ought to be ashamed of yourself for jumping on my wife," Clinton said, shaking his finger at his opponent. "You're not worth being on the same platform as my wife."
Clinton, who had weathered allegations of infidelity during the New Hampshire primary wasn't just attacking an opponent, he was making a stand for his own character.
Clinton sought to set himself apart from Brown, who he said "comes here with his family wealth and his $1,500 suit and makes a lying accusation about my wife."
The day after the debate, Hillary Clinton, undid any benefit to the campaign that may have come from Bill Clinton's public display by defending her job at the Arkansas law firm.
"I suppose I could have stayed home and baked cookies and had teas, but what I decided to do is fulfill my profession, which I entered before my husband was in public life."
Opponents seized on her perceived mockery of stay-at-home moms, and the remarks came back to haunt her, even after she drew positive feedback from fellow working women.
Bill Clinton, of course, went on to secure the Democratic nomination, beating Brown in his home state of California by 7 points along the way. But even years after Clinton went on to be President, there was still bad blood.
When Governor Jerry Brown ran to reclaim his seat as Governor of California in 2010, former President Bill Clinton publicly endorsed Gavin Newsom, Brown's opponent in the Democratic primary.
While Clinton did have previous relationship with Newsom (he'd stumped for him during the 2003 the San Francisco Mayoral race, and Newsom supported Hillary Clinton in 2008), his endorsement during the California gubernatorial primary was unusual. Former presidents seldom get involved in state politics; and it's especially rare at the primary level.
Despite Clinton's efforts, Newsom dropped out of the race and Brown reassumed his title as Governor of California in 2011.
"Face the Nation" host John Dickerson will moderate the CBS News Democratic presidential debate Saturday, November 14 at 9PM ET at Drake University in Des Moines, Iowa. Watch it live on CBSN.

Thanks for reading CBS NEWS.
Create your free account or log in
for more features.