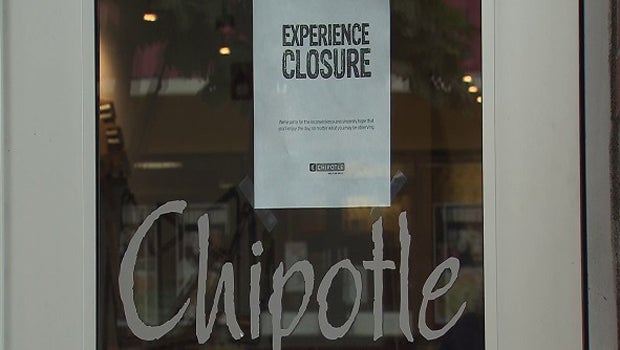 Chipotle could reopen stores as E. coli outbreak remains unsolved
SEATTLE -- Washington state health officials said Monday they have found no source for the E. coli outbreak related to Chipotle, and the chain's Pacific Northwest restaurants could reopen later this week.
All the tests of food from Chipotle stores in Washington and Oregon came back negative for E. coli, Washington state epidemiologist Dr. Scott Lindquist said. Chipotle did its own testing, and those results came back negative as well.
The Chipotle restaurants in Washington and Oregon will be allowed to reopen after they have met some conditions. They must get rid of and replace all produce, do a deep cleaning of their stores, pass a local health inspection and start a new protocol for cleaning produce.
Chipotle also has voluntarily decided to start doing some testing of its own of fresh food coming into its restaurants.
Lindquist said he expects Chipotle will reopen the 43 restaurants it closed in Washington and Oregon by Wednesday or Thursday. The company is still finishing its own tests, and it does not plan to get ready to reopen until those tests are completed, he added.
About 40 people in the Northwest have gotten E. coli in the outbreak associated with Chipotle. In Washington, the most recent person sickened by E. coli reported eating at Chipotle on Oct. 24.
Jonathan Modie, a spokesman for the Oregon Health Authority, said food-borne illnesses are not easy to track to the source of the outbreak. "Finding the source of the outbreak is often like finding a needle in the haystack," Modie said on Monday.
Seattle attorney Bill Marler, who has filed two lawsuits on behalf of people who have gotten sick in this outbreak, said that just because health department officials haven't found the cause of the outbreak doesn't mean they aren't still blaming Chipotle for making people sick.
Marler said it's obvious that Chipotle has issues with food safety. The company has been named in three high-profile cases in the past few months, and he's tracking another case of E. coli at a Chipotle in Seattle from this summer.
The chain faced a salmonella outbreak linked to tomatoes that sickened dozens of people in Minnesota beginning in August. In California, health workers said norovirus sickened nearly 100 customers and employees at a Chipotle restaurant in Simi Valley in mid-August.
"Clearly this is a Chipotle problem," Marler said.
Symptoms of E. coli infection include diarrhea, abdominal cramps, nausea and vomiting. Symptoms generally develop 3 or 4 days after eating contaminated food, although the incubation period can range anywhere from 1 to 10 days.
"If you have severe diarrhea lasting more than three days or vomiting where you can't keep down food, call your doctor," said CBS News medical contributor Dr. Tara Narula.
Narula said it's important not to take antibiotics, as these drugs could have a negative interaction with the bacteria and cause a serious complication called hemolytic uremic syndrome, which could lead to kidney failure.
Health officials say the best defense against the bacterial illness is to thoroughly wash hands with soap and water.
Thanks for reading CBS NEWS.
Create your free account or log in
for more features.