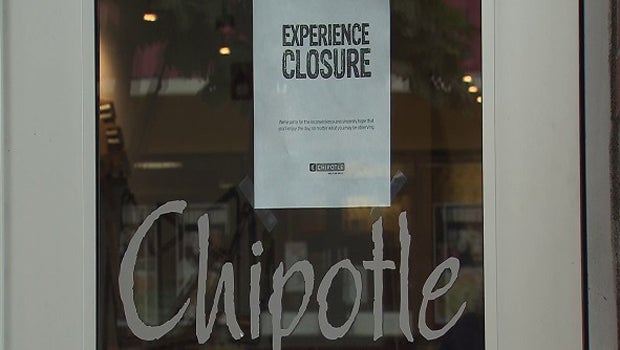 Chipotle closes 43 stores as officials investigate E. coli outbreak
SEATTLE -- Health officials expect the number of people sickened by an E. coli outbreak linked to Chipotle restaurants in Washington state and Oregon to grow while they investigate the cause of the infection.
As of Friday, three people in the Portland area and 19 people in western Washington had become sick from E. coli. Seventeen of them had eaten at a Chipotle restaurant during the past few weeks.
Eight people have been hospitalized but no deaths have been reported.
After people started hearing about the outbreak, more people will probably go to the doctor and join the list of potential cases, said Marisa D'Angeli, medical epidemiologist with the Washington State Department of Health.
"We actually would expect there might be a jump in cases on Monday," she said.
D'Angeli encouraged anyone who has been sick with intestinal symptoms and has eaten at Chipotle since mid-October, to go see their doctor and get tested. She also said anyone with bloody diarrhea should go to the doctor whether they have eaten at Chipotle or not.
"We're very early in the investigation," D'Angeli said. It's possible their investigation will find that the E. coli came from a fresh food product delivered to Chipotle restaurants and other places
Everyone who comes forward helps in providing extra clues that could help identify the source of the infection, she said.
The investigation started with talking to everyone diagnosed with E. coli and finding out what they ate and where. Test samples from those individuals will go to state labs in Washington and Oregon.
Then samples of food from the restaurants will be tested at a U.S. Food and Drug Administration laboratory to see if bacteria from the food matches the human cases.
The source of the E. coli was most likely a fresh food product, D'Angeli said, because it probably could not be traced to one sick individual or one instance of cross-contamination of food since the cases are connected with so many restaurants.
D'Angeli noted that Chipotle has been cooperative and voluntarily shut down all its restaurants in the two states.
The reopening of the 43 Chipotle restaurants in Oregon and Washington will be dictated by the investigation, said company spokesman Chris Arnold. "Right now, that is the priority," he said.
The company has not made plans to close any other restaurants in other states as there is no evidence of a link to other restaurants, Arnold added.
Chipotle's (CMG) stock price fell $18.65, or 2.9 percent, to $621.58 in morning trade.
The reported cases of E. coli have been linked to six restaurants in Oregon in Washington state. "We closed 43 in those states out of an abundance of caution," Arnold said.
People have reported symptoms of infection in Clackamas and Washington counties in Oregon, and Clark, King, Skagit and Cowlitz counties in Washington.
There are hundreds of E. coli and similar bacteria strains in the intestines of humans. Most are harmless, but a few can cause serious problems.
Symptoms of E. coli infection include diarrhea, abdominal cramps, nausea and vomiting. Symptoms generally develop 3 or 4 days after eating contaminated food, although the incubation period can range anywhere from 1 to 10 days.
"The important thing is that if you've eaten at Chipotle between October 14 and October 23, and you have vomiting or bloody diarrhea, call your doctor," said CBS News medical contributor Dr. Tara Narula. "If you have severe diarrhea lasting more than three days or vomiting where you can't keep down food, call your doctor."
Narula said it's important not to take antibiotics, as these drugs could have a negative interaction with the bacteria and cause a serious complication called hemolytic uremic syndrome, which could lead to kidney failure.
Health officials say the best defense against the bacterial illness is to thoroughly wash hands with soap and water.
Thanks for reading CBS NEWS.
Create your free account or log in
for more features.