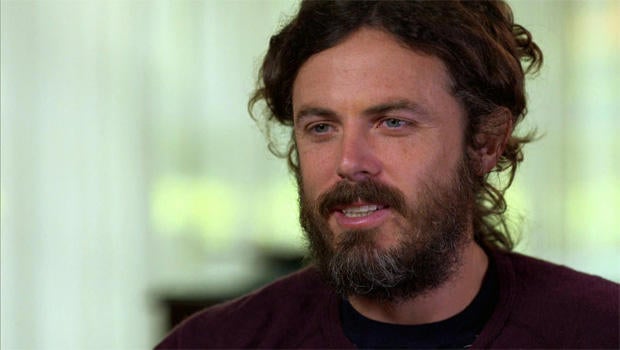 Casey Affleck's time has come, again
Casey Affleck has made a name for himself in films such as "Ocean's Eleven" and "The Assassination of Jesse James by the Coward Robert Ford." And now he's one of this year's leading candidates for Hollywood's highest honor. He sat down with Tracy Smith -- for some Questions and Answers:
For Casey Affleck 2016 has been quite a ride. He started the year helping to save a sinking ship in "The Finest Hours." But his latest film is the one keeping Oscar dreams afloat.
In "Manchester by the Sea," Affleck is a tragic loner who inherits custody of his teenage nephew. His character is an unsmiling wreck of a man, tormented by a cruel twist of fate that we won't spoil for you here.
Off-screen, and with a full beard for an upcoming role, he's a bit less somber, as when discussing his "Manchester" character: "At one point, someone was going to make the error of letting [Matt Damon] play it," Affleck said.
As you might guess, Affleck and Damon are longtime friends … and yes, Casey is Ben's younger brother. But at 41, he's not exactly standing in anyone's shadow.
He was an honest cop in a den of corruption in this year's crime thriller, "Triple Nine." He's been in all three "Oceans Eleven" films. And he held his own with Morgan Freeman in 2007's "Gone Baby Gone," as a private investigator in Affleck's real-life hometown, Boston.
Smith asked, "So how much of who you are is Boston?"
"A lot of who I am," he replied. "I mean, it feels like my home still, and I come back here as much as possible."
His parents divorced when he was in grade school, and the Affleck boys would often come home to an empty house. "Ben and I kind of took care of ourselves," Casey said. "Latchkey kids."
"Did you guys get into trouble?" Smith asked.
"Yeah, probably. I'm not talkin' about it!" he laughed.
He will say that baseball was his life -- as a Little Leaguer, and as a kid selling hot dogs outside Boston's famed Fenway Park, starting in eighth grade.
"I was young," he said. "I don't know why my mother let me do it. It was crazy. 'Cause then you get home by 10 o'clock, 11 o'clock, go to bed. I was a working man."
Another childhood memory: Spending time with his father at his job, a celebrated local joint called the Cantab Lounge, where his father tended bar.
Coincidentally, it was Tracy Smith's favorite bar in college: "I am not kidding. Little Joe Cook and the Thrillers at the Cantab. 'That's where it's at now.' Did you used to listen to them?"
"Look at that, you can sing!" said Affleck. "Maybe you're in the wrong career."
"No, I'm not. Did you hang out there?"
"Well, when he would go to work when we were very young, we would have to go and sit at one of the tables and just, like, endlessly drink ginger ales while he was working, which was fun. That's a hell of a way to raise a kid!"
He started acting fulltime out of high school, and landed his first movie role as a troublesome teen in "To Die For," opposite Nicole Kidman.
"Joaquin Phoenix was another actor in it who became my best friend, and we lived together for a while," Affleck said.
He was also married Joaquin's sister, Summer. They recently split after 10 years and two kids.
Despite the success of his first film, Affleck decided to go back to school, and enrolled full-time at Columbia University. But after a couple of years Hollywood lured him back.
He got his first real taste of the big time in 2007, opposite Brad Pitt in "The Assassination of Jesse James by the Coward Robert Ford."
Smith asked, "Do I have to say 'The Assassination of Jesse James by the Coward Robert Ford," the whole thing, every time?"
"Right. I know, it's a pain in the ass. That might explain why so few people went to see it, you know?"
"What do you think happened there?"
"Sometimes it just takes a minute for a movie to catch on. It wasn't an easy sell. Maybe people heard that Brad Pitt died halfway through and this other guy, Casey Affleck, carried the movie for the rest of it! I don't know, I'm not sure exactly."
Still, it got him noticed, earning him an Oscar nomination for Best Supporting Actor.
Casey Affleck seemed to be on a roll, until he directed 2010's "I'm Still Here," a spoof documentary in which Joaquin Phoenix "retires" from acting and pursues a career as a rap artist.
It was meant as a gag, but almost no one laughed.
"People didn't get the joke," Affleck said. "And what's more, I think it sort of annoyed people, because they thought we were trying to sort of pull the wool over their eyes."
Not only did the film flop, but Affleck was named in two civil sexual harassment suits by women who worked on the film. He vehemently denied the charges, and both suits were settled out of court.
After nearly 25 years as an actor, Affleck says he still wonders about his place in the business ... and about the college degree he never finished.
"So I called up Columbia University and I was sort of hoping that I would say, 'I spent two years there, maybe you guys could just give me a degree?' This tells you a lot about the mindset of an actor! And I though they'd say, like, 'Sure, here's an honorary degree. Great work you've been doin' out there!'
"And I finally get a dean on the phone and I explain my situation. And he said, 'Listen, you've been gone for over five years. You're going to have to reapply. And by the way, you owe us, you know, $15,000 for your tuition.' And I thought, 'OK, no honorary degree then?"
Not that it matters, to someone who may soon have another date at the Oscars.
It seems Casey Affleck's time has come, again.
Smith said, "I came across a New York Times headline from a few years ago that said, 'Casey Affleck should be more famous.'"
"Agh, a curse," he replied.
"Should you be?"
"Oh, no, I don't think so. I'm pretty happy with how things are right now. I feel like I get to do movies I like to do every now and again. I make a living, and I don't get bothered on the street. I like working in movies, I like acting, so I just try to find a balance. And whoever wrote that headline and that article, gimme their name after this and I'll reach out to them and explain things."

For more info:
Thanks for reading CBS NEWS.
Create your free account or log in
for more features.