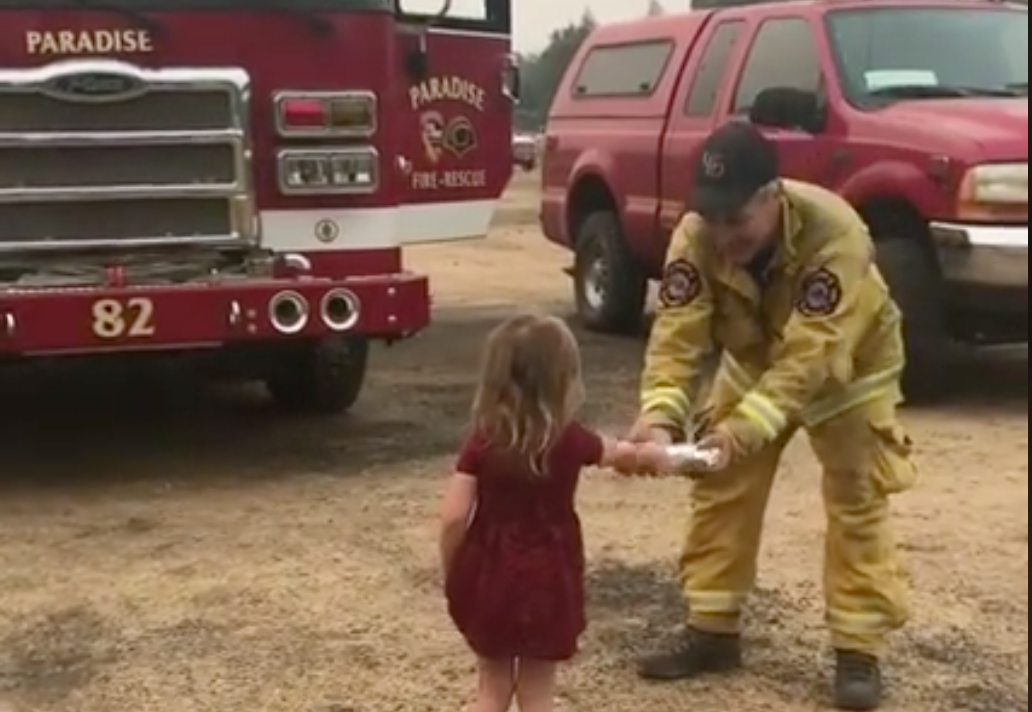 Touching video shows 2-year-old giving burritos to firefighters at Carr Fire
A heartwarming video posted to Facebook shows an adorable little girl handing out burritos to firefighters battling the devastating Carr Fire in Northern California. The fire, which has already killed six people and forced evacuations for nearly 40,000 people, has grown to the size of Denver and is only 20 percent contained, putting a heavy toll on firefighters -- many of whom are working 24-hour shifts.
Chelsey Lutz, who uploaded the video of her 2-year-old daughter Gracie, told CBS News that giving out the food was all about providing a boost for the firefighters.
"We just wanted to show our support for them," she said.
Lutz's two brothers, Colton and Kody, and her father, Jerry, are also working the Carr Fire – one of 17 major fires raging in the state. Nearly a quarter of a million acres of California land have been scorched.
Kody was finishing his day-long shift Monday when he told his mother that he "dying" for a burrito, according to Lutz. So she and her mother decided to make breakfast burritos for him and other hungry CalFire crews who were coming off the night shift after trying to contain the Carr Fire in Redding.
She uploaded the video on Facebook, and it shows her daughter giving out the foil-wrapped burritos to grateful firemen.
"We're just there to help," she said, adding her family would be back Monday night to hand over spaghetti.
This act of kindness is among some that have emerged in wake of the fires. Volunteers have collected water, food and supplies. Celebrity chefs like Jose Andres, along with small business owners, are feeding those displaced for free.
More than 1,000 homes and other buildings have been destroyed or damaged, while another 25,000 more homes are threatened. More than 52,000 residents have been ordered to evacuate and more than 12,000 firefighters are battling the flames.
Thanks for reading CBS NEWS.
Create your free account or log in
for more features.