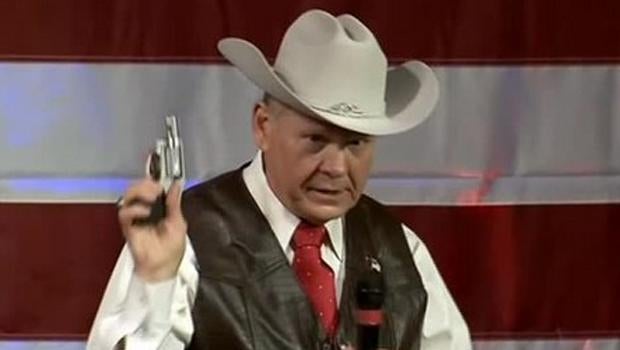 Can Roy Moore still win the Alabama Senate race?
Can Roy Moore win this thing?
Moore, a former Alabama Supreme Court Chief Justice and outspoken social conservative, has been the easy favorite to win the state's U.S. Senate seat since he became the GOP nominee in September. Alabama is a Republican stronghold that hasn't been represented by a Democratic senator since 1996, and it's a state where President Trump is still reliably popular.
However, the election was rocked last week by a Washington Post story, in which four women who alleged that Moore dated or tried to date them when they were teens and he was in his early 30s. The most serious allegations come from Leigh Corfmann, who said that Moore undressed and touched her when she was 14 and he was 32 in 1979.
It's impossible to know whether the allegations, which are disputed by Moore, will cost him the Senate race. But what we do know is that they are disturbing and hard to debunk.
So he could still win?
Yes, it's easy to imagine a scenario in which Moore wins despite the allegations. But it's also possible that Democrat Doug Jones, a former U.S. Attorney who made his name prosecuting Klansmen and domestic terrorist Eric Rudolph, could pull out a win.
Some experts on Alabama politics insist that Moore is still the favorite and will likely be elected, albeit narrowly. Conservative writer Quin Hillyer, who has been critical of Moore and Mr. Trump and once ran for Congress in the state, tweeted after the story broke on Thursday that Moore was still on track to win.
"It would it be like pulling an inside straight three times in a row," Hillyer told CBS News in September, before the latest revelations about Moore surfaced, about Jones' chances of winning. "It's possible but very doubtful. But he has a better chance (against Moore) than he would against any other Republican."
That's because Moore, even before the Washington Post story broke, had considerable baggage that other Republicans in the state do not. He has twice served as Chief Justice of the Alabama Supreme Court, an elected position, and twice has been essentially kicked off the bench, first for refusing to remove a giant statue of the Ten Commandments he had commissioned, and the second time for refusing to recognize gay marriages.
Moore also has a long history of controversial statements, such as his contention that the 9/11 attacks may have been a divine punishment for America's sins. But while his penchant for inflammatory remarks embarrasses many Alabama Republicans, it's also helped him develop a hardcore following that allowed him to easily triumph over Sen. Luther Strange, the Trump-backed Republican incumbent Moore knocked off in the September primary.
So why is Jones not a sure thing?
In a sense, Democrats have lucked out in having Jones on the ballot. He's known as a sober, competent public servant, and with Moore struggling in the wake of a sex scandal, he has a very real shot of winning the seat.
But Jones is also quite liberal by Alabama standards, particularly on social issues like abortion. He also has the burden of campaigning as a Democrat in a state where the Democratic Party is deeply unpopular. Before Moore's sex scandal, Jones looked like someone who could outperform a typical Democrat running in the state, but did not appear to be quite within striking distance of Moore.
Plenty of Republicans who dislike Moore might vote for him anyway if only to stop Sen. Chuck Schumer's Democrats from having another vote in the Senate. Although given the most recent revelations about Moore, it's also possible that many of these Republicans stay home, which could give Jones the edge if Democrats turn out in droves, which they probably will.
One thing to watch for is how the defenses of Moore play out on the ground. As The Washington Post story was about to break, Breitbart, the right-wing news outlet run by former White House adviser Steve Bannon, dismissed the allegations as an invention of liberal reporters. Editors at the website also attempted to downplay the allegations by saying that several of the women, although only teenagers, were technically above the age of consent.
It's a shocking strategy that speaks to Bannon's fears that he could be blamed for Moore's loss. Bannon was a supporter of Moore during the GOP primary and rushed to take credit for his win. He did this despite the fact that Moore won largely for reasons that have nothing to do with Bannon, such as Sen. Strange's own considerable political baggage and low approval rating in the state.
Still, Bannon knows he will look foolish if Moore loses, and will do whatever he can to push him across the finish line. Plus, many Alabama Republicans do believe that this story was ginned up by the Democrats to damage Moore.
However, if another shoe drops in the scandal, or the allegations are proven beyond any doubt, Alabama political experts say that might be enough to fracture Moore's base. Right now, people keen on voting for Moore can dismiss the allegations as a liberal fiction. If that position became untenable, Moore could really become unelectable, which could spark a write-in campaign for another Republican candidate.
The vast majority of write-in campaigns are, of course, doomed, although there are exceptions to that rule, such as when incumbent Alaska Sen. Lisa Murkowski lost her Republican primary only to win the general election as an independent and rejoin the GOP. If a high-profile Alabama Republican such as Attorney General Jeff Sessions were to enter the race as a write-in, then Moore would almost certainly get blown out of the water. But the chances of something like that happening, at least at this stage, are quite low.
What do the polls say?
There haven't been many conducted since the Moore scandal broke, but here's one that has been making the rounds on social media in recent days.
However, polls conducted soon after the story broke can be volatile, CBS News Elections director Anthony Salvanto cautions. Voters take awhile to process and sort through their reaction to the controversy.
Further, as we just saw in Virginia, any polls on special elections should be taken with a massive grain of salt. The Alabama Senate election will be held on Tuesday, December 12, and it's nearly impossible for pollsters to predict who will actually go and vote in an off-year special election. Salvanto also points out that this is a special election in which turnout and attention may have otherwise been low, but that could change, and polling based on older or past turnout models may not yet be able to capture this.
If we consistently see the race tightening in the polls, then perhaps Democrats should start feeling a bit more optimistic. Then again, Virginia Republicans were starting to get bullish on GOP gubernatorial nominee Ed Gillespie for the same reason earlier this month after polls started showing a tighter race; Gillespie, however, lost in a landslide, which just underscores how difficult it is to predict an outcome in races like these.
Thanks for reading CBS NEWS.
Create your free account or log in
for more features.