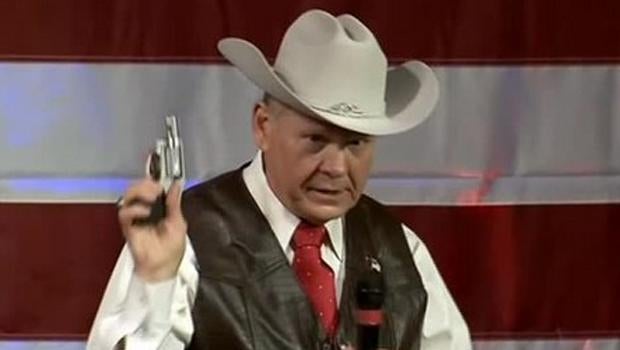 GOP Senate candidate accused of sexual encounter with minor
In a story first reported by The Washington Post and confirmed by CBS News, four women accuse Alabama Republican Roy Moore of pursuing them when they were teens and he was in his 30s.
A woman named Leigh Corfman says that when she was 14 years old in 1979, Moore, who is the current GOP Senate candidate in Alabama, initiated a sexual encounter with her when he was 32 years old, according to The Washington Post. Moore approached Corfman outside a courtroom in Alabama, the report said, while her mother was inside at a child custody hearing and struck up a conversation with her.
He asked for Corfman's phone number and picked up a few days later near her house and drove her to his home in the woods 30 minutes away, the report said. Moore told Corfman "how pretty she was and kissed her," the report said.
Moore, on a second visit, took off Corfman's shirt and pants and he removed his own clothes, the report said, which added that he touched her over her bra and underwear and "he guided her hand to touch him over his underwear."
Three other women told the Post in recent weeks, the report said, that Moore pursued them when they were between the ages of 16 and 18 and he was in his early 30s, working at the district attorney's office. He gave some of them alcohol -- at a time when the legal drinking age was 19.
Corfman is the only woman who had sexual contact with Moore, the report said, and they did not have intercourse. The legal age of consent in Alabama is 16 years of age, and sexual contact between someone who is 19 years of age or older and a person who is 12 to 16 years of age is a misdemeanor punishable by up to a year. The Post points out that enticing a child under 16 years of age into a home with the purpose of proposing sexual contact is a felony punishable by up to 10 years in prison. The statute of limitations on the felony charge would have run out in three years in 1979. Corfman never filed a police report.
Moore, now 70, is competing in the special election in Alabama on Dec. 12 against Democrat Doug Jones.
Moore's campaign chairman Bill Armistead released the following statement on Thursday afternoon:
"Judge Roy Moore has endured the most outlandish attacks on any candidate in the modern political arena, but this story in today's Washington Post alleging sexual impropriety takes the cake. National liberal organizations know their chosen candidate Doug Jones is in a death spiral, and this is their last ditch Hail Mary."

"The Washington Post has already endorsed the Judge's opponent, and for months, they have engaged in a systematic campaign to distort the truth about the Judge's record and career and derail his campaign. In fact, just two days ago, the Foundation for Moral Law sent a retraction demand to the Post for the false stories they wrote about the Judge's work and compensation. But apparently, there is no end to what the Post will allege."

"The Judge has been married to Kayla for nearly 33 years, has 4 children, and 5 grandchildren. He has been a candidate in four hotly-contested statewide political contests, twice as a gubernatorial candidate and twice as a candidate for chief justice. He has been a three-time candidate for local office, and he has been a national figure in two ground-breaking, judicial fights over religious liberty and traditional marriage. After over 40 years of public service, if any of these allegations were true, they would have been made public long before now."

"Judge Roy Moore is winning with a double-digit lead. So it is no surprise, with just over four weeks remaining, in a race for the U.S. Senate with national implications, that the Democratic Party and the country's most liberal newspaper would come up with a fabrication of this kind."

"This garbage is the very definition of fake news and intentional defamation."
In a statement following the Post's report, Senate Majority Leader Mitch McConnell suggested if the allegations against Moore were in fact true, "he must step aside."
National Republican Senate Committee Chairman Cory Gardner echoed those calls, calling the allegations "deeply troubling", adding , "If these allegations are found to be true, Roy Moore must drop out of the Alabama special Senate election."
Thanks for reading CBS NEWS.
Create your free account or log in
for more features.