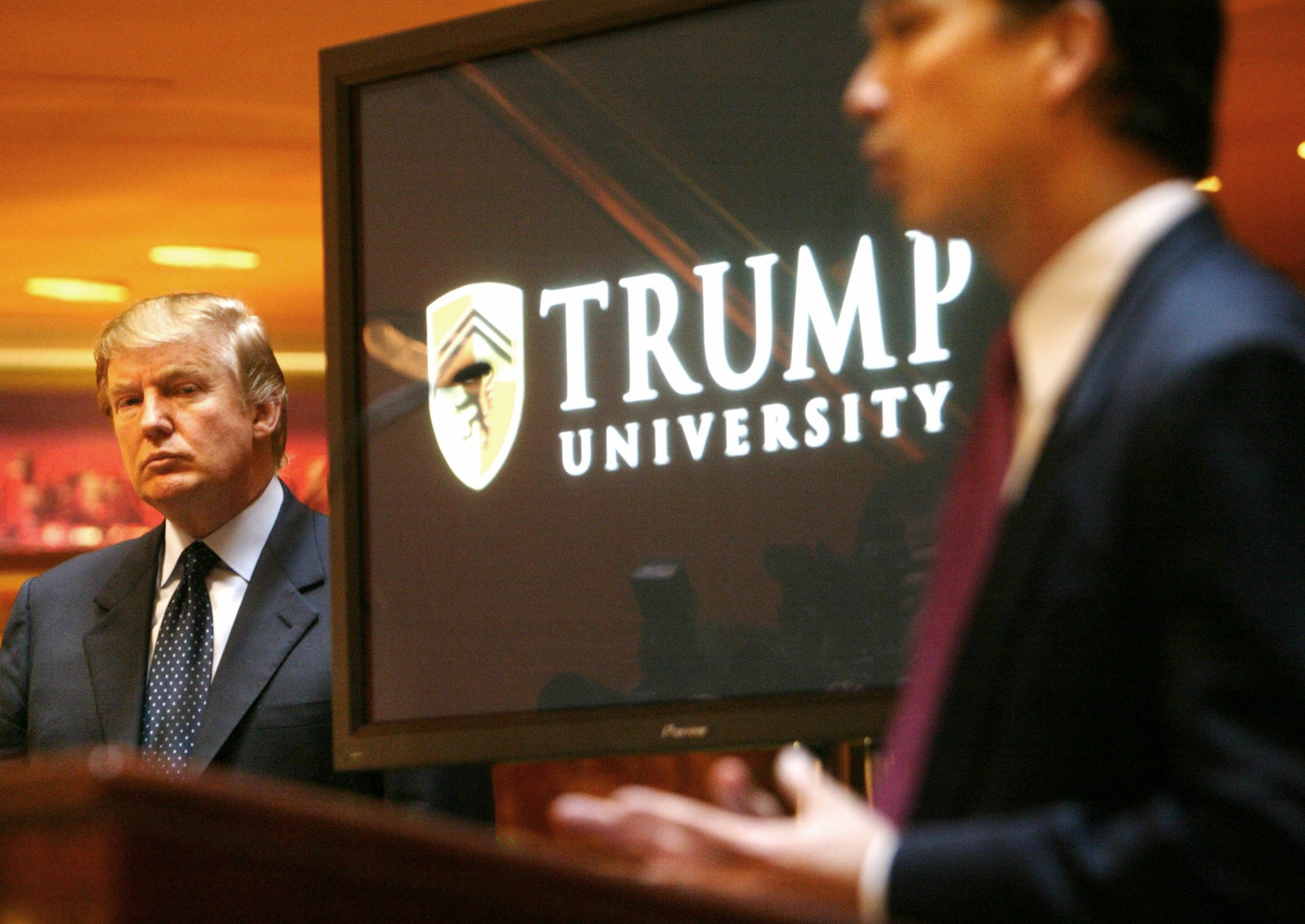 Trial date set in Trump University lawsuit
SAN DIEGO -- Donald Trump will go to trial in a class-action lawsuit against him and his now-defunct Trump University after the presidential election but before the inauguration, setting the stage for a president-elect to take the witness stand if he wins the White House.
U.S. District Judge Gonzalo Curiel on Friday scheduled trial for Nov. 28 in the suit that alleges people who paid up to $35,000 for real estate seminars got defrauded. The likely Republican nominee planned to attend most, if not all, of the trial and would testify, Trump attorney Daniel Petrocelli said.
"He has very, very strong feelings about this case," Petrocelli told reporters.
Petrocelli asked for a trial after Inauguration Day on Jan. 20, but the judge raised concerns about distractions if Trump wins the election. The attorney said the period between the election and swearing-in is extremely hectic for a president-elect but that it was preferable to holding a trial during the campaign.
The lawsuit is one of three that accuse Trump University of fleecing students with unfulfilled promises to teach secrets of success in real estate.
The California suit, initially filed by Orange County resident Tarla Makaeff, accuses Trump of misleading students at the university, which cost $35,000 for an "elite"' membership, CBS affiliate KFMB reported.
The suit says Trump University, which no longer operates and was not accredited as a school, gave seminars and classes across the country that were like infomercials, constantly pressuring students to buy more and, in the end, failing to deliver.
Trump, who appears on a list of defense witnesses for the trial, has repeatedly pointed to a 98 percent satisfaction rate on internal surveys. But the lawsuit says students were asked to rate the product when they believed they still had more instruction to come and were reluctant to openly criticize their teachers on surveys that were not anonymous.
Last year, CBS News conducted a three-month investigation of Trump University, reaching out to dozens of former students and reviewing hundreds of comments about the program.
Curiel, a judicial appointee of President Barack Obama, has been eager to get to trial and had planned for it this summer before Trump's surge in the primaries. The case was filed in 2010, making it the second-oldest on his docket.
Still, he expressed concern about a trial during the campaign, partly out of concern for jurors' safety.
"Will they be able to stay clear of the media frenzy?" he asked. "Ultimately that's my Number 1 concern."
Since the early 1980s, Trump personally has been sued at least 150 times in federal court, records show. Only a handful of those cases are pending, with the ones involving Trump University -- two in California and one in New York -- being the most significant.
Trump has railed against the judge in the San Diego case, calling him hostile and suggesting his positions may be the result of Trump's stance on border security. The likely GOP nominee has noted Curiel's ethnicity.
Trump said of the judge at an Arkansas rally in February: "I believe he happens to be Spanish, which is fine. He's Hispanic -- which is fine."
Petrocelli said he would not ask for the judge to be removed from the case, despite Trump's views.
"He's got very strong views about everything and he expressed his own views," Petrocelli said.
Jury selection may begin shortly before Nov. 28, and the trial was expected to last a month or longer, the judge said.
The New York suit, filed in 2013 by state Attorney General Eric Schneiderman, accuses the billionaire and others of making phony claims to convince more than 5,000 people, including 600 New Yorkers, to "spend tens of thousands of dollars they couldn't afford for lessons they never got."
The civil lawsuit, which seeks at least $40 million in restitution, accused the school of engaging in illegal business practices by running an unlicensed educational institution from 2005 to 2011 and making false claims about its classes.
Earlier this month, a New York judge A New York judge heard procedural arguments in the lawsuit, including a debate over whether the case should be decided by a judge or a jury.
Manhattan state Supreme Court Justice Cynthia Kern told both sides to return after a higher court rules on an appeal.
Schneiderman said Trump would be an "essential" witness when the case goes to trial.
"As we will prove in court, Donald Trump and his sham for-profit college defrauded thousands of students out of millions of dollars," Schneiderman said.
Thanks for reading CBS NEWS.
Create your free account or log in
for more features.