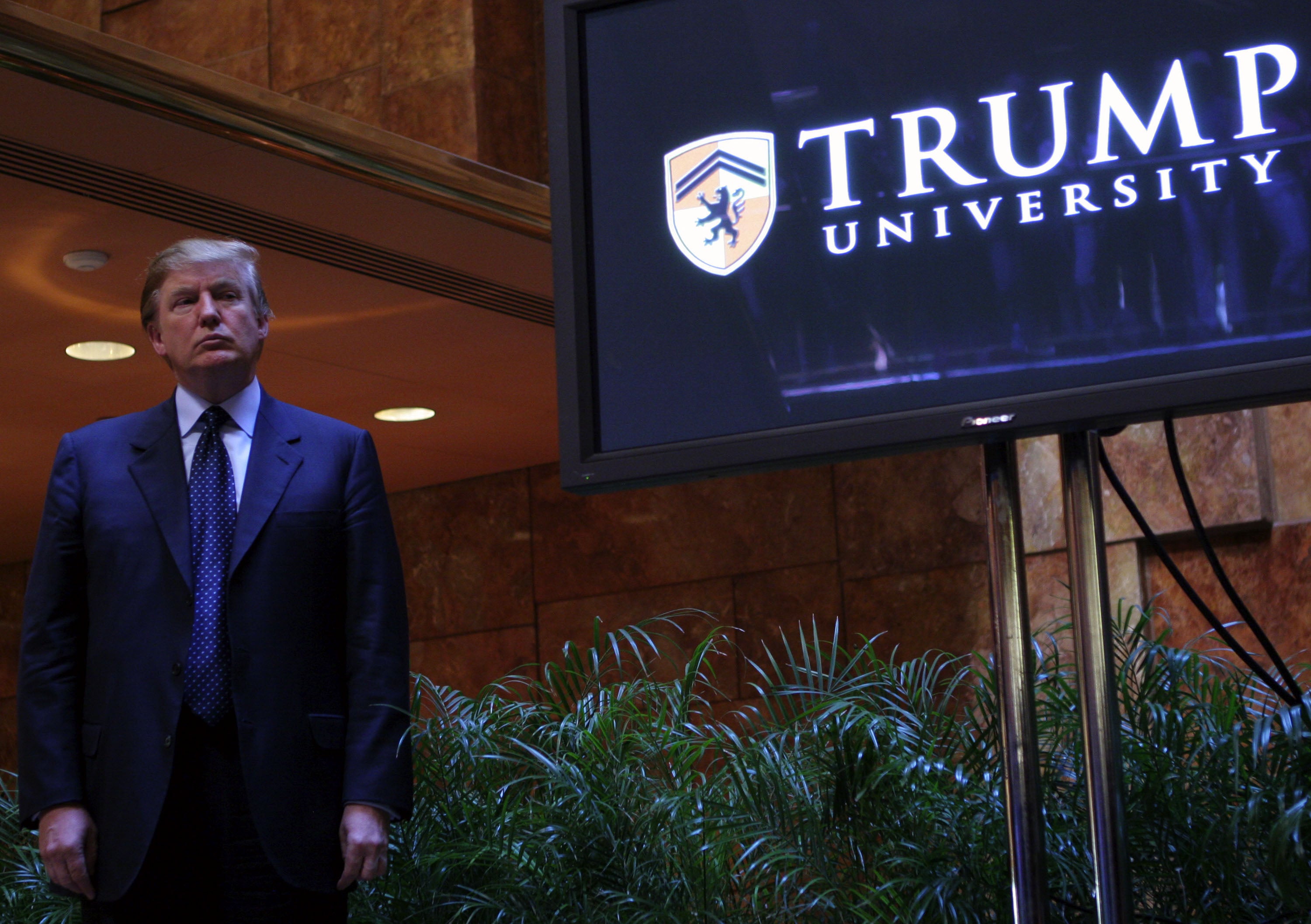 Documents reveal what Trump actually said about his university
Republican groups fighting Donald Trump are trying everything to derail the front-runner, including airing ads targeting Trump University. The program sold nearly 7,000 students on learning the billionaire's real estate secrets, but the school began winding down in 2010. More than 150 former students allege it was a fraud. Three lawsuits have been filed, one $40 million case in New York brought by the state's attorney general and two class action suits in California.
Trump University began in 2004 with online courses and in 2007 it started offering live events across the country as seminars in hotel ballrooms. There was a three-day, $1,500 course where students were urged to sign up for a $35,000 mentorship program.
In a tweet yesterday defending the school, Trump pointed to a 98 percent satisfaction rate, but court documents show that nearly 40 percent of the students who signed up for the three-day seminar or more received a refund.
Trump's critics say the next week is critical to stopping the Republican front-runner, and they're betting Trump University is their best weapon.
"I could have settled it, I think, pretty easy, I don't like settling cases," Trump said on "Face the Nation."
But by refusing to settle, Trump has opened the door to attacks at the peak of his presidential bid and distractions on the campaign trail -- like the 10 hours in December and January he spent in closed-door depositions for the two class-action lawsuits.
Court documents reveal that attorneys for the other side zeroing in on Trump's claim, as seen in a promotional video, that he chose all the instructors.
"If you don't learn from the people that we're going to be putting forward, and these are all people who are handpicked by me," Trump said in the commercial.
But confronted with questions about the instructors' lack of real estate experience, Trump acknowledged "he looked at resumes and things but didn't pick the speakers" and some "slipped through the cracks."
He was repeatedly pressed on one instructor CBS News told you about back in September, James Harris. Trump said he didn't know who he was and said, "I wasn't running it."
Harris told CBS News he was a motivational speaker paid on commission to sell additional Trump training. At least 17 students complained about Harris in affidavits.
"Trump University is something that I've thought about for a long time. I didn't want to put my name on anything having to do with education unless it was going to be the best," Trump said in a promotional video.
In other court documents, former events manager Corinne Sommer wrote that in her experience, "the focus of Trump University was on making sales rather than on providing educational services."
"Some consumers had showed up who were homeless and could not afford the seminars," she wrote. "Yet I overheard Trump University representatives telling them, 'It's ok; just max out your credit card.'"
"They said to call the credit card companies and make a request and try not to take no as an answer," former student Gary Smith said.
Smith was sold on the $35,000 package. He initially gave positive reviews but now says that his investment in Trump University was a net loss.
"Trump's name, you know, is one that -- at least up until that, I kind of thought that he was reputable," Smith said.
Trump's attorney told CBS News that they're looking forward to defending Trump University at trial and he said when the evidence comes out, it will show there was significant value and substance in the program and there will be a lot of people proven wrong. One of the California cases could be brought to trial during the campaign and Trump's attorney also told us that if and when that happens, Trump will take the stand.
Thanks for reading CBS NEWS.
Create your free account or log in
for more features.