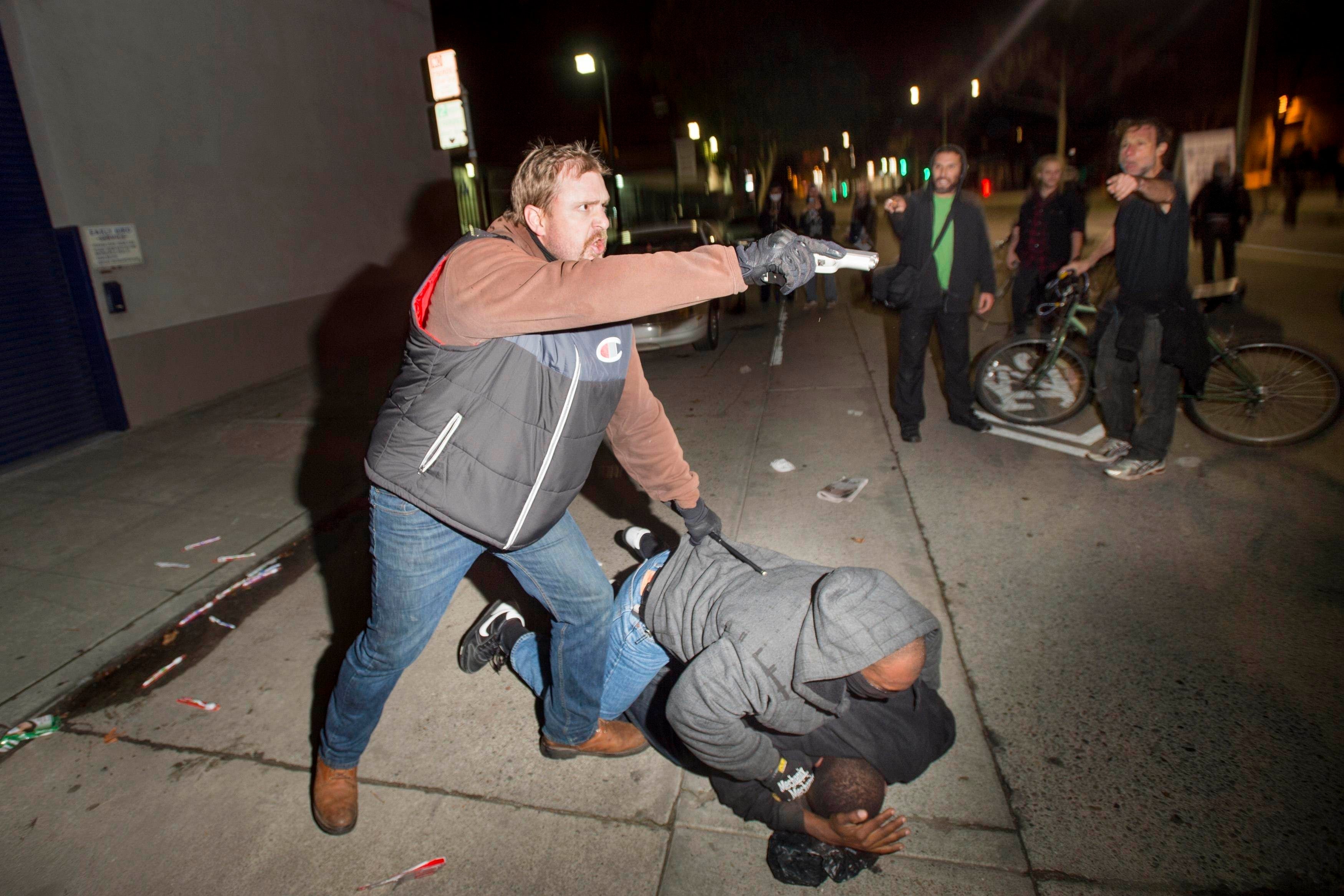 ​California Highway Patrol defends officer who drew gun on protesters
OAKLAND, Calif. -- A California Highway Patrol officer who pulled his gun on protesters in Oakland Wednesday night is still on active duty and his supervisor says it doesn't appear that the officer did anything wrong.
Wednesday's protest that began in Berkeley and spread to Oakland was the fourth night in a row of disruption in the Bay Area after the recent grand jury decisions where no charges were filed against police in the killings of two unarmed black men in Ferguson, Missouri, and New York City.
CBS San Francisco reported two plainclothes officers were watching a crowd of about 150 demonstrators from a car, trying to determine where the march was headed and trying to identify the vandals and looters of a T-Mobile store in Oakland's Chinatown.
When they got out of the car and started following on foot, protesters began pointing and yelling "they're cops." One officer was struck in the head, and that's when the other tried to protect him.
"At the same time, a group of about 30 to 50 folks encircled the officers and began to close in upon them. Our officer drew his baton and badge telling the crowd to stop and back up. They did not. They continued to advance, so he transitioned from his baton and drew his firearm and pointed it at the crowd," said CHP Golden Gate Division Commander Avery Brown.
Oakland police arrived to disperse the crowd. The protester who allegedly attacked the officer was taken away and booked on felony assault charges.
CHP said that officer suffered head injuries and may have a concussion. According to Brown, the two officers' actions will be investigated by the district attorney's office but they remain on duty. Their names were not released.
Highway patrol officials maintain the officer's actions were necessary to defend himself and his partner against an unruly crowd who was throwing rocks. Authorities deployed tear gas after saying an explosive was thrown at officers.
At the same time, CHP admits they have created phony Twitter accounts and dressed like demonstrators to do surveillance.
National Lawyers Guild Executive Director Carlos Villarreal told the Oakland Tribune the incident is doubly troubling because earlier in the week highway patrol officers, attempting to clear a blocked highway, fired bean bags from a freeway overpass at protesters below.
He said the agency has acted "recklessly."
Demonstrations in the Bay Area have drawn hundreds of people who have sometimes clashed with police as they blocked highways, smashed windows and refused police orders. Several hundred people have been arrested, and both police and protesters have been injured at the marches.
Thanks for reading CBS NEWS.
Create your free account or log in
for more features.