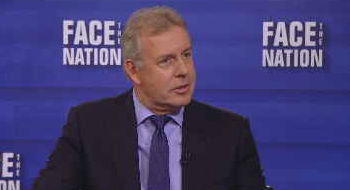 British ambassador to U.S. says U.K. "making progress" on Iran deal with Trump
Sir Kim Darroch, the British ambassador to the United States, said that senior officials for the United Kingdom are "making progress" on negotiations with President Trump on the Iran nuclear deal as he continues to weigh whether the United States formally withdraws from the pact. "We have ideas we think that we can find some language, produce some action that meets the president's concerns," Darroch told CBS' "Face the Nation" on Sunday.
Darroch said that British Prime Minister Theresa May spoke with the president and congratulated him on progress being made in North Korea but said messages were being heard from "all contacts in the administration" on where the Iran deal currently stands.
The ambassador noted that the agreement is a "good deal" but "not a perfect deal."
"The president is rightly concerned about Iran's regional activities, which are malign and damaging to security and stability. And he doesn't like the fact that ballistic missiles aren't covered. He's not happy about the sunset clauses, he thinks the inspections regime should be tougher," he added.
Darroch said that while the president's views on the deal have been very clear for many years a final decision has "not yet been taken."
Mr. Trump has publicly slammed the deal as recently as last week, once again calling it unfair for the United States, but he appears to be keeping his options open.
"I'm not telling you what I'm doing, but a lot of people think they know," Mr. Trump said. "And on or before the 12th, we'll make a decision."
Darroch noted the May 12 deadline for the U.S. to decide its role in the international agreement, saying "we have a few days left to see if we can find a way through."
Iran's president has since warned that the U.S. would face "grave" consequences if they decided to formally pull out of the Obama-era nuclear pact. The ambassador said the plan for now is keeping the U.S. a part of the deal.
"Of course we are looking at all eventualities. My government has said that as long as Iran is in compliance with the deal and wants to stick with it that will be our position as well, so we're looking at options for maintaining the deal should - which we hope they won't - should the U.S. administration choose to withdraw."
Thanks for reading CBS NEWS.
Create your free account or log in
for more features.