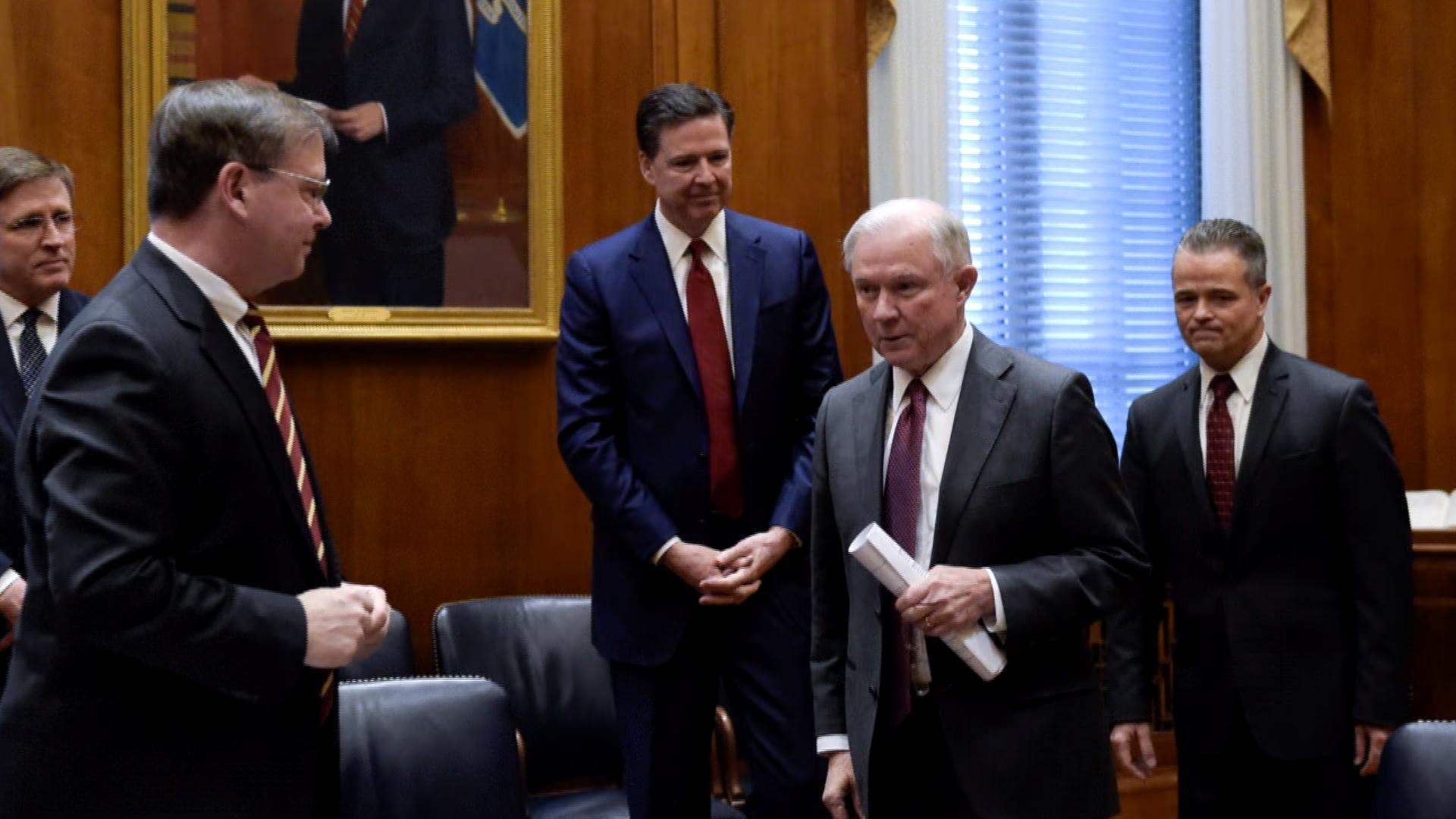 Why Jeff Sessions recused himself from Russian investigation
Attorney General Jeff Sessions on Thursday recused himself from the FBI's investigation of Russian meddling in the U.S. election.
This comes after the Justice Department acknowledged Sessions met with the Russian ambassador, Sergey Kislyak, during the campaign.
Sessions did not disclose this when he was asked, at his confirmation hearing, about contacts between the campaign and the russian government. Sessions was a campaign adviser.
Late Thursday, President Donald Trump issued a statement saying he believed Sessions' statements were "not intentional" and said there is a "total witch hunt" by Democrats.
"Jeff Sessions is an honest man," said Mr. Trump in the statement. "He did not say anything wrong. He could have stated his response more accurately, but it was clearly not intentional. This whole narrative is a way of saving face for Democrats losing an election that everyone thought they were supposed to win. The Democrats are overplaying their hand. They lost the election and now, they have lost their grip on reality. The real story is all of the illegal leaks of classified and other information. It is a total witch hunt!"
U.S. intelligence has concluded the Russians tried to influence the election. Now, the FBI is investigating whether Trump campaign associates colluded with Russian operatives.
Last month, the president fired National Security Adviser Michael Flynn after Flynn lied to the Vice President about contacts he had with Ambassador Kislyak.
No administration official has been accused of collusion -- but questions are being asked about why top Trump officials have been evasive in explaining their meetings with Kislyak.
"In retrospect, I should have slowed down and said I did meet with one Russian official a couple of times," U.S. Attorney General Jeff Sessions said Thursday.
Sessions said he would have no involvement in any investigation related to the Trump campaign. The announcement came less than a day after Sessions acknowledged having two meetings with Russian ambassador Sergey Kislyak last year -- something he did not reveal while under oath at his confirmation hearing when he was questioned by Minnesota Democrat Al Franken.
"If there is any evidence that anyone affiliated with the Trump campaign communicated with the Russian government in the course of this campaign, what will you do?" Franken asked Sessions.
"Sen. Franken, I'm not aware of any of those activities," Sessions said. "I have been called a surrogate at a time or two in that campaign, and I didn't have communications with the Russians."
In February 2016, Sessions became the first senator to endorse then-candidate Trump. He defended Mr. Trump's positive comments about Russia.
"Donald Trump is right. We need to figure out a way to end this cycle of hostility that's putting this country at risk," Sessions said then.
In July, he had a conversation with Kislyak at the Republican National Convention in Cleveland. Then in September, the two met in the Alabama senator's Capitol Hill office. Sessions says the Russian ambassador initiated the meeting.
Less than a month later, U.S. intelligence agencies would publicly blame the Russian government for a wave of cyberattacks targeting the U.S. election, ultimately concluding the attacks were designed to help President Trump. The FBI counterintelligence unit continues to investigate contacts between Trump associates and Russian operatives.
During his confirmation process, Sessions was asked in a written questionnaire if he had any contact with "the Russian government about the 2016 election." He responded "no."
He repeated that assertion today.
"I never had meetings with Russian operatives or Russian intermediaries about the Trump campaign, and the idea that I was part of a quote 'continuing exchange of information during the campaign between Trump surrogates and intermediaries for the Russian government' is totally false."
Eric O'Neill, a former counterintelligence officer for the FBI, who now works for the cybersecurity firm Carbon Black, says everyone at the Russian embassy is part of the Kremlin's spy network.
"There has to be that understanding that you're not just talking to a politician or a diplomat, you are talking to someone who will feed into intelligence," O'Neill says.
We now know other Trump associates also met with Kislyak either during or after the campaign.
They include Michael Flynn, adviser Carter Page, and Mr. Trump's son-in-law, Jared Kushner. The White House described the Kushner meeting as an "inconsequential hello."
Thanks for reading CBS NEWS.
Create your free account or log in
for more features.