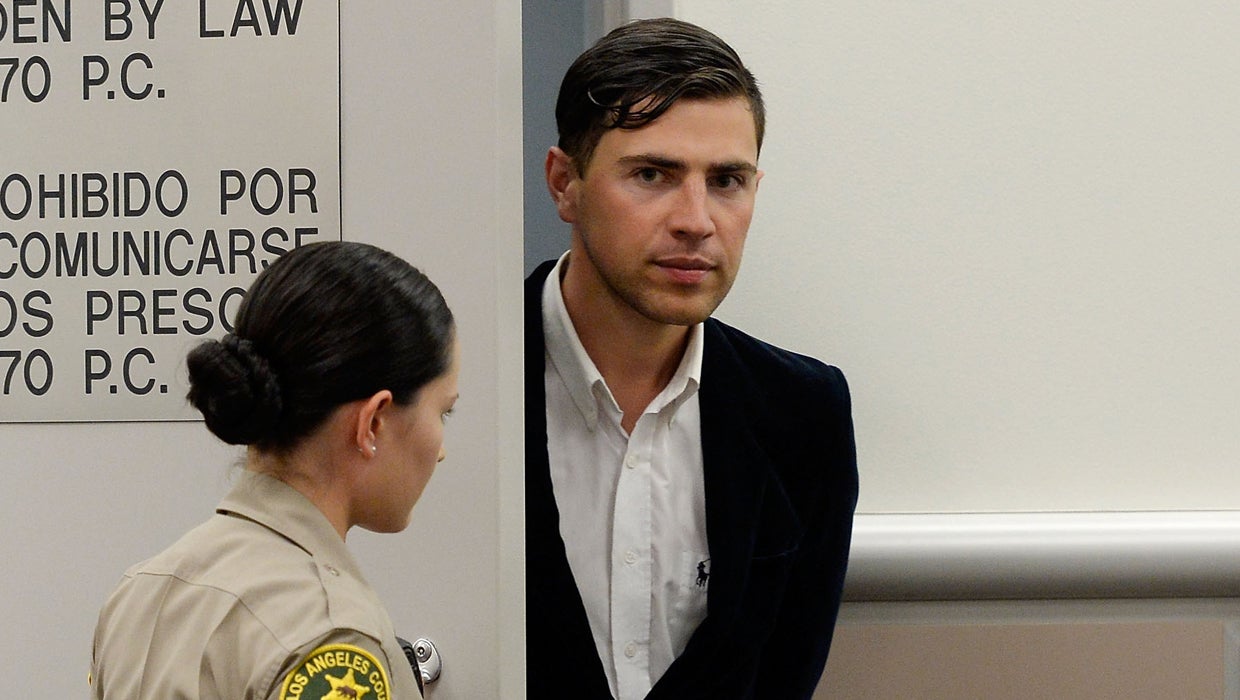 Brad Pitt's red carpet accoster, Vitalii Sediuk, given probation
Vitalii Sediuk, the ex-journalist who was arrested after jostling with Brad Pitt on a red carpet last week, said Monday he was merely trying to give the actor a hug and didn't mean him any harm.
The former Ukranian television reporter told The Associated Press in an interview that was in a fan area of the event that was open to the public when he went in to give the actor a hug. Sediuk, 25, has gained a reputation for outlandish pranks on red carpets in Moscow, Los Angeles and last month, at the Cannes Film Festival when he crawled underneath America Ferrera's dress at a film premiere.
His contact with Pitt, which caused the actor to lose balance while he was signing autographs at the "Maleficent" film premiere on Wednesday, led to Sediuk's arrest. He spent two days in jail before pleading no contest to battery and unlawful activity at a sporting or entertainment event and was sentenced Friday to three years of probation and a year's worth of psychiatric counseling.
"I'm a normal guy," Sediuk told the AP. "I'm not crazy."
He was also ordered to stay away from Pitt and his partner, actress Angelina Jolie, and to stay 500 yards away from the Hollywood block where movie premieres and the Academy Awards are hosted. Additionally, he was ordered to stay away from LA Live, a downtown entertainment complex where Sediuk crashed the Grammy Awards in 2013.
The former Ukranian journalist, who has hugged the crotches of Bradley Cooper and Leonardo Di Caprio and crashed the 2013 Grammy Awards said the primary purpose for his pranks is entertainment. "I'm doing this for fun," he said.
Sediuk has been fired by the Ukrainian television station 1+1 and said he does not know what his next steps will be. He said he intends to spend the next few months focusing on fulfilling his sentence in the Pitt incident, which include community service and a restraining order preventing him from going near Hollywood events.
He said he would like to remain in the entertainment field, working as a movie director or appearing in a reality show, and would continue work as a journalist -- if anyone will hire him.
Sediuk said he wouldn't give up pranks, but knew that his days of getting close to celebrities in Hollywood were at an end. Any future stunts would be done legally, he said, and "in a polite way."
He also said he wants to clear his name and not be known as the man who attacked Brad Pitt.
"I never hit, I never punched, I never slapped Brad Pitt in the face," he said. "This is absolutely false information."
Sediuk said he wanted Pitt to address it and dispute initial reports that he had been hit in the face. Pitt hasn't commented on the incident, but information that Sediuk struck the actor initially came from police. "It is something that hurts not only me, but also my family," Sediuk said.
He said his antics should lead stars and event organizers to reconsider their security procedures.
"Don't get offended at me. Don't get mad at me. And just to be thankful that I show it's easy to get access to you and maybe you have to tighten security," Sediuk said. He said celebrities should be cautious when talking to fans. "Obviously, I don't want to say, 'Don't talk to fans.' But (be) cautious."
Thanks for reading CBS NEWS.
Create your free account or log in
for more features.