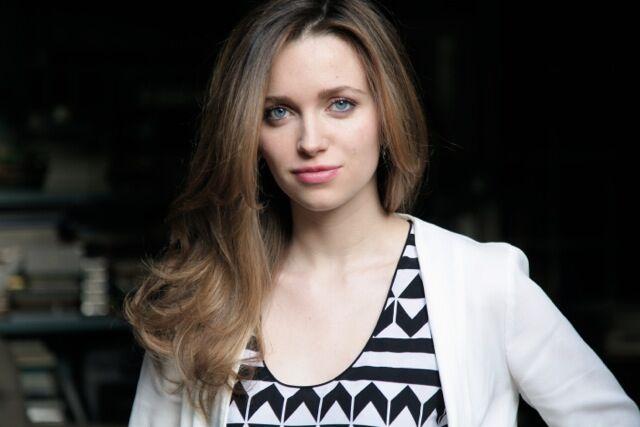 Bono's daughter wants to turn news consumers into activists
The news headlines of 2016 have come loaded with frustration and heartache: from the global refugee crisis stemming from Syria's civil war to the shooting deaths of African-Americans at the hands of police to, this month, Hurricane Matthew's devastating impact on the people of Haiti.
What if you could take action to affect change — make a donation, sign a petition, etc. — right there on the same page where you see the news?
That's the mission behind a new technology tool, launched Thursday, by a company helmed by Jordan Hewson, daughter of humanitarian activist and U2 frontman Bono.
It's called the "Action Button," and it's the first product from Hewson's company, Speakable, which is based in Williamsburg, Brooklyn. Speakable closed a $2 million round of funding in May 2016, according to a SEC filing.
Action Button is an interactive tool embedded on news sites to make it faster and easier for readers to make an impact on the issues they care about, from donating to a nonprofit to signing a petition. With each story, news consumers are given three options of immediate political actions they can take without having to navigate away from the news site they're on. The tool blurs the line between journalism and advocacy — but that's the point.
For Hewson, 27, the idea for the product came in 2012, when she read a powerful piece about the Taliban's brutal attack on Malala Yousafzai, the Pakistani schoolgirl, then 15, who was shot while returning home from school. That article linked to a petition to support girls' access to education worldwide.
"I never clicked on the link," Hewson said. "Ten minutes later, I thought, 'If I'm not going to sign this, who will?' I started to think very seriously about the barriers that exist to taking action and engaging with content. If we make it faster and easier to affect the things people care about, it will be more likely that they will actually do something."
Hewson, previously the founding editor for GlobalCitizen.org, ruminated on the idea for Action Button for a few years. With every humanitarian emergency — like the mass kidnapping of Nigerian schoolgirls by Boko Haram to the Ebola crisis — she felt new urgency to bring it to fruition.
"I got an influx of friends and family saying, we have to create this product. There was so much energy but it wasn't being channeled. This product is about channeling that energy," she said.
Hewson's family and friends aren't your typical network, of course. Her famous father — known since the early 2000s for his advocacy against extreme poverty and preventable disease in Africa through the ONE Campaign — has provided a model for today's generation of musician-activists to lend their celebrity to unsexy humanitarian causes.
Those values were passed down to Hewson — mostly through exposure, she explained.
"From a young age, I was always attending interesting events or conferences or interesting parts of the world. My family did an incredible job of educating us, of trying to keep us balanced in terms of what we saw in our environments," she said.
But that exposure to the world's big-picture problems also sowed restlessness, Hewson said.
"I felt frustrated a lot of the time growing up when I would see things, and didn't know where to channel that energy," she said.
Hewson recognized that same frustration in today's news consumers, who are constantly inundated with stories of seemingly intractable problems. If a particular issue moves them, readers might tweet, Facebook or email the story around — but the engagement usually stops there. Action Button, which is designed specifically with millennials in mind, is Hewson's answer to the restlessness we all feel after reading about injustice.
By marrying news and opportunities for action — parts of the internet that still remain largely siloed today — Hewson sees her product as the next logical step in online activism, a space revolutionized by MoveOn.org in 1998, Twitter in 2006, and numerous other players along the way.
"Twitter is such an important platform because it gave our voices power to change the conversations in the civic space — but what's the next step?" she said.
Action Button is powered by a matching algorithm that sifts through digital content and inserts relevant political actions provided through nonprofit partners. Speakable's policy team vets these partners, and only those that receive a 90 percent or above on charity evaluators, like Charity Navigator, make the cut, Hewson said. So far, Speakable has signed up 30 organizations, including ONE, Amnesty International, CARE, the International Rescue Committee, Planned Parenthood, UNHCR and 350.org, as partners.
Now, the elephant in the room: will news organizations come onboard? The Huffington Post has already beta-tested the product online. VICE and The Guardian are officially signed on to follow suit soon, Speakable announced Thursday.
Action Button poses obvious risk for news organizations who don't want to be seen as actively fundraising for organizations that represent particular points of view and have specific policy agendas — especially in an environment where charitable giving on issues ranging from climate change to refugee assistance is easily politicized.
A tool like this raises important philosophical questions for media outlets, said Susan McGregor, assistant director at the Tow Center for Digital Journalism and a professor at Columbia University's School of Journalism. Some outlets would find the idea of connecting people to advocacy "anathema, totally over the line," while others would find it totally acceptable, she said.
"It's worth considering, as a news profession, what is the concern with this? It seems to me, in some cases, it's kind of an artificial line. The idea that we would cover a story and then, if our readers are interested in doing something about it and responding in some way, that we would draw a line and say, 'We're not going to service that option,' or we wouldn't provide the info for interested readers to do that, feels a little artificial to me," McGregor said.
Concerns about the ethical implications of advocacy and news living side-by-side feel familiar, McGregor noted.
"News organizations host advertisements from a wide range of corporations and interests. If we can consider that there's a firewall between advertising and editorial, I don't see why there can't be a firewall here as well," she said.
For now, Hewson is excited about filling what she sees as a clear void in the vast landscape of online news.
"Millennials have different expectations of digital content," she said. "They want to do more than read headlines — they want to change headlines."
Thanks for reading CBS NEWS.
Create your free account or log in
for more features.