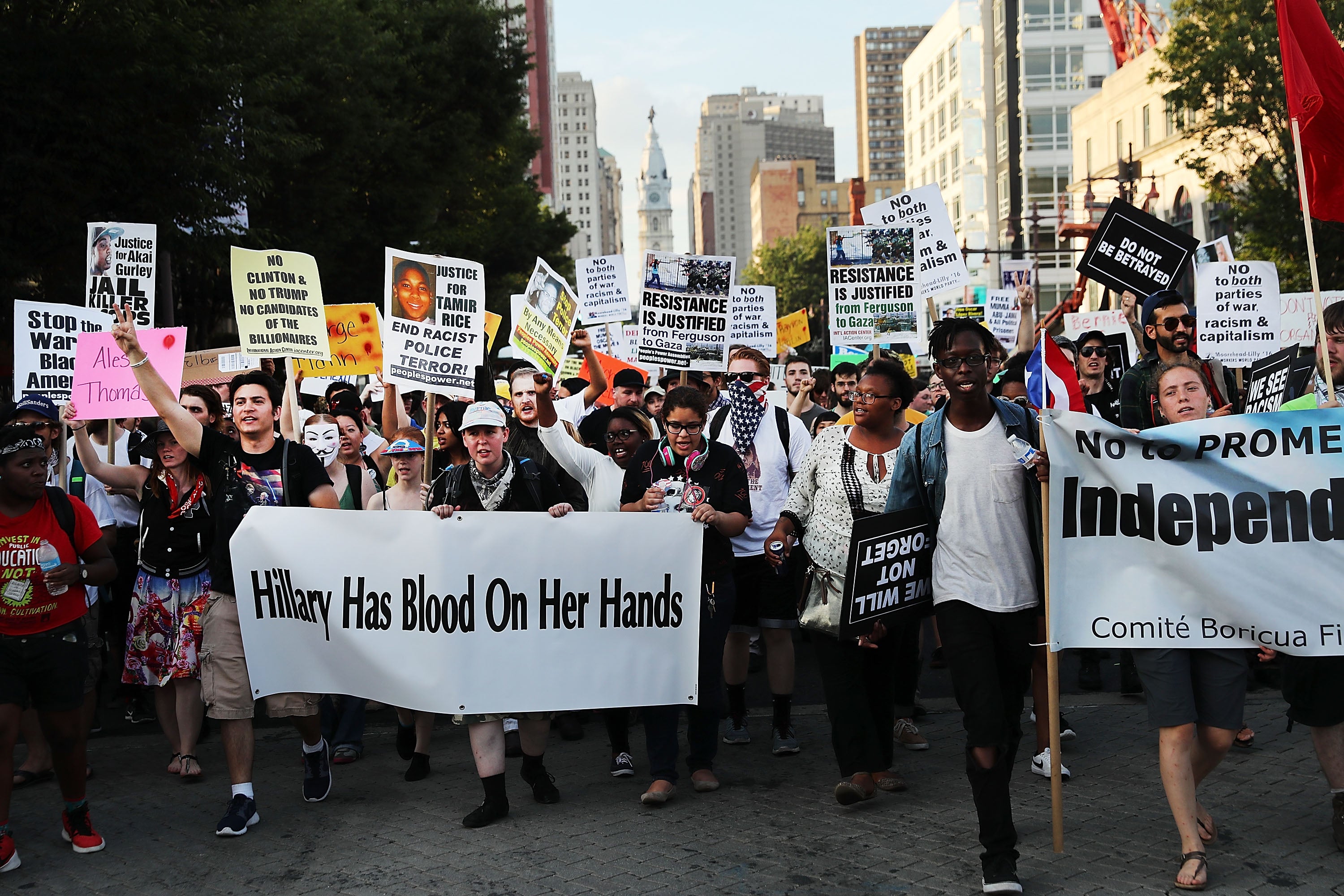 Poll: Support for Black Lives Matter grows among white youth
WASHINGTON -- Support for the Black Lives Matter movement has increased among young white adults, according to a poll that suggests a majority of white, black, Asian and Hispanic young adults now support the movement calling for accountability for police in the deaths of African-Americans.
Fifty-one percent of white adults between the ages of 18 and 30 say in a GenForward poll they now strongly or somewhat support Black Lives Matter​, a 10-point increase since June, while 42 percent said they do not support the movement.
But most young whites also think the movement's rhetoric encourages violence against the police, while the vast majority of young blacks say it does not. And young whites are more likely to consider violence against police a serious problem than say the same about the killings of African-Americans by police.
Black, Hispanic and Asian youth already had expressed strong majority support for the Black Lives Matter movement in the June poll. Eighty-five percent of African-American young adults now say they support the protesters. Sixty-seven percent of Asian and 62 percent of Hispanic young adults agreed with that sentiment.
The GenForward survey of adults age 18 to 30 is conducted by the Black Youth Project at the University of Chicago with the Associated Press-NORC Center for Public Affairs Research. The first-of-its-kind poll pays special attention to the voices of young adults of color, highlighting how race and ethnicity shape the opinions of a new generation.
Sean Bradley, 26, of Clearwater, Florida, said watching several encounters between police and black suspects online helped cement his support for Black Lives Matter. As a white male, he said, he also has had run-ins with the police and witnessed officers trying to cover for what he considered illegal conduct by other officers.
"The fact is that the police target blacks and they discriminate against blacks," Bradley said. "Because of how they've treated blacks over the years, of course they (blacks) don't trust them (police) and I know for a fact that some of the things the police do are illegal. I would be upset as well."
The Black Lives Matter movement​ emerged in 2012 after Florida neighborhood watch volunteer George Zimmerman was acquitted in the fatal shooting of an unarmed black teenager, Trayvon Martin. It gathered strength in ensuing years following the deaths of other black men at the hands of police in New York, South Carolina, Baltimore and elsewhere.
The August GenForward poll came after police in Baton Rouge, Louisiana, fatally shot Alton Sterling after pinning him to the ground, and after Philando Castile was shot and killed by a white police officer during a traffic stop in a suburb of Minneapolis.
Asked specifically about recent killings of black people by the police, 72 percent of African-American young people, 61 percent of Asian-Americans, 51 percent of Latinos and 40 percent of whites said they consider those killings part of a larger pattern, rather than isolated.
But young blacks​ are much more likely than young whites to call killings of black people by the police a very or extremely serious problem, 91 percent to 43 percent. Sixty-three percent of young whites think that violence against police is a serious problem, similar to the 60 percent of young African-Americans who say so.
Young whites also are more likely to say they trust Republican presidential nominee Donald Trump than Democratic opponent Hillary Clinton to handle attacks against the police, 45 percent to 28 percent, though they prefer Clinton for handling police violence against African-Americans, 44 percent to 20 percent.
Majorities of young African-Americans trust Clinton more to handle violence by and against police. Young Asian-Americans and Hispanics are also more likely to trust Clinton than Trump both.
And 66 percent of whites also said that they believe that Black Lives Matter's rhetoric encourages violence against police, compared with 43 percent of Asian-Americans, 42 percent of Hispanics, and 19 percent of African-Americans who said so.
Samuel Martin, 27, of Conway, South Carolina, is one of those white supporters of the Black Lives Matter movement, and said he's supported its goals from the beginning. He also vehemently disagreed with the idea that Black Lives Matter's rhetoric encourages violence against police.
"The only thing that would encourage violence against police would be thinking that black lives do not matter," Martin said.
---
The poll of 1,958 adults age 18-30 was conducted Aug. 1-14 using a sample drawn from the probability-based GenForward panel, which is designed to be representative of the U.S. young adult population. The margin of sampling error for all respondents is plus or minus 3.9 percentage points.
The survey was paid for by the Black Youth Project at the University of Chicago, using grants from the John D. and Catherine T. MacArthur Foundation and the Ford Foundation.
Respondents were first selected randomly using address-based sampling methods, and later interviewed online or by phone.
Thanks for reading CBS NEWS.
Create your free account or log in
for more features.