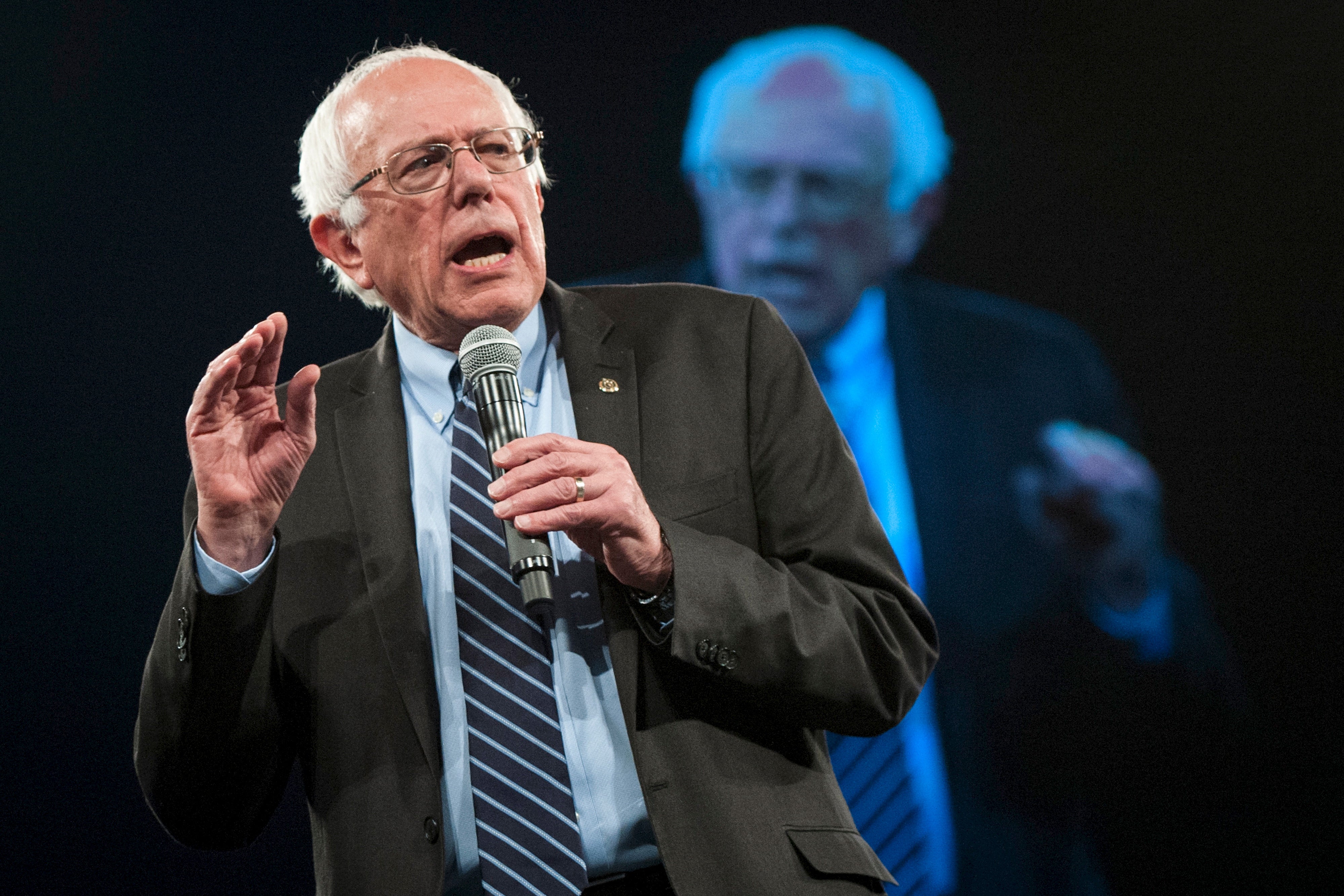 At Iowa dinner Sanders slams Clinton, but her organization dominates
DES MOINES -- Bernie Sanders delivered his most forceful critique of Hillary Clinton's record here on Saturday night, slamming her positions and recent comments on trade, same-sex marriage, the Keystone XL pipeline and the Iraq War.
His new attacks, in quick succession, came in a speech in front of more than 6,600 Iowa Democrats gathered for the party's annual Jefferson-Jackson Dinner. Though Sanders didn't utter her name once in his speech, it was the clearest and sharpest contrast that Sanders has drawn with Clinton yet.
"It is not now, nor has it ever been, the gold standard of trade agreements," Sanders said, directly referring to the way Clinton once described the Trans-Pacific Partnership, while she was Secretary of State. "I did not support it yesterday. I do not support it today. And I will not support it tomorrow."
"Today, some are trying to rewrite history by saying they voted for one anti-gay law to stop something worse. That's not the case," he said later. In an interview with Rachel Maddow on Friday, Clinton said that the Defense of Marriage Act, which President Bill Clinton signed into law, was a "defensive act."
"In a lot of ways, DOMA was a line that was drawn that was to prevent going further," Clinton said in the interview.
Sanders told reporters following the event, which marks the beginning of the final, 100-day run to the Iowa caucuses in February, that his comments were not a reaction to her recent victories on the debate stage and on Capitol Hill.
"What a campaign is about is contrast," Sanders said.
Clinton has started to draw her own contrast with Sanders on the campaign trail, too. In her speech at the dinner, she repeated a subtle jab toward Sanders that she has used recently.
"I've been told to stop shouting about ending gun violence," she said. "Sometimes when a woman speaks out, some people think it's shouting."
But in her remarks, Clinton largely stuck close to her stump speech, instead of responding to Sanders' attacks. Some of the more notable moments of her turn on stage were due to the substantial numbers of supporters who turned out - they waved neon blue, glow-in-the-dark, foam batons in the air that cast a blue hue across the bleachers where they sat. It was a spectacle that projected the strength of her campaign's organization, which was unmatched by the other campaigns in the room Saturday night.
Some of the Clinton supporters sitting in the bleachers finished Clinton's sentences, many of which came from the stump speech that was familiar to this crowd. When Clinton talked about critics who accused her of playing "the gender card" on the subject of equal pay, one supporter nodded her head. She knew exactly what was coming and said, "Deal me in!" nearly in unison with Clinton.
In another line from the campaign trail in Iowa, Clinton also connected with the room by hitting Iowa Gov. Terry Branstad on a number of issues. The crowd enthusiastically booed in appreciation of her allusion to the Republican governor's plans to cut education spending and Medicaid.
Martin O'Malley also capitalized on Iowa issues in his address to the crowd. He, too, tapped into the uniform displeasure with Governor Branstad in the room, and he also mentioned the closing of Maytag in Newton, Iowa -- blaming it on failed trade policies.
There were fewer O'Malley fans in the room. The Sanders and Clinton campaigns supporters dominated similar portions of bleacher seats - both looked to be at least double that of the O'Malley sections.
At the end of the night, all of the candidates and their families stood on stage, taking in the energy of the raucous room. Bill Clinton then moved to the edge of the stage where he appeared happy to put his political muscle to use. He took selfies, dove into details of programs that create jobs and talked about his wife.
"I think she's got the best ideas and the most experience, and I think people can see that she is good," Clinton said, adding "but I think I liked all three of them tonight. I was proud to be a Democrat tonight." Asked if he would be out on the campaign trail more, he responded, "Yeah," but offered no details.
Thanks for reading CBS NEWS.
Create your free account or log in
for more features.