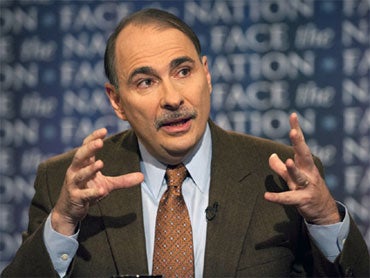 Axelrod Hits Out at Foreign Money in Elections
David Axelrod, the White House's Senior Adviser, is ratcheting up the Democrats' attack on the U.S. Chamber of Commerce, calling special interest spending "a threat to our democracy."
Axelrod is accusing the Chamber of Commerce of collecting millions of dollars from secret donors - including some foreign sources - to influence the midterm elections in favor of the Republicans, and refusing to disclose their sources.
"This issue of this special interest spending is very important," Axelrod said on CBS' "Face the Nation" Sunday. "It's never happened before that organizations are spending this kind of money. And the American people need to ask, 'Why is the oil industry, Wall Street and others spending this kind of money to defeat candidates and elect others in this sort of secretive way?' You know, that is a threat to our democracy."
This despite The New York Times looking into the Chamber's practices and concluding that "there is little evidence that what the Chamber does in collecting overseas dues is improper or even unusual, according to both liberal and conservative election-law lawyers and campaign finance documents."
The Times report showed that the Chamber does charge foreign affiliates dues, but it only brings in less than $100,000 a year, while it has an annual budget of $200 million and expects to spend $50 million in political expenditures.
"This part about foreign money, that appears to be peanuts," said CBS chief Washington correspondent Bob Schieffer. "Mr. Axelrod, do you have any evidence that it's anything other than peanuts?"
"Well, do you have any evidence that it's not, Bob?" the White House adviser replied. "The fact is that the Chamber has asserted that, but they won't release any information about where their campaign money is coming from."
Axelrod said that because of a landmark campaign finance ruling by the Supreme Court earlier this year, corporate funding of independent political broadcasts in candidate elections cannot be limited. Organizations like the Chamber of Commerce that spend on political campaigns now no longer need to disclose the sources of contributions.
Besides the Chamber, Axelrod also named the American Crossroads Fund as another one of these "ominous" groups, and accused Republican strategists Karl Rove and Ed Gillespie of running it.
"Because of a loophole that the Supreme Court allowed earlier this year, we now see tens of millions of dollars being spent by the Chamber and a number of organizations - some of which just cropped up; Ed Gillespie and Karl Rove run one of them - tens of millions of dollars from undisclosed donors under benign names like the American Crossroads Fund," Axelrod said.
The Democratic National Committee has produced an advertisement that hit out at Rove, Gillespie and the Chamber of Commerce.
The ad says: "Karl Rove, Ed Gillespie, they're Bush cronies. The U.S. Chamber of Commerce, they're shields for big business. And they're stealing our democracy, spending millions from secret donors to elect Republicans to do their bidding in Congress. It appears they even have taken secret foreign money to influence our elections. It's incredible, Republicans benefiting from secret foreign money."
Tom Collamore, senior vice president of Communications and Strategy for the U.S. Chamber of Commerce, said, "[The DNC's] ad attacking the U.S. Chamber is a blatant attempt to avoid a serious discussion of Americans' top priority - creating jobs and growing the economy. The ad is ridiculous and false."
Gillespie, chairman of the Republican State Leadership Committee and former chair of the Republican National Committee, also appeared on "Face the Nation" today, and fired back at Axelrod.
Gillespie told Schieffer that he and Rove in fact do not run the organization, though they back it.
"David Axelrod is either woefully uninformed or willfully deceptive and dishonest," Gillespie said.
"Karl Rove and I don't run American Crossroads as he said on this program. We're fully supportive of it. I've helped to raise money for it."
Gillespie countered that $400 million was spent in 2008 to elect President Barack Obama, and that "much of that money was undisclosed," and "we didn't hear Mr. Axelrod or others complaining" at the time.
"The Washington Post and The New York Times both completely repudiated this charge of foreign money being funneled through the Chamber of Commerce into American campaigns," Gillespie added. "The charge of illegal criminal activity, that was based on a blog posting that the President of the United States repeated, that was put on a website that's affiliated with Center for American Progress, a liberal nonprofit advocacy group that does not disclose its donors."
Gillespie was referring to the Web site Think Progress, which posted the story and continues to defend the accusations.
He even accused Axelrod and the Obama administration of abuse of power.
"The notion that David Axelrod, one of the highest ranking officials, a sworn official in the White House, would sit on this set and say I'm going to lob these charges and let them prove it's wrong," Gillespie said, "That is an unbelievable mentality, and it is a kind of grasp on power.
"These ads are not a threat to democracy, Bob. They may be a threat to their power. But their power and democracy are not the same thing. It's very revealing that they see it that way.
"The fact is that this is the kind of abuse of power, in a lot of ways, and the kind of attacks that most Americans are rejecting. It's one of the reasons they're in such trouble in this election," Gillespie said.
"Wouldn't it be better for all concerned if we disclosed who was giving what money to whom? Why not make these disclosures?" Schieffer asked.
"Bob, that's a debate for Congress to have," Gillespie said.
Thanks for reading CBS NEWS.
Create your free account or log in
for more features.