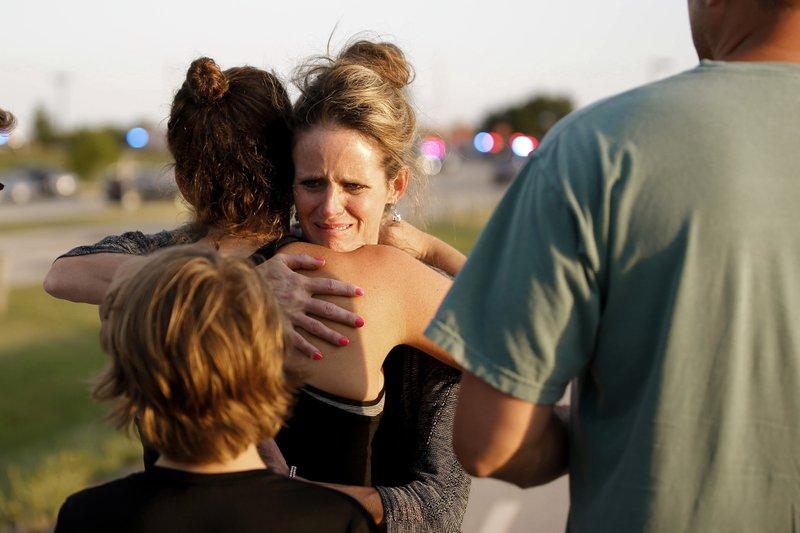 Authorities: Oklahoma restaurant shooter had gun license
OKLAHOMA CITY — The man suspected of shooting three people inside an Oklahoma City restaurant before being fatally shot by bystanders had no obvious connection to the victims or the restaurant, and was legally authorized to carry a firearm, authorities said Friday.
Oklahoma City Police Capt. Bo Mathews said investigators were trying to determine a motive behind the Thursday attack that wounded four people. He said the only interaction police had with the suspected gunman, 28-year-old Alexander Tilghman, was during a domestic assault and battery call when Tilghman was 13.
A police report from that 2003 incident indicates Tilghman was arrested after his mother told police he punched her several times during a dispute over a vacuum cleaner.
Mathews said the shooting appeared to be random but noted that Tilghman drove to the restaurant and wore protective gear for his ears and eyes.
"It looked like his mind was made up that he was going to discharge his firearm once he got there," Mathews said during a Friday news conference.
Mathews stressed that the investigation was ongoing and confirmed that Tilghman's mental health was being looked into.
Tilghman was licensed as an armed security guard, which authorized him to carry a firearm, said Gerald Konkler, general counsel for the Oklahoma Council on Law Enforcement Education and Training. The council certifies law enforcement officers and other armed personnel across the state.
Obtaining such a license requires a background check and at least 72 hours of training.
On Friday, Mathews praised the two citizens who shot Tilghman outside the restaurant. Mathews said each man retrieved a firearm from his vehicle. Tilghman's body was discovered about 50 to 75 feet from the restaurant's front door, almost in the parking lot.
"They were able to shoot the suspect and put an end to a very dangerous situation," Mathews said.
Police said Tilghman was armed with a pistol when he opened fire inside Louie's On The Lake around 6:30 p.m. on Thursday. A 39-year-old woman and two girls were shot and wounded, while an unarmed man broke his arm while trying to flee.
All four victims were in good condition Friday, according to police.
Dennis Will says his daughter Natalie Will and 12-year-old granddaughter Niah were walking into the restaurant Thursday night for a birthday party, when a gunman opened fire, reports CBS News' David Begnaud.
"She's still pretty shook up," Will said.
Will says his daughter was grazed by a bullet, and his granddaughter was shot. Natalie Will told CBS News they ran and hid in the restaurant bathroom with three other women until the shooting was over.
Twelve-year-old Niah is out of surgery, and the police said she is expected to survive.
Dennis Will said he is grateful the people who stopped the gunman were there.
A woman who answered the phone at the home believed to belong to Tilghman's mother declined to comment when contacted by The Associated Press.
Mathews said it's unlikely either of the civilian shooters will face criminal charges, but said that decision will be made by Oklahoma County District Attorney David Prater's office once the investigation is completed. Mathews said he was unaware if either of the men was licensed to carry a firearm, but state law allows a person without a license to carry a firearm in their vehicle under certain circumstances.
Police identified the citizen shooters as Juan Carlos Nazario and Bryan Whittle. Telephone and text messages seeking comment from the two men were not immediately returned.
The Hal Smith Restaurant Group, which owns the restaurant, released a statement saying the restaurant was closed Friday and counselors were available to employees and customers.
"We are extremely thankful the situation didn't escalate further, and that injuries were not more widespread. However, our hearts are with the wounded during this incident," company officials said, referring other questions to police.
The National Rifle Association said in a tweet Friday that the shooting was an example of "how the best way to stop a bad guy with a gun is a good guy with a gun." The organization said it hopes the incident serves as a "wake-up call" for Republican Gov. Mary Fallin, who recently vetoed a so-called constitutional carry bill that would have allowed adults to carry firearms without a license or training in Oklahoma.
In April, a restaurant patron wrestled an assault-style rifle away from a gunman at a Waffle House in Nashville, Tennessee. Four people were killed in that shooting. Police have said there would have been far more casualties if it weren't for the patron's quick thinking.
Thanks for reading CBS NEWS.
Create your free account or log in
for more features.