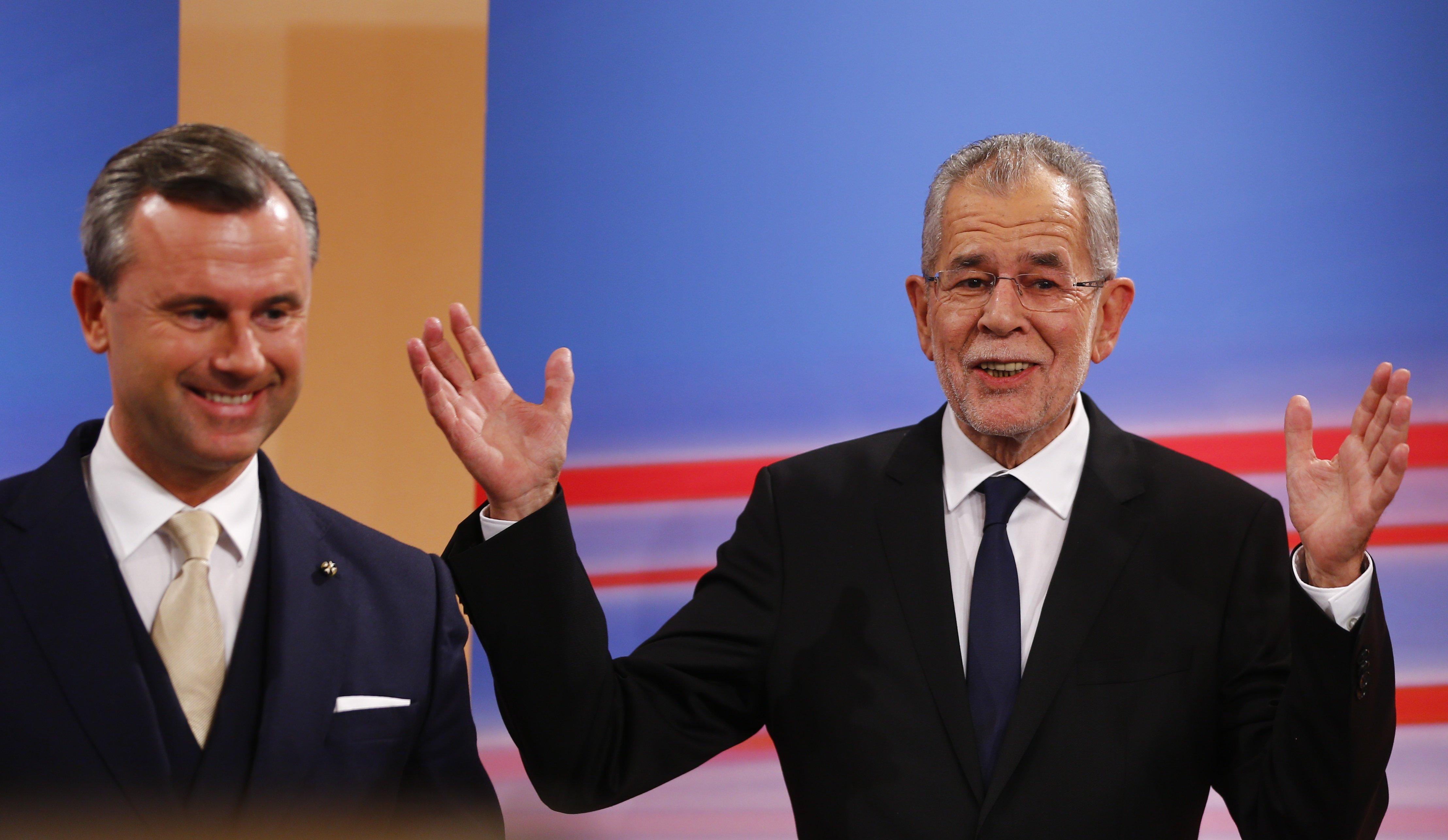 Austria rejects far-right party in bellwether presidential election
VIENNA — Austria denied its far-right party the presidency on Sunday, electing the Green Party's Alexander Van der Bellen over the Freedom Party's Norbert Hofer.
Amid growing fears about broad victories for far-right populism across Europe, Van der Bellen's victory will be seen as a sign of hope that similar movements can be defeated at the ballot box in other European countries next year.
Early results released Sunday evening in Austria, just after the polls had closed, found Van der Bellen with a 7-point lead over Hofer – far higher than any pre-election polls had suggested.
Hofer conceded the race shortly after the first results were released, thanking supporters in a Facebook post and calling for unity.
"I congratulate Alexander Van der Bellen on his success and ask all Austrians to stay together and work together," he wrote. "We are all Austrians, no matter who the voters have chosen."
Had Austria chosen Hofer on Sunday, the country would have elected the first far-right head of state in Europe since World War II. Hofer, who campaigned on an "Austria first" platform, is staunchly anti-refugee and has suggested Austria could hold a referendum on European Union membership.
At a time when voters distrust the political establishment and made it clear they were looking for a fresh face, Van der Bellen argued for making changes within the existing system, rather than trying to "destroy things" outright. Unlike Hofer, he believes Austria should remain in the EU and has spoken about its importance.
"We know that things need to change – but let's not destroy things," he said at his final rally on Friday. "You don't need to demolish the house because a couple of windows have become loose."
Van der Bellen's election is still historic in its own right, and reflects Austrian voters' anti-establishment sentiment in a different way: this is the first time in more than 50 years that Austria's president did not come from the two major parties, the center-left Social Democrats or the center-right Austrian People's Party.
Sunday's election brings to a close an unusually long election campaign in Austria, and confirms election results from earlier this year: Van der Bellen initially won a May election against Hofer by about 31,000 votes, but the country's constitutional court annulled the results after suggestions of voting irregularities. The court called for a re-vote which was ultimately not held until this weekend in early December, more than six months later.
In order to overcome his critics, Hofer had repeatedly attempted to assure voters he was not as extreme as had been suggested.
"I am just a normal guy," he told reporters after his final rally in Vienna Friday. "I am not far-right."
Van der Bellen, however, had framed the election as Europe's first line of defense against the far-right. He called Mr. Trump's election in the U.S. a "wake-up call" for Austria and for Europe more broadly, calling on voters across the continent to look for common ground and band together.
"I don't want Austria to become the first western European nation where right-wing demagogues take power," he said at a November news conference.
Defeating Hofer in Austria is only the first step in many for those who wish to keep the far-right out of power in Europe: several high-profile elections in 2017 will give similar forces an opportunity to increase their influence at the ballot box.
In March, the Netherlands votes in parliamentary elections, where Dutch Freedom Party leader Geert Wilders has a chance at becoming the next prime minister. France votes for its next president in April and May, with the National Front's Marine Le Pen poised to make it to the final round against Republican candidate Francois Fillon.
And in Germany, which votes next fall, Chancellor Angela Merkel is running for a fourth term but faces strong backlash over her policy on admitting refugees to Germany – an issue the far-right Alternative fur Deutschland (AfD) has capitalized on in an effort to win seats in the German parliament.
Thanks for reading CBS NEWS.
Create your free account or log in
for more features.