Potentially "catastrophic" storm cuts power to hundreds of thousands
ATLANTA -- The second wintry storm in two weeks to hit the Deep South encrusted highways, trees and power lines in ice Wednesday, knocking out electricity to more than 350,000 homes and businesses.
But it didn't wreak the highway havoc in Atlanta that the previous storm did - largely because people learned their lesson.
At least nine traffic deaths were blamed on the treacherous weather, and more than 3,100 airline flights nationwide were canceled.

As residents across the South heeded forecasters' unusually dire warnings and hunkered down at home against the onslaught of snow and freezing rain, the storm pushed northward along the Interstate 95 corridor, threatening to bring more than a foot of snow Thursday to the already sick-of-winter mid-Atlantic and Northeast.

Forecasters warned of a potentially "catastrophic" storm across the South with more than an inch of ice possible in some places. As the day wore on, power outages climbed by the hour and the dreary weather came in waves.

Ice combined with wind gusts up to 30 mph in Georgia snapped tree limbs and power lines. More than 200,000 homes and businesses lost power in Georgia, 130,000 in South Carolina and nearly 30,000 in Louisiana. Some people could be in the dark for days.
In Atlanta, forecasters said the storm could leave behind a half-inch of ice, enough to cripple the city just two weeks after January's winter storm
brought it to a standstill
.
"There's no way you can deal with ice," one woman told CBS News. "I don't care what Yankees say. You can't drive in ice."
Streets and highways were largely deserted this time. Before the first drop of sleet even fell, area schools announced they would be closed on Tuesday and Wednesday. Many businesses in the corporate capital of the South shut down, too.
Four students from the Georgia Academy for the Blind in Macon were back home in metro Atlanta after hitching a ride with the Georgia National Guard.
Georgia National Guard Capt. Jonathan Sellars and Russell Bergman with the Governor's Office said Wednesday that they spent about six hours the night before driving down from the Clay National Guard Center in Marietta to the school in Macon to pick up the children and bring them home before the storm worsened. The children ranged in age from 11 to 18 years old.
Sellars said the children's parents, who were unable to make the drive, greeted him and Bergman with handshakes and hugs. Sellars says he was grateful they were able to make it back safely to metro Atlanta before weather conditions worsened overnight.
The scene Wednesday was markedly different from the one Jan. 28, when thousands of children were stranded all night in schools by less than 3 inches of snow and countless people abandoned their cars after getting stuck in bumper-to-bumper traffic for hours and hours.
"I think they've learned the lesson from the last time, which is just stay home," Derrick Fuqua said as he let his dog run around in the sleet in Decatur, Ga.
However, heavy afternoon traffic was reported in Charlotte and Raleigh, N.C.
Across the region, those who had power passed the time watching movies or surfing the Internet. Others took short walks to the few stores that were open.
"Even in the snow, you still have to do your business," said Matt Altmix, who walked his Great Dane, Stella, in Atlanta. "I think some folks would even say they were a little trigger-happy to go ahead and cancel schools yesterday, as well as do all the preparation they did for the preparation for this storm. But it's justified."
Georgia Gov. Nathan Deal, who was widely criticized over his handling of the last storm, sounded an upbeat note this time.
"Thanks to the people of Georgia. You have shown your character," he said.
North Carolina Gov. Pat McCrory urged people to charge their cellphones and find batteries for radios and flashlights because the storm could bring nearly a foot of snow in places such as Charlotte.
"Stay smart. Don't put your stupid hat on at this point in time. Protect yourself. Protect your family. Protect your neighbors," McCrory said.
For the mid-Atlantic and the Northeast, the heavy weather was the latest in an unending drumbeat of storms that have depleted cities' salt supplies and caused school systems to run out of snow days.
The nation's capital could get up to 8 inches of snow. New York City could see 6 inches. Other sections of eastern New York were expecting 10 to 14 inches.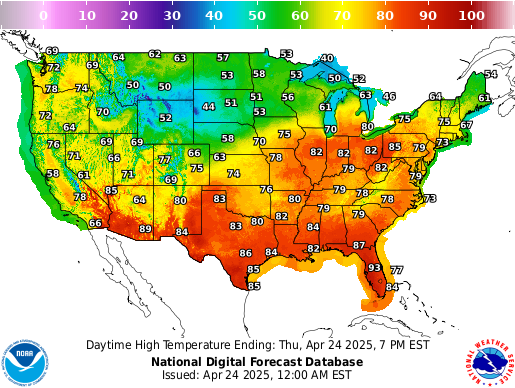 In Atlanta, stinging drops of sleet fell and windshields were crusted over with ice. Slushy sidewalks made even short walks treacherous. One emergency crew had to pull over to wait out the falling snow before slowly making its way back to the Georgia Emergency Management Agency's operations center.
In normally busy downtown areas, almost every business was closed except for a pharmacy.
Amy Cuzzort, who spent six hours in her car during the traffic standstill of January's storm, said she would spend this one at home, "doing chores, watching movies - creepy movies, 'The Shining'" - about a writer who goes mad while trapped in a hotel during a snowstorm.
In an warning issued early Wednesday, National Weather Service called the storm "catastrophic ... crippling ... paralyzing ... choose your adjective."
Meteorologist Eli Jacks noted that three-quarters of an inch of ice would be catastrophic anywhere.
However, the South is particularly vulnerable: Many trees hang over power lines for the simple reason that people don't normally have to worry about ice and snow snapping off limbs.
Three people were killed when an ambulance careened off an icy West Texas road and caught fire. A chain-reaction crash shut down the four-lane Mississippi River bridge on Interstate 20 at Vicksburg, Miss., and a tanker leaked a corrosive liquid into the river. No one was injured.
On Tuesday, four people died in weather-related traffic accidents in North Texas, including a Dallas firefighter who was knocked from an I-20 ramp and fell 50 feet. In Mississippi, two traffic deaths were reported.
For Bob Peattie of Bayshore, N.Y., and Lee Harbin of San Antonio, it was the second time in two weeks that their business meetings in Atlanta were canceled because of bad weather. Both work for a software consulting company and were staying at a downtown hotel.
"In two weeks, we'll do it again," Harbin said with a laugh.
They planned to work as long as the power remained on and they had Internet access.
"We can be sitting anywhere as long as we have connectivity," Peattie said.
Thanks for reading CBS NEWS.
Create your free account or log in
for more features.