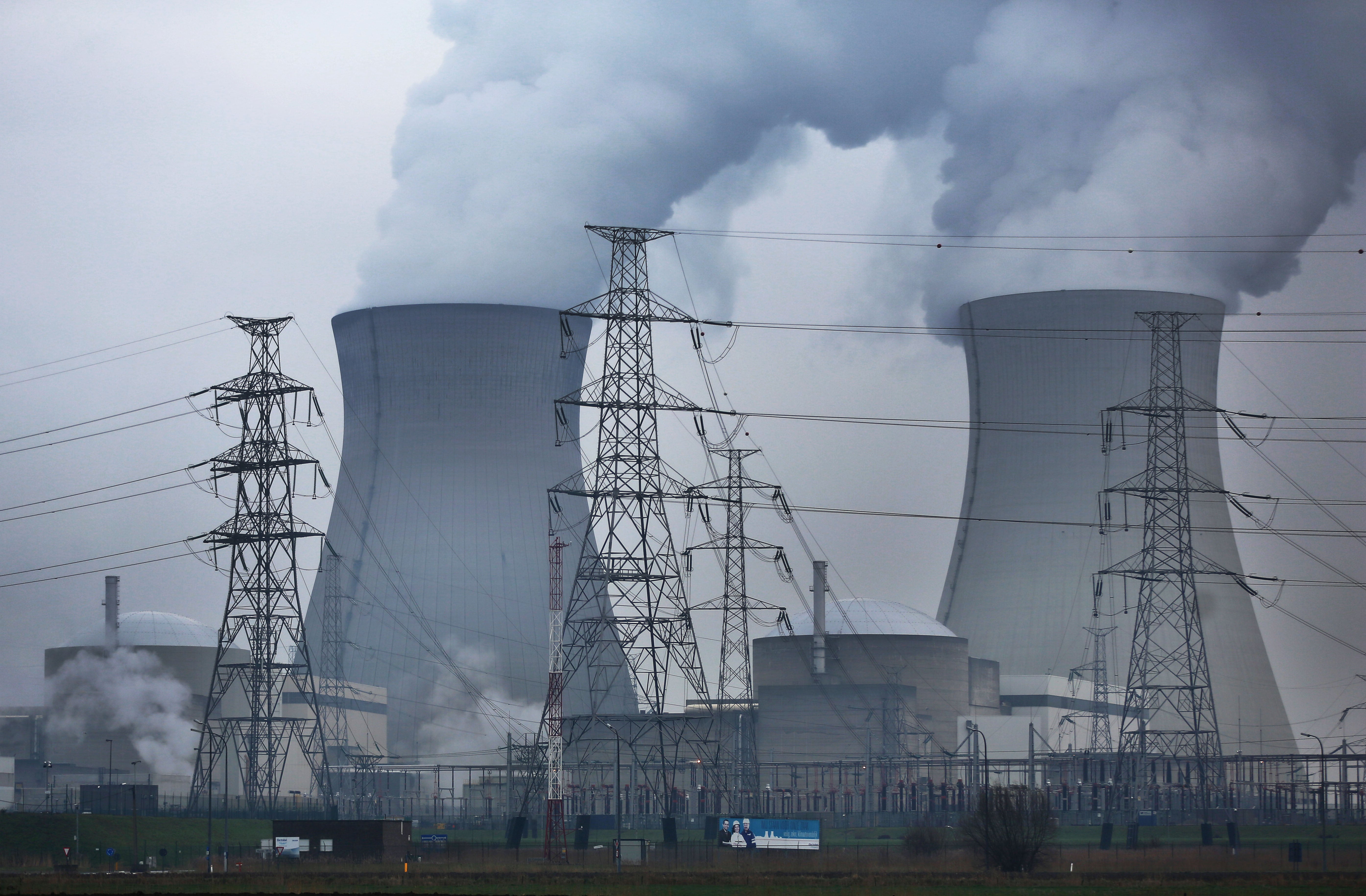 At nuclear summit, world leaders to take closer look at ISIS threat
At the fourth Nuclear Security Summit in Washington, D.C. this week, world leaders will have a unique opportunity to consider the threat of ISIS (or ISIL) in the context of nuclear security. The recent terrorist attack in Brussels, Belgium -- carried out by brothers who were part of a plan uncovered earlier this year to try and target a Belgian nuclear facility -- underscores the significance of this meeting, members of the Obama administration said Tuesday.
"Having this many leaders together at once provides us an important opportunity, in the wake of the recent attacks in Brussels and other countries, to address how we can enhance our capabilities to work together to confront the threat posed by ISIL," Deputy National Security Adviser Ben Rhodes told reporters on a conference call, "both in the context of preventing the spread of nuclear materials and also with respect to enhancing our own counterterrorism activities."
Representatives from more than 50 nations, along with international organizations like the United Nations and INTERPOL, will attend the two-day Nuclear Security Summit. The meeting is the fourth and final Nuclear Security Summit, initiated by the Obama administration in order to improve international cooperation in terms of securing nuclear materials.
This year's summit will include a special session focused on the threat of groups like ISIS.
"This gathering uniquely focuses on nuclear security and the nexus of terrorism and nuclear materials," Rhodes explained. While past summits have focused on the threat of al Qaeda, he said, "This is the first of its kind... to look at the ISIL threat through that prism."
In his own editorial published ahead of the nuclear summit Thursday, President Obama also stressed efforts to keep ISIS from gaining nuclear weapons.
"Given the continued threat posed by organizations such as the terrorist group we call ISIL, or ISIS, we'll also join allies and partners in reviewing our counterterrorism efforts, to prevent the world's most dangerous networks from obtaining the world's most dangerous weapons," Mr. Obama wrote in the Washington Post.
The developments in Belgium show "there is at least some interest by ISIL" in breaching nuclear security, said Laura Holgate, the National Security Council Senior Director for Weapons of Mass Destruction.
That said, there's no indication that the surveillance of Belgian nuclear scientists was part of a broader plan to acquire nuclear materials, Holgate added. "We don't have any information that a broader plot exists," she said. The U.S. has been working closely with Belgium on nuclear security issues, she added.
The Nuclear Security Summit will also give world leaders an opportunity to examine both the broader threat that ISIS poses and efforts to fight back against the group.
"We'll be looking at ways in which we can cooperate on a counterterrorism basis so that we're sharing information, disrupting terrorist plots, and preventing attacks like those that we saw most recently in Brussels," Rhodes said.
Additionally, Rhodes pointed out, President Obama will have a chance to meet with some of his counterparts, including key counter-ISIS partners, on the sidelines of the summit.
White House spokesman Josh Earnest added Wednesday that the president will certainly want to discuss the progress made in the fight against ISIS, including the developments on the ground in Iraq and Syria in recent weeks, as well as efforts to shut down ISIS's ability to finance its operations.
Many of the countries participating in the summit "are making important contributions to our counter-ISIL campaign," Earnest said. "And the president felt it was important, while they're all in town all in one place and all talking about national security, that they should have a discussion about what the president has identified as his top priority."
The summit starts Thursday morning, when President Obama will meet with President Park Geun-Hye of the Republic of Korea and Prime Minister Shinzo Abe of Japan. The three leaders will discuss the nuclear threat posed by North Korea, among other things. They will "clearly demonstrate their unity in our commitment and our firm resolve to deter and defend against North Korean aggression," said Dan Kritenbrink, the National Security Council Senior Director for Asia. "Our three countries recognize that our security is linked, and that it's essential that we work closely together to meet this challenge."
The meeting comes just days after Republican presidential front-runner Donald Trump suggested that Japan and South Korea may have to acquire their own nuclear weaponry to defend themselves against North Korea.
Earnest on Wednesday said such a move would be "incredibly destabilizing."
"Right now the policy of the United States, a policy that is strongly supported by the broad international community, is that we should de-nuclearize the Korean Peninsula," Earnest said. "So Mr. Trump's suggestion that somehow we should encourage our allies in South Korea to develop nuclear weapons is directly contrary to a policy that the United States has long pursued, and is directly contrary to a policy that the international community has long supported. And it's hard for me to imagine why it would be a good idea to give the North Koreans any justification for any incentive to further accelerate their nuclear weapons program. It doesn't make any sense."
Also on Thursday, Mr. Obama will meet one-on-one with President Xi Jinping of China. They will discuss a range of issues, including North Korea. "I think they'll have a candid exchange on areas where we continue to have significant differences, including things such as human rights, cyber, maritime issues, as well," Kritenbrink said.
The president also addressed the threat of a nuclear North Korea in his Washington Post editorial, calling on the international community to "remain united in the face of North Korea's continued provocations, including its recent nuclear test and missile launches."
"The additional sanctions recently imposed on Pyongyang by the United Nations Security Council show that violations have consequences," he wrote. "The United States will continue working with allies and partners for the complete and verifiable denuclearization of the Korean Peninsula in a peaceful manner."
In the evening, Mr. Obama will host all of the leaders at the White House for a working dinner.
On Friday morning, Mr. Obama will meet with members of the P5-plus-1 to discuss the implementation of the Iran deal. Later in the day, the president will preside over three plenary sessions with world leaders and their top ministers.
The president, in his Thursday editorial, touted the success of the Iran deal, which he said has "prevented yet another nation from getting a nuclear bomb."
"A nuclear-armed Iran would have constituted an unacceptable threat to our national security and that of our allies and partners," Mr. Obama said. "It could have triggered a nuclear arms race in the Middle East and begun to unravel the global nonproliferation regime."
There will be a conspicuous absence at the summit: Russia, one of the members of the P5-plus-1, is not attending the gathering.
Rhodes called it a "missed opportunity for Russia."
"Frankly, all they're doing is isolating themselves in not participating as they have in the past," he said. "However, we do have ongoing cooperation and dialogue with them on issues related to nuclear security, and that's important work that is ongoing."
The Nuclear Security Summit rests on four pillars that Mr. Obama first laid out in 2009: nuclear disarmament, nuclear non-proliferation, nuclear security, and nuclear energy. The first summit was a held in Washington, D.C. in 2010. After that, summits were held in Seoul in 2012 and the Hague in 2014.
Over the course of those three summits, the participating countries have made over 260 commitments related to nuclear security, and nearly three-quarters of them have been implemented, according to the administration. Those commitments include removing or eliminating nuclear material from countries, implementing treaties related to nuclear security; converting reactors, and upgrading technologies.
"Because of these efforts, it is harder than ever before for terrorists or bad actors who acquire nuclear materials. And that, of course, makes all of our people more secure," Rhodes said.
Thanks for reading CBS NEWS.
Create your free account or log in
for more features.