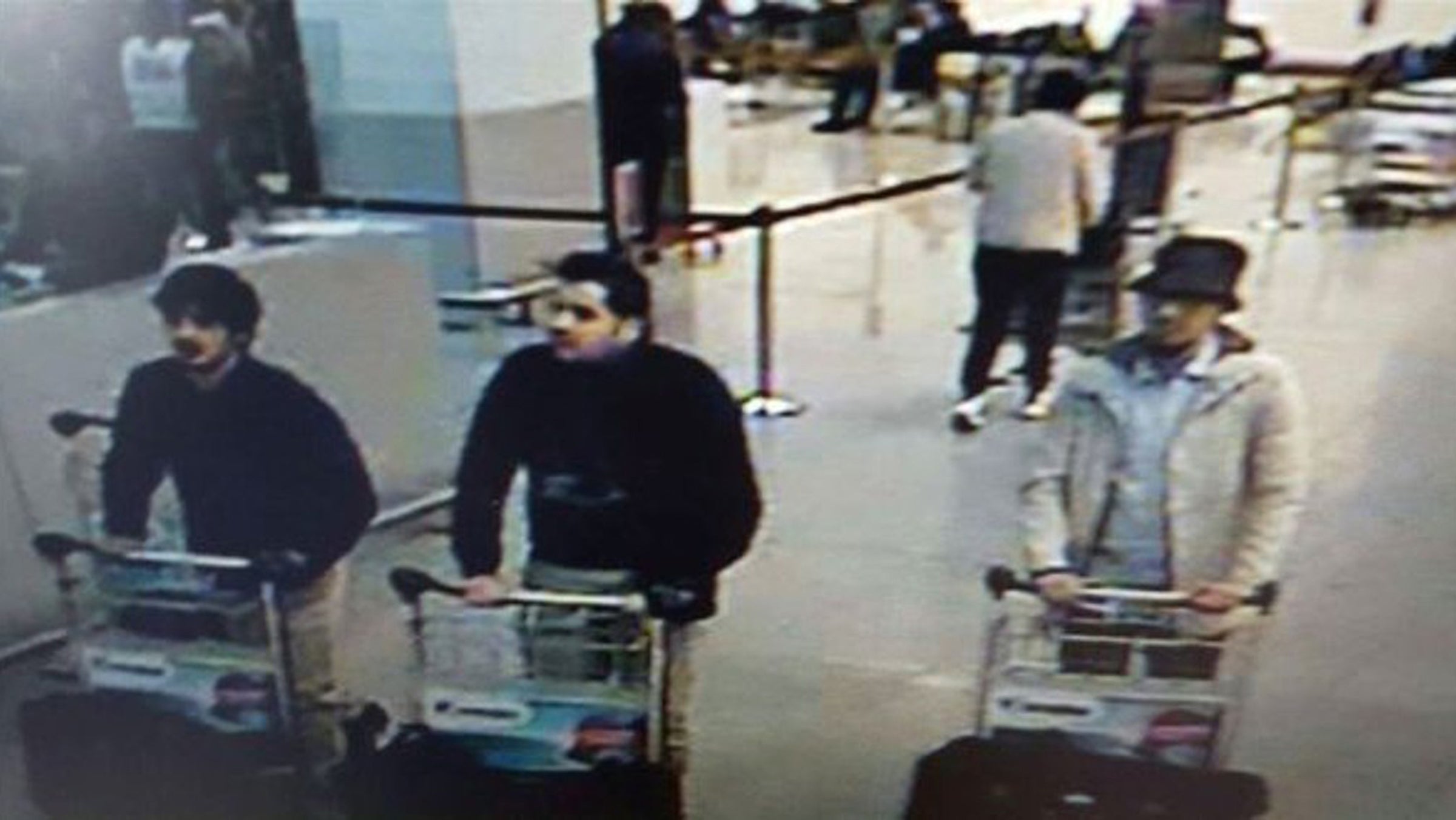 Brussels suspects linked to nuclear facility plot
BRUSSELS -- The sadness of a senseless tragedy that has overwhelmed Belgium was fast giving way Thursday to anger that it could have been avoided.
The carnage, CBS News learned Thursday, had originally been planned by the ISIS cell in Brussels for March 28 -- Easter Monday -- but was brought forward due to the arrest last Friday of Paris attacks suspect Salah Abdesalam, who has been linked to the Brussels bombers.
CBS News correspondent Charlie D'Agata reports that, already, the investigation is revealing a catalogue of mistakes and missed opportunities that may have cost lives.
The alleged bomb-maker, Najim Laachraoui, was at the top of the list of police suspects.
Thought to be the man on the left in an image of the three suspects casually pushing luggage trollies through Brussels Airport, Laachraoui apparently managed to evade the manhunt and get to the airport with a suitcase full of explosives, then blow himself up.
Two other suicide bombers in the attacks were identified as Ibrahim El Bakraoui, who died like Laachraoui in the airport, and his brother Khalid, who blew himself up in the subway system.
International and European arrest warrants were issued against Khalid El Bakraoui on December 11, 2015 -- on terrorism charges -- Belgian prosecutors confirmed on Thursday. He was being sought after investigators determined he had rented an apartment in Charleroi, Belgium, using a false identity, where the Paris suspects hid out in the wake of those gun and bomb attacks.
D'Agata reports Turkey's government said Thursday that Ibrahim El Bakraoui was apprehended at its border in the summer of 2015, and that they warned Belgian authorities specifically that he was a "foreign terrorist fighter."
That contradicts what the Belgian government has said since the brothers were first named as suspects in a terrorism case late last week; that they were only known to police as criminals, with no known ties to Islamic extremism.
It also emerged Thursday that the brothers were part of a plan uncovered earlier this year to try and target a Belgian nuclear facility -- while Khalid was the subject of the international arrest warrant. In December, Belgian security services discovered two men had been secretly videotaping one of the country's senior nuclear scientists.
In the process of searching the home of another ISIS suspect, who was arrested and charged with terrorist activity and murder over alleged links to the Nov. 13, 2015, Paris terror attacks, police found more than 10 hours of secretly recorded video showing the unnamed scientist coming and going from his home.
Investigators said the camera used to record the official was left at a static location under a bush, and was picked up by the two unidentified assailants.
Reports in European media on Thursday suggested those two men were Ibrahim and Khalid El Bakraoui, but CBS News could not immediately verify that detail. A U.S. official did confirm to CBS News, however, that the Bakaroui brothers were in involved in carrying out the covert surveillance of a Belgian nuclear official, and possibly a nuclear facility, as well.
In light of that ISIS surveillance earlier this year, CBS News senior national security analyst Juan Zarate called the evacuation order for Belgium's Tihange nuclear power plant, immediately following the Tuesday bombings, a "chilling development."
"This lends itself to concerns that ISIS is adapting very quickly, looking for key vulnerabilities, and even potentially considering how to use dirty bombs -- weapons of mass destruction," Zarate said on "CBS This Morning."
Belgian state broadcaster RTBF reported Thursday that 11 people who worked at the Tihange plant have had their access to the facility revoked since last week. Belgian officials did not immediately comment on the report.
A manhunt is still underway, meanwhile, for the unidentified suspect at the airport, the man in the hat on the right in the security image. It also emerged Thursday that the train bombing suspect, Khalid El Bakraoui, may have had an accomplice.
A U.S. official told CBS News that Belgian police are trying to locate a second man seen at the location of the subway bombing. The man was seen buying tickets in the subway with the Bakraoui, and both men had identical backpacks.
The suspects in the twin attacks in Brussels have been linked to alleged Paris plotter Abdeslam, who has been behind bars in Belgium since his arrest last Friday.
There was a first court hearing for Abdeslam Thursday morning in Brussels, on charges linked to the Paris attacks. He was not in the courtroom himself, but after the brief hearing his lawyer Sven Mary told reporters Abdeslam would not fight efforts to see him transferred back to Paris.
"Salah Abdeslam told me that he wishes to leave for France as soon as possible," Mary said. "I will ask the investigating magistrate not to oppose his departure."
Mary said his client wanted to get back to Paris to "explain himself in France."
Thanks for reading CBS NEWS.
Create your free account or log in
for more features.