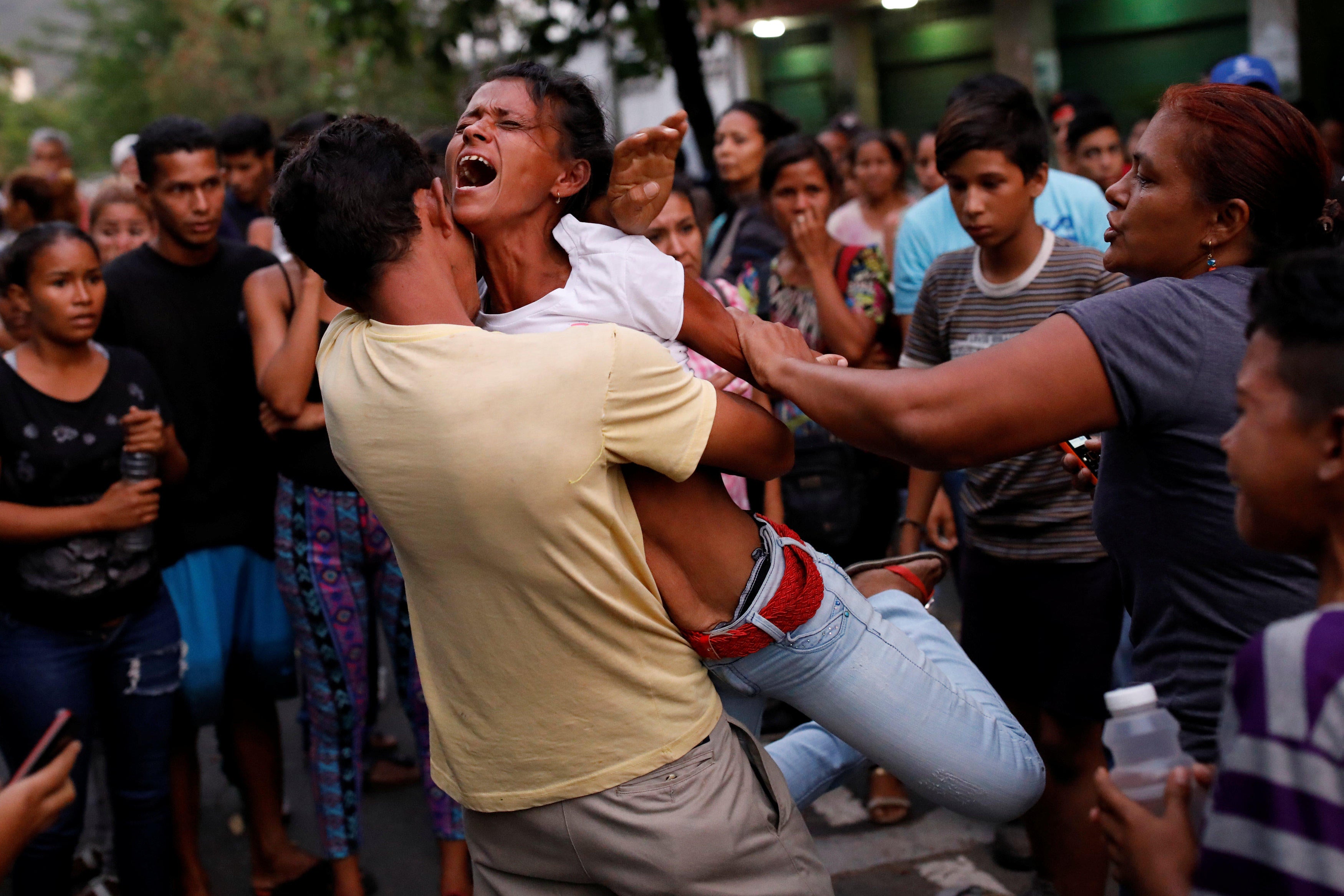 At least 68 dead as fire sweeps through Venezuela police station cell area after riot
VALENCIA, Venezuela -- Relatives of 68 people killed in a fire at a Venezuelan police station jail waited Thursday for officials to turn over the remains of their loved ones, after having spent much of the previous day clamoring for information and clashing with police. The fast-moving fire on Wednesday swept through a station where prisoners were being kept in crowded cells, becoming one of the worst catastrophes involving the nation's prison system.
"I want justice for my son," said Rocky Varela, 53, who said his 27-year-old son had been killed in the blaze. "Those who did this should pay."
Venezuela chief prosecutor Tarek William Saab announced late Wednesday on Twitter that 66 men and two women had been killed. He said four prosecutors were being assigned to determine what happened and who was responsible for the tragedy in Valencia, a town in Carabobo state 100 miles west of Caracas, the capital.
He promised a "thorough investigation to immediately shed light on the painful events that have put dozens of Venezuelan families in mourning."
Human rights groups immediately criticized authorities for failing to address the rapidly declining conditions in the nation's jails.
As Venezuela plummets into an economic crisis worse than the Great Depression, prisoners in often crowded jails are going hungry and have staged protests in recent months. Inmates also frequently obtain weapons and drugs with the help of corrupt guards and heavily armed groups who control cellblock fiefdoms.
The Venezuelan Prisons Observatory said it had been warning for some time about the untenable situation at police station jails, where detainees are often kept far longer than the 48-hour holding period mandated by law after an initial arrest.
"The negligence of authorities continues causing deaths," the group said.
The death toll in Wednesday's disaster surpasses nearly every recent mass casualty event at Venezuelan prisons and jails on record. A fire at a prison in the western state of Zulia killed more than 100 inmates in 1994. In 2013, 61 people were killed and over 100 injured, mostly from bullet wounds, after a riot in Barquisimeto.
With tears streaking down their cheeks, people waiting outside the station Wednesday said dozens of detainees had been kept in squalid conditions and they feared the worst for their loved ones. Angry relatives pushed up against a line of officers holding metal shields. At one point, officers used tear gas to disperse the crowd.
Some people buried their hands in their faces or had to be supported by friends and family as they collapsed in despair. Others wept quietly and clutched their hands in prayer.
"I don't know if my son is dead or alive!" cried Aida Parra, who said she last saw her son the previous day, when she took food to him. "They haven't told me anything."
Nearby, National Guard troops wearing flak jackets and carrying rifles slung across their backs walked in and out of the station. Fire trucks and ambulances stood outside. Unused stretchers leaned against a wall.
A Window to Freedom, a nonprofit group that monitors conditions at Venezuela's jails and prisons, said preliminary but unconfirmed information indicates a riot began when an armed detainee shot an officer in the leg. Shortly after that a fire broke out, with flames growing quickly as the blaze spread to mattresses in the cells, it said. Rescuers apparently had to break a hole through a wall to free some of the prisoners inside.
Photos shared by the group showed prisoners being taken out on stretchers, their limbs frozen in awkward positions as their skin peeled off from the flames.
A report by the Venezuelan Prisons Observatory issued before the blaze found that in the first two months of 2018, 26 prisoners had died and more than 1,000 were participating in hunger strikes. The report included one testimony from a prisoner who said he'd been forced to eat two dead rats after going long periods without food.
"The jails in Venezuela are a true hell," wrote Humberto Prado, the group's director.
Opposition lawmaker Juan Miguel Matheus lambasted the pro-government leader of Carabobo state for taking so long to tell relatives about what happened.
"The desperation of relatives should not be played with," he said.
On Thursday, the smell of smoke still wafted in the air and a white column at the station's front entrance was marred by a black stain from the fire.
Felix Brugera, 73, said officials showed up at his home early in the morning and informed him that his 25-year-old son Eduardo had died. He said his son had spent four months detained for allegedly robbing a cell phone.
"This is not justice," he said, pledging to stay outside the building until officials turned over the remains of his son. "This is injustice."
Thanks for reading CBS NEWS.
Create your free account or log in
for more features.