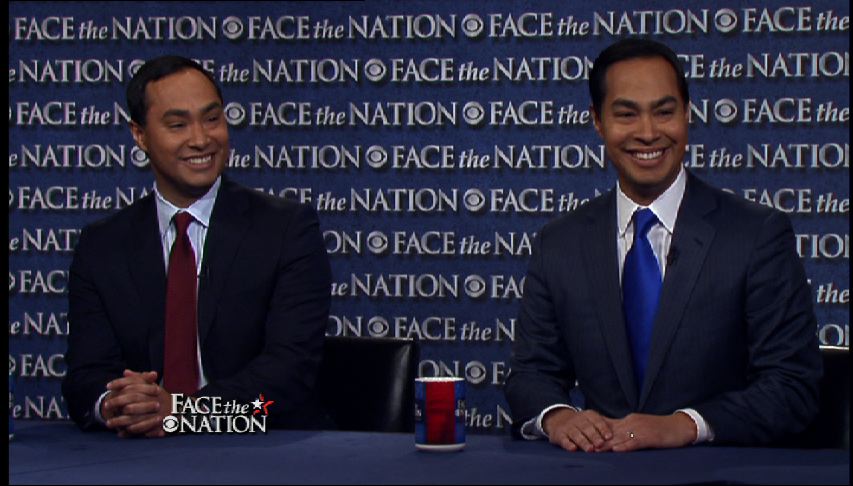 As GOP splinters, "purple" Texas on the horizon, Castro predicts
(CBS News) As factions of the GOP continue to move further to the right, the historically and reliably red state of Texas may soon be purple, then blue, San Antonio Mayor Julian Castro and his twin brother, Rep. Joaquin Castro, D-Texas, predicted today on "Face the Nation."
"In a couple of presidential cycles, on election night, you'll be announcing we're calling the 38 electoral votes of Texas for the Democratic nominee for president," said Julian Castro, who in September delivered the keynote address at the Democratic National Convention. "It's changing.
"It's going to become a purple state and then a blue state, because of the demographics, because of the population growth of folks from outside of Texas - and because, unfortunately, the Republican Party has gone so far to the right that they're losing the business community," he continued. "They're losing the middle."
His brother agreed, but qualified that "it's not going to happen on its own. The demographics are changing, but it's going to take a lot of work from Democrats to lay the infrastructure for change. So we're very busy working on that now."
Julian Castro named economic stability and education as his most pressing priorities as mayor. But both agreed that immigration and gun safety - critical issues in the Lone Star State - are big-picture agenda items which in order to address require a breakdown of partisan walls in Washington.
House Speaker John Boehner, R-Ohio, should eliminate the "Hastert Rule," Joaquin Castro suggested, which would allow for votes to come up on the floor without support from the majority of the majority party.
Thanks for reading CBS NEWS.
Create your free account or log in
for more features.