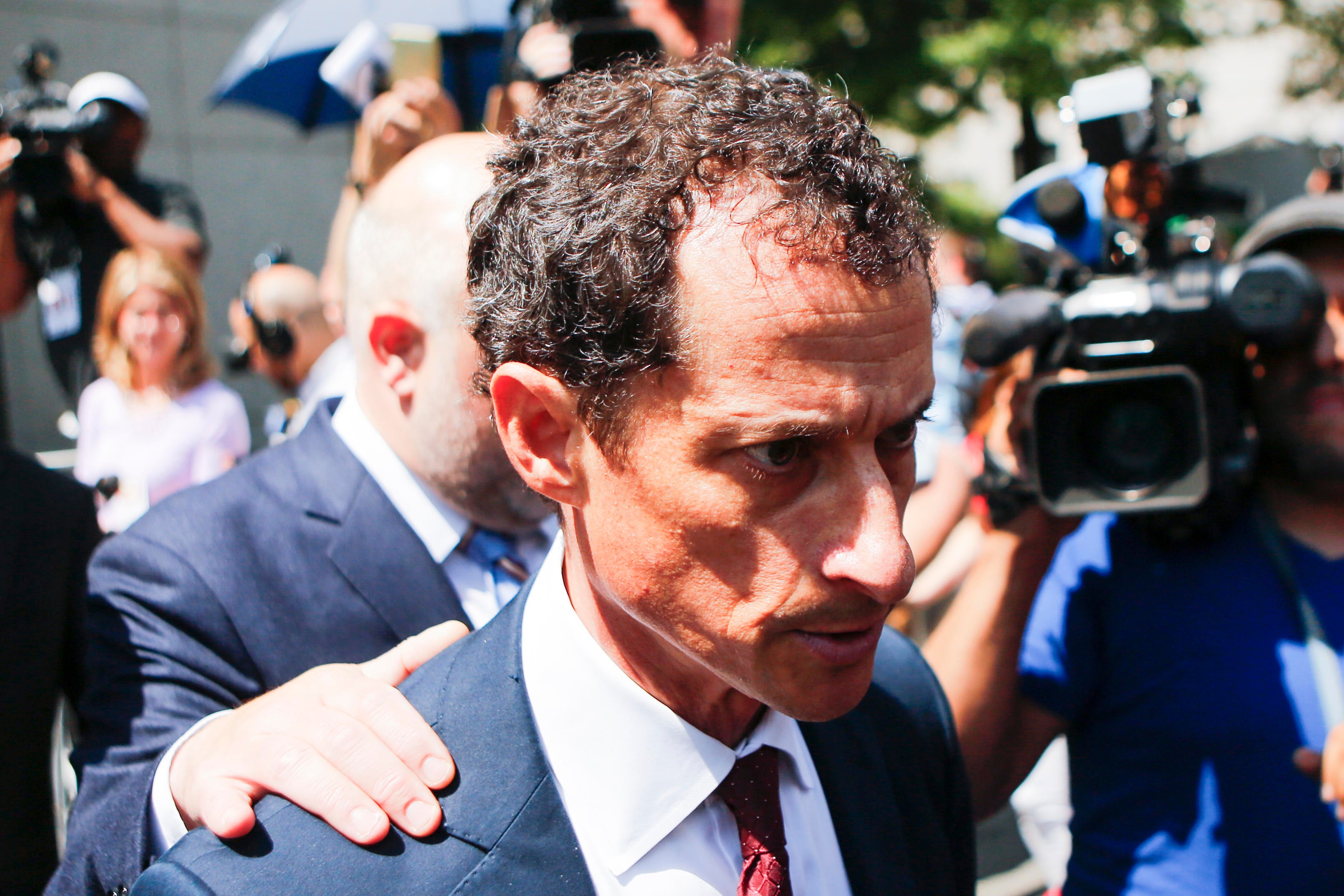 Anthony Weiner sentenced to 21 months in prison in sexting case
Embattled former New York Rep. Anthony Weiner has been sentenced to 21 months of jail time after he pleaded guilty in May to sending obscene material to a 15-year old girl -- in a case that may also have damaged Hillary Clinton's presidential campaign. Weiner's wife, Huma Abedin, was a top Clinton aide.
In addition to jail time, Weiner was sentenced to serve three years probation upon release. As part of a plea bargain, Weiner agreed not to appeal a sentence of less than 27 months. He will have to surrender himself by November 6, 2017 and register as a sex offender upon release.
The government had urged the judge to consider Weiner's claims of a therapeutic awakening in light of similar claims he made after embarrassing, widely publicized interactions with adult women before encountering the teenager online in January 2016. Prosecutors said his conduct "suggests a dangerous level of denial and lack of self-control."
"As Weiner knew full well, the law unequivocally prohibits the online sexual exploitation of minors, no matter the app used to commit the crime or the apparent sophistication or motivation of the young teenager on the other end. The law must be respected to protect other teens from falling prey to the same conduct," wrote Acting U.S. Attorney Joon H. Kim in the government's sentencing recommendations released last week.
Federal prosecutors had asked for a sentence of slightly more than two years behind bars because of the seriousness of the crime, in which Weiner sent adult porn to the girl and got her to take her clothes off for him on Skype.
Meanwhile, defense lawyers for Weiner had portrayed the girl as an aggressor, saying she wanted to generate material for a book and possibly influence the presidential election.
Judge Denise L. Cote told the full to capacity court that Weiner's offense was a "serious crime" deserving of a "serious punishment," and although it was the uniform opinion of the doctors who've examined Weiner that he is an "addict", she believed that the intense interest in this plea and sentence was an opportunity to protect other minors.
Prior to the sentence, Weiner, 53, delivered an emotional statement, sobbing and frequently pausing to wipe away tears. Weiner, calling himself a "sick man" and an "addict," said he's accepted full responsibility for victimizing "a young person who deserved better" and called the crime he committed his personal "rock bottom."
As Judge Cote announced her sentence, Weiner dropped his head and burst into audible sobs. Weiner's parents and brother, Jason Weiner sat two rows behind him--his estranged wife, Huma Abedin did not attend the hearing.
Weiner said in a submission last week that he's undergoing treatment and is profoundly sorry for subjecting the North Carolina high school student to what his lawyers called his "deep sickness."
In a statement following the sentencing, Weiner's attorney, Arlo Devlin-Brown said his team was "disappointed that Anthony was sentenced to prison" and that the judge had reasoned "because of Anthony's notoriety, a sentence of imprisonment could discourage others from following in his footsteps."
Devlin-Brown added, "We certainly hope this public service message is received, but it has resulted in a punishment more severe than it had to be given the unusual facts and circumstances of this case."
After the 15-year-old came forward about Weiner's emails, prosecutors began an investigation into his laptop, which led to the discovery of a cache of emails from Democratic presidential nominee Hillary Clinton to her aide Huma Abedin, Weiner's estranged wife. Then-FBI Director James Comey re-opened the investigation in Clinton's emails, in the final weeks before Election Day.
CBS News' Erica Brown contributed to this report.
Thanks for reading CBS NEWS.
Create your free account or log in
for more features.