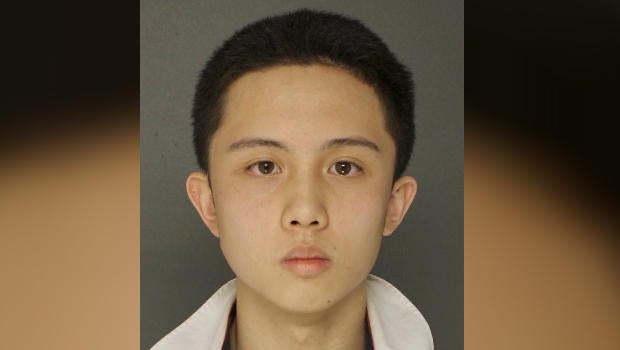 Pennsylvania student stockpiled arsenal, threatened school shooting, police say
Officials in Upper Darby, Pennsylvania, say it was another school massacre in the making. A foreign exchange student is under arrest for allegedly threatening to attack his high school.
Police say the 18-year-old exchange student An Tso Sun was reported for making a threat.
"He told a fellow student, 'Don't come to school on May 1 because I'm going to shoot up the school,' and then he said, 'I'm kidding,'" said police superintendent Michael Chitwood.
But when police searched the home of his host family, they found ammunition, a ballistic vest, a high-powered crossbow with arrows and a container used to load clips -- all of which Sun could have purchased online. Police say he also asked that fellow student how to buy a gun.
Chitwood says the student came from Taiwan on a 5-year student visa last July. CBS News spoke with Sun's host mother, Valerie Hibbert, who said she had no comment because she considers him her son.
According to the Educator's School Safety Network, a group that tracks school safety, there have been nearly 1,400 "school-based incidents and threats" made, many through social media, since the Marjory Stoneman Douglas High School shooting in Florida. Of 83 total incidents, a gun was found in 40 cases and 12 were classified as "thwarted plots."
But in Wednesday's case in Pennsylvania, the boy's attorney, Enrique Latoison, says it's all a misunderstanding.
Latoison says Sun wanted to be a police officer and had used some of the items found in his home as a Halloween costume. If he is convicted of the misdemeanor charge, he could face up to five years in prison.
Thanks for reading CBS NEWS.
Create your free account or log in
for more features.