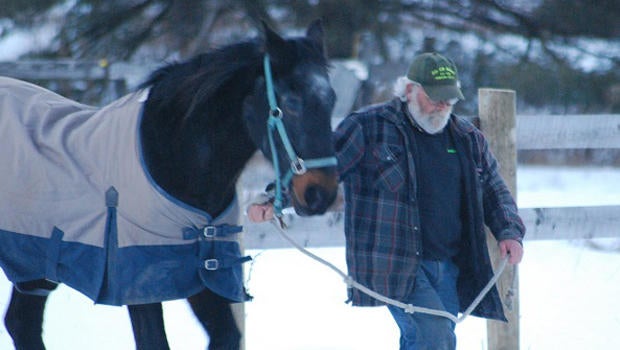 An old horse and his friend
A very old horse is Still Kickin' -- thanks to one very devoted friend. Tony Dokoupil has their story:
"Morning, kids!"
When Donnie MacAdams wakes up to feed the horses, there's one in particular that gets special attention.
"Waco! How ya doing? Want your grain?" he yells out.
Waco Hanover is a retired harness racer, living out his days on a farm in the Green Mountains of Vermont.
Waco was never able to outrun most horses, but he's certainly managed to outlive them.
This month Waco is celebrating a very rare birthday, for a horse: The big 4-0 -- that's about 120 in people years.
Under an old rule of horseracing, January 1st is considered the universal birthday of runners. Since the life expectancy for a horse is about 25 years, he's one old horse.
Donnie MacAdams is a big part of Waco's longevity. Living in an apartment above the barn, he's not only caretaker but kind of a roommate. But mostly, he's Waco's best friend.
"Watch the ice. Slow down, will ya?"
MacAdams manages a state information center just off Interstate 89. But for the past eight years his downtime has been utterly devoted to Waco.
It's not a warm and cuddly friendship, because MacAdams is not a warm and cuddly guy.
"No talking?" he admonishes Waco.
And as luck would have it, neither is Waco. "He's a cranky old SOB," MacAdams said, "just like I am."
But don't be fooled by their tough guy act. For fun? They eat animal crackers.
A healthy appetite is relatively new for Waco. When MacAdams moved in, back in 2008, the horse was barely eating at all.
"I wanted to dig a hole, because I didn't think he'd make it through the winter," he said.
But as it turned out, Waco wasn't sick. He was lonely.
MacAdams recalled, "I just talked to him one day for about a half an hour, and got him to accept the fact that I ain't goin' anywhere, I'm your buddy. It's been going on now for eight years."
MacAdams' work at the information center has him dealing with people -- not exactly his thing. But at the end of the day, Waco is there.
"There were times in the wintertime when I'd walk into the barn, walk down there, just lean on the stall front. He would put his head on my shoulder and just chew, just chew, and just calm me down."
Even after a heart attack, when MacAdams felt like he'd never recover ("I couldn't carry a five-gallon bucket of water, because it was too physically stressful"), Waco was there. ("Now, two five pound pails, let's go!")
DoKoupil asked, "Do you think about what would happen to him if something happened to you?"
"Oh yeah, yeah," MacAdams said. "I think that's part of the reason I'm still around, honestly!"

For more info:
Thanks for reading CBS NEWS.
Create your free account or log in
for more features.