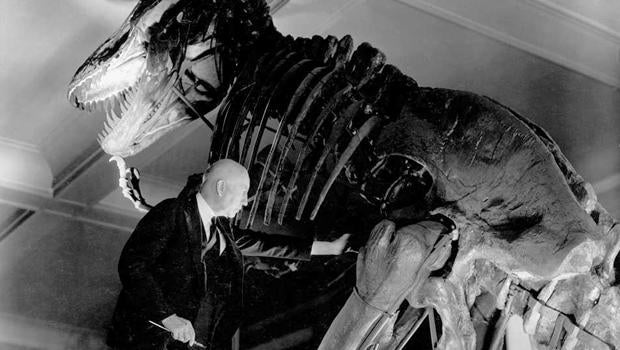 Almanac: Fossil hunter Barnum Brown
And now a page from our "Sunday Morning" Almanac: February 12th 1873, 144 years ago today … the day fossil hunter Barnum Brown was born in Carbondale, Kansas.
Prophetically named after the circus showman P.T. Barnum, Brown was instrumental in igniting a world-wide fascination with dinosaurs that continues to this day.
As a child Brown collected fossilized shells from mineral deposits near his home, and later landed a job with the American Museum of Natural History.
In 1902 while digging in Hell Creek, Montana, Brown (already known as "Mr. Bones") discovered the partial skeleton of a huge, previously-unknown dinosaur. Scientists named it Tyrannosaurus Rex -- Latin for "the Tyrant King."
A stylish man known on occasion to wear a fur coat on expeditions, Brown soon unearthed a more complete skeleton, including a nearly-intact skull.
The bones were shipped to New York, and in 1906 put on display. Crowds lined up for blocks to see the beast the New York Times called a "monster."
The T-Rex would become by far the most famous of the dinosaurs, a crowd-pleaser in films like 1925's "The Lost World"; wrestling with the giant ape in "King Kong"; and, of course, wreaking havoc in the "Jurassic Park" movies.
To watch a T-Rex on the attack in 1993's "Jurassic Park" click on the video player below (and blame Steven Spielberg if your kids can't sleep tonight):
Ever the showman, Brown's last assignment was designing the dinosaur models, including his beloved T-Rex, for the Sinclair Oil exhibit at the 1964 New York World's Fair.
Barnum Brown died on Feb. 5th, 1963 at the age of 89, a few months before the Fair opened.
And while he never got to see his work on display, he would have been pleased that -- no surprise -- the crowds lined up for blocks … as they still do whenever a dinosaur comes to town.

For more info:
Thanks for reading CBS NEWS.
Create your free account or log in
for more features.