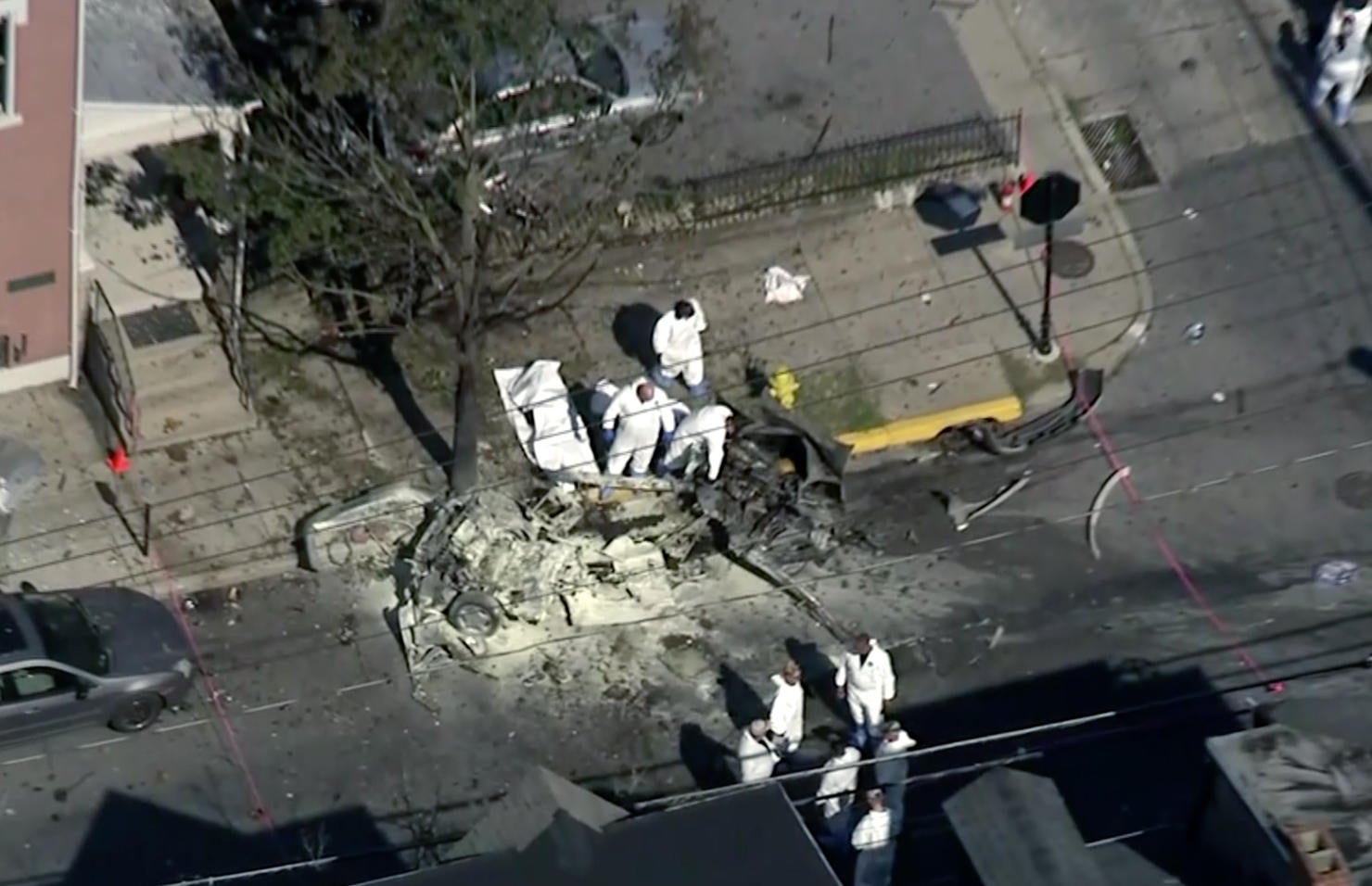 Car explodes in Allentown, Pennsylvania; 3 dead, coroner says
---
Three people were killed after a car exploded Saturday night in downtown Allentown, Pennsylvania, including the likely perpetrator, authorities said Sunday. Authorities released no information about the cause of Saturday's blast, including whether it was a bomb. An autopsy is scheduled for Monday.
"We know there's been a criminal incident," District Attorney James Martin told reporters at a news conference Sunday. "We have a high degree of confidence that the perpetrator was probably killed in the incident."
Autopsies were planned Monday on the three males found dead after the explosion Saturday around 9:30 p.m. local time, Lehigh County Coroner Scott Grim said Sunday. Grim said he would probably be able to release the names Monday once their identities are confirmed and their families are notified.
The Bureau of Alcohol, Tobacco, Firearms and Explosives (ATF) is taking the lead on the investigation, while the FBI and local authorities are assisting. The FBI said it doesn't believe there is a remaining threat to public safety.
"Loads of us in law enforcement" are confident "this was A. an isolated incident and B. there's no continuing threat," Martin added.
The blast occurred a block from the PPL Center sports arena and two blocks from the popular Hamilton Street dining area in Allentown, a city of about 120,000 about 60 miles northwest of Philadelphia. The block where it occurred is a mixture of residences and small businesses, including a restaurant and a bar.
Residents were asked to avoid the area, and a shelter was set up at a nearby school. Authorities are seeking tips from the public to help solve the crime.
"I heard a big explosion, I ran to the window to see what it was, I didn't see anything. But after that, I seen the fire," witness Antonia Santiago told CBS Philadelphia. "People couldn't even get their cars out. It's crazy. It's got me nervous."
Resident Carlos Perodin told The Morning Call of Allentown that he was watching a movie with his wife when he heard a thunderous explosion and went to the scene.
"The fire was crazy," he said. "The car was pretty much split in half."
Another witness to the aftermath of the explosion, Stephanie Connelly, told The Morning Call that she saw body parts strewn across the street.
"This is real life and I'm shaking and freaking out while I'm running," she said.
Thanks for reading CBS NEWS.
Create your free account or log in
for more features.