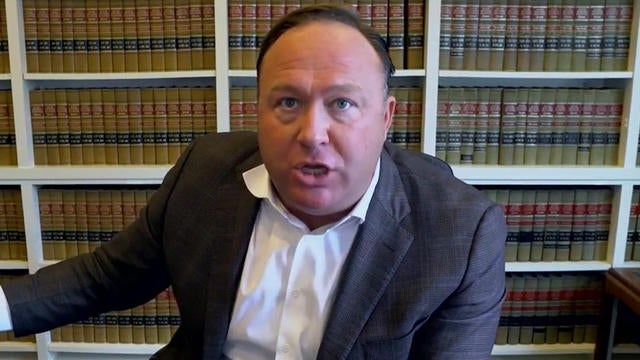 Spotify removes episodes of podcast hosted by Alex Jones
Spotify has deleted several episodes of the podcast hosted by Alex Jones, an Austin, Texas-based right-wing conspiracy theorist and founder of Infowars, after a backlash on social media this week over the distribution of his episodes as other websites removed some of his content. Last week, Facebook suspended his personal page and removed four of his videos, and YouTube removed four of his videos for violating the site's community guidelines.
The specific podcast episodes deleted by Spotify were determined by the music streaming service to include hate speech. Dozens of episodes of Jones' podcasts remain available on the site.
"We take reports of hate content seriously and review any podcast episode or song that is flagged by our community. Spotify can confirm it has removed specific episodes of 'The Alex Jones Show' podcast for violating our hate content policy," the company said in a statement late Wednesday.
In response, Jones said Spotify's move was "what I expect."
"I was born in censorship. I was born being suppressed," he said.
Jones was the subject of a hearing Wednesday in a defamation suit filed by parents of a 6-year-old victim of the Sandy Hook school shooting in 2012. Neither Jones nor those parents appeared at the session. The judge has a month to issue a decision on whether the suit can move forward.
Jones has falsely claimed that the Sandy Hook shooting was a hoax orchestrated by gun control advocates, and some of his followers have harassed and threatened parents of the victims. Some families have reported receiving death threats and moving because of the persistent intimidation.
Lawyers for Jones tried to get the suit dismissed Wednesday, claiming it violates a Texas law that protects freedom of speech against plaintiffs who undertake unwarranted litigation.
Jones has admitted the Sandy Hook shooting occurred and his attorney, Mark Enoch, began the hearing by saying his client wanted "to reiterate the fact that he is sorry for their loss."
But Enoch insisted there was no defamation.
"Maybe it's fringe speech. Maybe it's dangerous speech," Enoch said after playing portions of an Infowars episode. "But it's not defamation. That is rhetorical hyperbole at its core."
Jones is facing another suit filed by families of the victims, in Connecticut, and another defamation suit -- from a man who was falsely identified on the Infowars website as the shooter in the Parkland, Florida, school shooting in February.
Once a fringe figure of the internet's far right, Jones has become a prominent media presence in recent years. He claims his shows, which are broadcast on radio and are on YouTube and other platforms, reach at least 70 million people a week.
He has been praised by President Trump, who gave an interview to Jones in 2017.
Thanks for reading CBS NEWS.
Create your free account or log in
for more features.