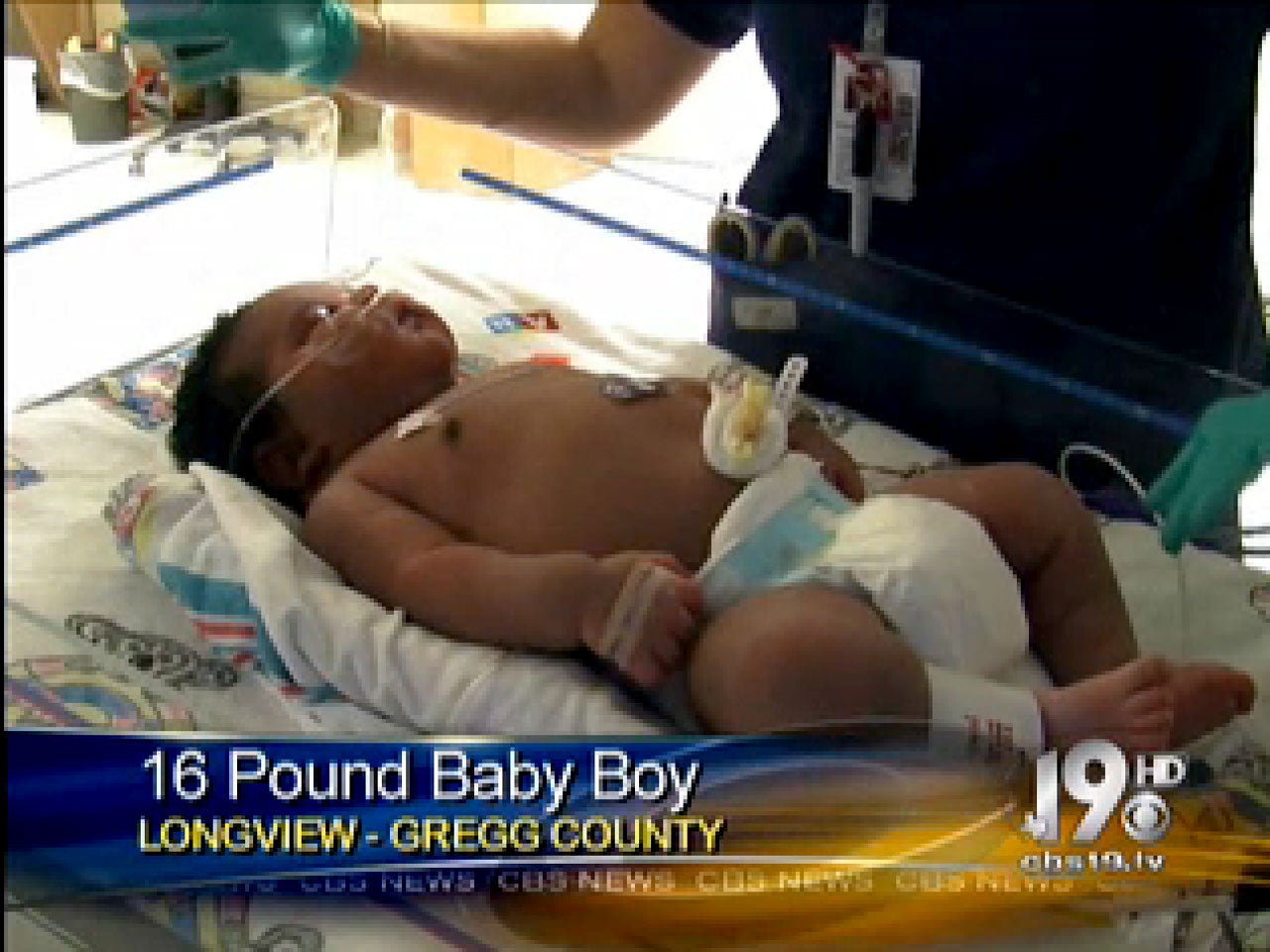 16-pound baby born in Texas, nicknamed 'Moose'
(CBS) Doctors warned Janet Johnson her baby would be big. But when JaMichael Brown entered the world, he exceeded doctor's expectations, and possibly Texas state records. The baby tipped the scales at an eye-popping 16 pounds, 1 ounce, and was measured at two feet long.
He's already earned the nickname "The Moose."

Doctors think Janet's diagnosis of gestational diabetes - when insulin doesn't control blood sugar during pregnancy - may have contributed to JaMichael's size, according to CBS affiliate KYTX-TV.
Doctors placed the baby in the neonatal intensive care unit to monitor his blood sugar at Good Shepherd Hospital in Longview, Texas.
"It's a beautiful baby, but for health reasons we'd rather not see a baby this large. They can have a little harder time maintaining their blood sugar," nurse Mary Beth Smith, who witnessed the c-section birth, told KYTX-TV.
But that's not the only concern. Babies who gain weight too fast and too early in life risk becoming obese, which may lead them to develop high blood pressure, heart disease, and cancer.
A June report from the Institute of Medicine found 10 percent of U.S. kids between infancy and age two were overweight.
"This is a national concern because weight-related conditions such as diabetes and high blood pressure once occurred almost exclusively in adults but are now occurring at rising rates among teens and young adults." Dr. Leann Birch, director of the center for child obesity research at Penn State University, said in a written statement.

Once babies reach childhood, they can also experience breathing problems like sleep aepnea and asthma, or social and psychological problems that may carry into adulthood.
Baby fat? Obesity docs eye tubby tots
What should parents do if their infant is overweight? The Institute of Medicine recommends breastfeeding to start healthy eating habits early. This echoes a 2011 studywhere researchers from Children's Hospital Boston found formula-fed babies had a higher risk for obesity once they turned to solid foods, compared to breastfed tots. The Institute of Medicine's report found only 13 percent of mothers exclusively breastfeed their babies for six months after birth, while only 22 percent continue breastfeeding for one full year, while the World Health Organization recommends feeding continue through two years to maintain nutrition.

PICTURES: Oops! 8 ways parents make kids fat
A new set of British guidelines named "Start Active, Stay Active" suggests babies should "stretch, roll, crawl, play on mats, and swim." according to the Daily Mail.

According to England's chief medical officer, Professor Dame Sally Davies, "There is considerable international evidence that letting children crawl, play or roll around on the floor is essential during early years" she told the Daily Mail. "I think there are parents who are not aware how important it is for their children to be physically active."
The CDC has more on childhood obesity.

Thanks for reading CBS NEWS.
Create your free account or log in
for more features.