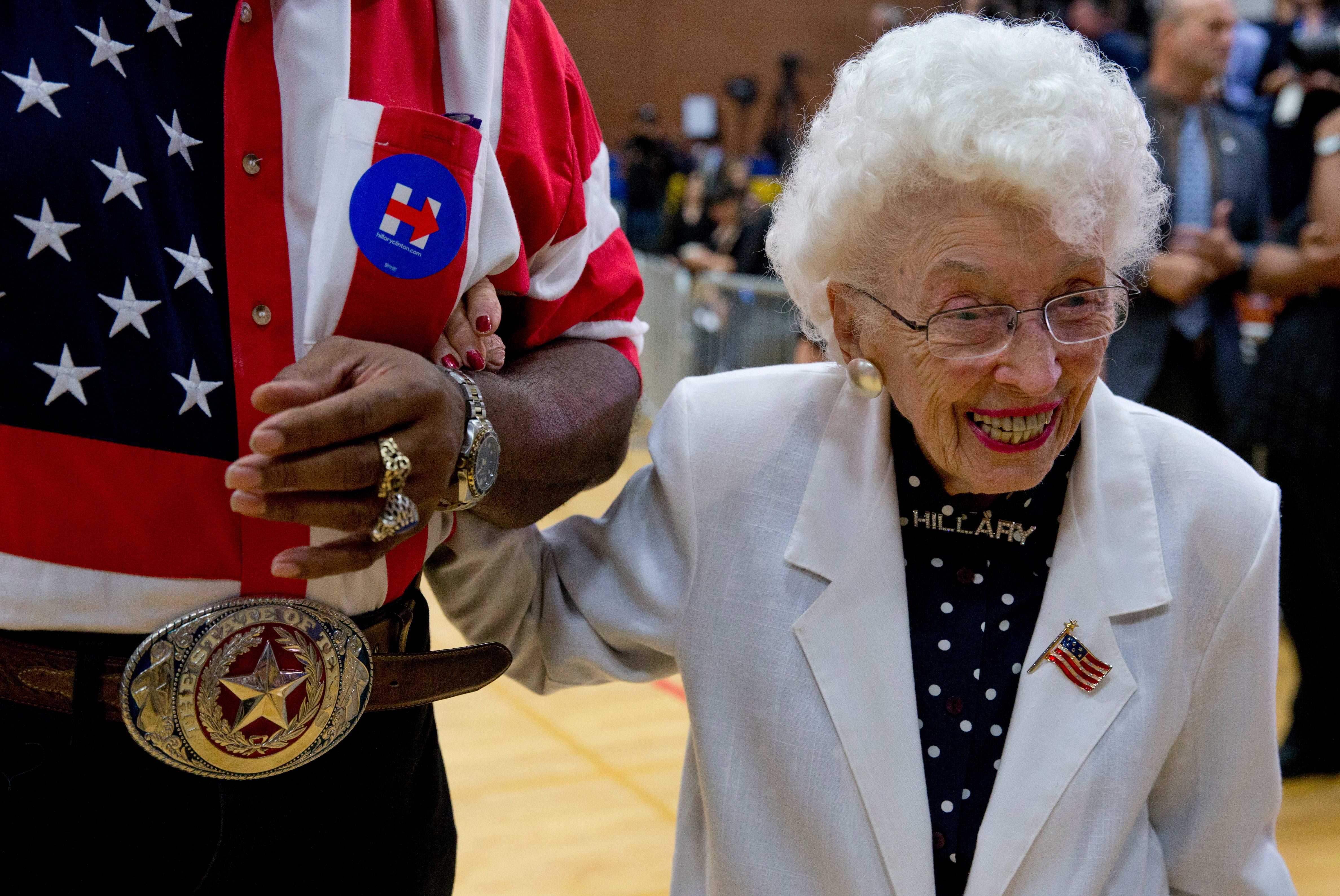 102-year-old delegate casts ballots for Hillary Clinton at DNC
Jerry Emmett was born before women gained the right to vote in America, so it's fitting she announced that the Arizona delegation was casting 51 of its 85 votes for Hillary Clinton for president.
Hillary Clinton made history Tuesday when she was officially named the Democratic party, the first woman in history ever to win a major party's presidential nomination.
Emmett is 102 years old and from Prescott, Arizona. She remembers seeing her mother go to vote for the first time after the 19th Amendment guaranteeing women the right to vote was ratified on Aug. 18, 1920.
Emmett, who started a Hillary Clinton fan club in her state, is legally blind and doesn't hear very well, but she says she walks about a mile a day and still bakes pies. She has served as a Democratic delegate at conventions in the past.
Democratic officials in Arizona decided to honor Emmett, a retired educator and longtime supporter of the party, by appointing her to serve as an honorary delegate to the convention, said Enrique Gutierrez, a spokesman for the Arizona Democratic Party.
"They wanted her to have this moment in the spotlight," Gutierrez said.
She says she was thrilled to be at the Democratic National Convention -- where she carried a blue-and-white sign that read "Centenarian for Hillary."
And when it came time for her moment, Emmett smiled broadly, waved to the convention crowd and declared that Arizona was casting "51 votes for the next president of the United States of America, Hillary Rodham Clinton."
With Democrats uniting behind her, Clinton now faces Republican nominee Donald Trump in the general election. Should she win, she will be America's first woman president. And either way, Clinton has already made history just by making it this far.
Thanks for reading CBS NEWS.
Create your free account or log in
for more features.