'I Never Meant To Be A Bad Guy': Delivery Driver Confesses To Stealing Cat
MINNEAPOLIS (WCCO) -- Authorities in Carver County are seeking help from the public after a delivery driver allegedly stole a house cat, and then released it into the wild after having what he called a "change of heart."
The Carver County Sheriff's Office reports that the incident happened in October, when a 12-year-old cat named Dot was reported stolen from a residence on the 2600 block of County Road 127 in Watertown Township.
The cat's owner said that the delivery driver, who has been identified as 23-year-old Byron Thomas Vieau, had appeared to take an interest in the cat. When the driver had left, the cat's owner was unable to locate their pet.
A video posted on Facebook caught him walking away and the cat following, click here to view.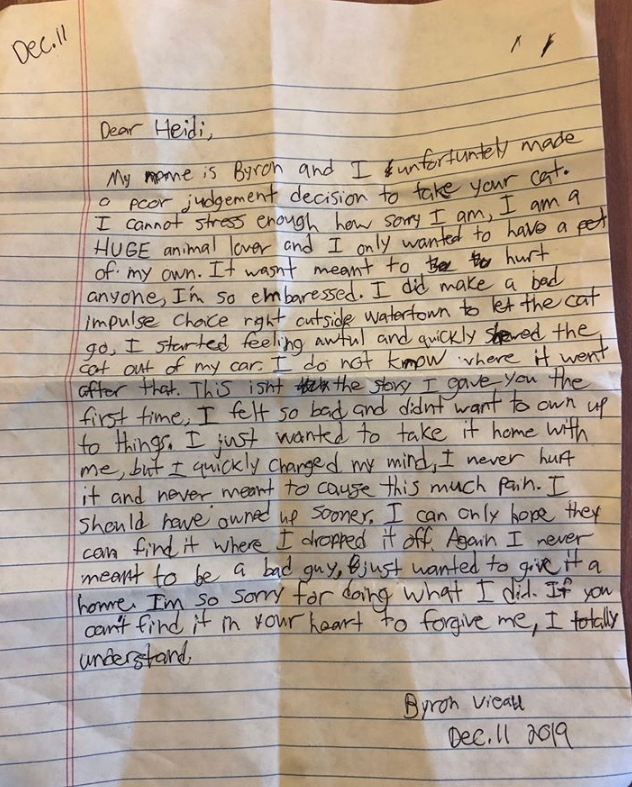 Vieau also came back to leave a note confessing and apologizing to taking the cat.
As of now, Dot's whereabouts are still not known. Vieau, who investigators say confessed to taking the cat before releasing it, has been charged with misdemeanor theft and misdemeanor animal abandonment in Carver County.
Investigators say Dot is microchipped, and will answer to his name. He is a black-and-white long-haired cat who weighed 14 pounds when he was last seen in October.
If you see Dot, please call the sheriff's office at 952-361-1212.
Thanks for reading CBS NEWS.
Create your free account or log in
for more features.