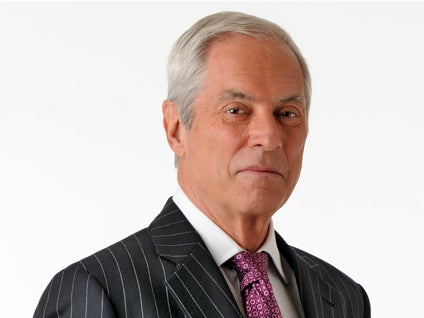 Bob Simon, the longtime "60 Minutes" correspondent and legendary CBS News foreign reporter died Feb. 11, 2015, in a car accident in New York City.
Bob Simon was among a handful of elite journalists who had covered most major overseas conflicts and news stories from the late 1960s to the present, earning an unprecedented number of awards in the process. He had contributed regularly to 60 Minutes since 1996. He was a correspondent for all seven seasons of 60 Minutes II, from January 1999 to June 2005, after which he became a full-time 60 Minutes correspondent.
Simon reported on the persecution of Coptic Christians caught up in Egypt's political turmoil and the situation in Fukushima, Japan, three years after it endured the triple tragedy of an earthquake, tsunami and nuclear disaster. His 2012 story from Central Africa on the world's only all-black symphony won him his fourth Peabody award and an Emmy. Another story about an orchestra in Paraguay, one whose poor members constructed their instruments from trash, won him his 27th Emmy.
Simon's foreign coverage appeared on all CBS News broadcasts and earned him scores of other major awards, including the Overseas Press Club's highest honor for a body of work, the President's Award. His 27 Emmys may be the most held by a journalist for field reporting. His news magazine work took many of those, including Emmys for 60 Minutes stories "Curveball," the investigation of the Iraqi defector who provided the faulty testimony that eventually led America to war; "The Sea Gypsies," a report on the island-dwelling Moken peoples of Southeast Asia; "Aftershock," about American paramedics saving lives after an earthquake in Pakistan; and "Roberto Benigni," his profile of the Italian actor/director. He also won Emmy Awards for his reporting from Vietnam (two awards), Lebanon, Cambodia, Saudi Arabia, India and China.
He won electronic journalism's highest honor, the Alfred I. duPont-Columbia University Award, for "Shame of Srebrenica," a 60 Minutes II report on heinous acts of genocide during the Bosnian War.
Few journalists have covered as many overseas conflicts as Simon and he paid the price. In addition to several short detentions, close calls and wounds, he was captured by Iraqi forces near the Saudi-Kuwaiti border during the opening days of the Gulf War in January 1991. He and the other three members of CBS News' coverage team spent 40 days in Iraqi prisons, an experience Simon wrote about in his book "Forty Days" (Putnam, 1992). He went to Baghdad again in January 1993 to cover the American bombing of Iraq.
His career in war reporting began in Vietnam. While based in the London (1972-77) and Saigon (1971-72) bureaus, he reported extensively on the war. He won an OPC award for his reporting on Hanoi's 1972 spring offensive and was part of the CBS News team that won a 1975 Overseas Press Club (OPC) award for Best Radio Spot News for coverage of the end of the conflict. He covered its final six weeks and was on one of the last helicopters out of Saigon in 1975. During his first tour in CBS News' London bureau (1969-71), he reported extensively on the troubles in Northern Ireland. In addition, Simon also reported from war zones in Portugal, Cyprus, The Falklands, the Persian Gulf, Yugoslavia and from the American interventions in Grenada, Somalia and Haiti. He was in Poland during martial law, with Israeli troops during the Yom Kippur War, with PLO fighters during the Israeli invasion of Lebanon and in Gaza the day the First Intifada began.
Simon was named CBS News' chief Middle Eastern correspondent in 1987, where he distinguished himself as the premier broadcast journalist in that part of the world, working out of the Tel Aviv bureau for over 20 years. In 1996, he received an OPC Award, a Peabody Award and two Emmy Awards for his coverage of the assassination of Israeli Prime Minister Yitzhak Rabin, and another OPC Award in 1991 for his coverage of the Gulf War. Simon's report from war-torn Sarajevo was part of the basis for an RTNDA Overall Excellence in Television Award received by CBS News in 1996. He scored two major news-making interviews for 60 Minutes in 2003 after the start of the Iraqi War: the first Western interview with militant Iraqi cleric Muqtada al Sadr and another with his exiled Shiite rival, the Ayatollah al-Hakim, who was assassinated shortly after the interview.
His remarkable career was recognized with a Peabody Award (2000) for "a body of work by an outstanding international journalist on a diverse set of critical global issues," and with a Lifetime Achievement Emmy in September 2003. He was a recipient of the 1997 Edward Weintal Prize given by Georgetown University's Institute for the Study of Diplomacy in recognition of "distinguished reporting on foreign policy and diplomacy."
Simon also contributed acclaimed reports to CBS's Olympics coverage. For the 1994 Olympic Winter Games in Lillehammer, Norway, he chronicled the botched attempt of the Mossad, Israel's secret intelligence agency, to avenge the deaths of Israeli athletes at the Munich Olympics, coverage that earned him an Emmy Award. For the broadcast of the 1998 Olympic Winter Games in Nagano, Japan, he delivered a 30-minute piece on Louis Zamperini, an American Olympic runner who survived World War II as a prisoner of war of the Japanese and eventually triumphed over that and other extraordinary personal setbacks. The story was recognized with a Sports Emmy.
In addition to his distinguished work overseas, Simon served as a national correspondent in New York for CBS News (1982-87). He also spent time in Washington, D.C., as the CBS News State Department correspondent (1981-82). Before that, he was assigned for the first time to CBS News' Tel Aviv bureau (1977-81).
Simon joined CBS News in 1967 as a reporter and assignment editor based in New York. He covered campus unrest and inner-city riots, as well as the Democratic and Republican National Conventions.
Simon served as an American Foreign Service officer (1964-67). He was a Fulbright scholar in France and a Woodrow Wilson scholar.
He was born on May 29, 1941, in the Bronx, N.Y., and graduated Phi Beta Kappa from Brandeis University in 1962 with a degree in history. He and his wife, Françoise, have a daughter, Tanya, who is a producer for CBS News' 60 Minutes in New York.
Thanks for reading CBS NEWS.
Create your free account or log in
for more features.