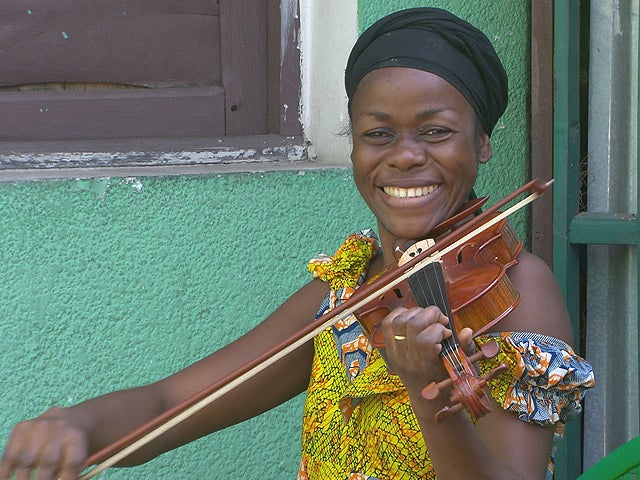 Joy in the Congo: A musical miracle
"Joy in the Congo" seems an unlikely -- even impossible -- title for a story from the Congo, considering the searing poverty and brutal civil war that have decimated that country. Yet in Kinshasa, the capital city, we found an unforgettable symphony orchestra -- 200 singers and instrumentalists defying the poverty, hardship, and struggles of life in the world's poorest country...and creating some of the most moving music we have ever heard. Follow Bob Simon to the Congo to hear the sounds and stories of the Kimbanguist Symphony Orchestra.
To learn more about the Kimbanguist Symphony Orchestra -- including how you can help -- click here.
---
The following script is from "Joy in the Congo" which aired on April 8, 2012. Bob Simon is the correspondent. Clem Taylor and Magalie Laguerre, producers.
Beauty has a way of turning up in places where you'd least expect it. We went to the Congo a few weeks ago, the poorest country in the world. Kinshasa, the capital, has a population of 10 million and almost nothing in the way of hope or peace. But there's a well-kept secret down there. Kinshasa has a symphony orchestra, the only one in Central Africa, the only all-black one in the world.
It's called the Kimbanguist Symphony Orchestra. We'd never heard of it. No one we called had ever heard of it. But when we got there we were surprised to find 200 musicians and vocalists, who've never played outside Kinshasa, or have been outside Kinshasa. We were even more surprised to find joy in the Congo. When we told the musicians they would be on 60 Minutes, they didn't know what we were talking about but, still, they invited us to a performance.
We caught up with them as they were preparing outside their concert hall, a rented warehouse. As curtain time neared, we had no idea what to expect. But maestro Armand Diangienda seemed confident and began the evening with bang.
The music, Carmina Burana, was written by German composer Carl Orff 75 years ago. Did he ever dream that it would be played in the Congo? It wouldn't have been if it hadn't been for Armand and a strange twist of fate. Armand was a commercial pilot until 20 years ago when his airline went bust. So, like ex-pilots often do, he decided to put together an orchestra. He was missing a few things.
Bob Simon: You had no musicians, you had no teachers, you had no instruments.
Armand Diangienda: Yes.
Bob Simon: And you had no one who knew how to read music?
Armand Diangienda: No, nobody. Nobody.
Armand's English is limited. He preferred speaking French, Congo's official language.
Bob Simon: When you started asking people if they wanted to be members of this orchestra, did they have any idea what you were talking about?
Translation for Armand Diangienda: In the beginning, he said, people made fun of us, saying here in the Congo classical music puts people to sleep.
But Armand pressed on. He taught himself how to read music and play the piano, play the trombone, the guitar and the cello. He talked a few members of his church into joining him. They brought their friends which brought more problems.
Translation for Armand Diangienda: We only had five or six violins, he said, for the 12 people who wanted to learn how to play the violin.
Translation for Armand Diangienda: So they took turns, he said. One would play for 15 or 20 minutes at a time. That was very difficult.
But more instruments started coming in. Some were donated; others rescued from local thrift shops -- in various states of disrepair. Then it was up to Albert -- the orchestra's surgeon -- to heal them. He wasn't always gentle with his patients, but they survived. Armand told us that when a violin string broke in those early days, they used whatever they had at hand to fix it.
Bob Simon: You took the wire from a bicycle?
Armand Diangienda: Bicycle, yes.
Bob Simon: The brake of a bicycle, and turned it into a string for a violin?
Armand Diangienda: Yes.
Bob Simon: And it played music?
Armand Diangienda: Oui.
And with every functioning instrument, more would-be musicians poured in. Before long, Armand's house became a makeshift conservatory. Armand was the dean. Every room, every corridor, no matter how small or dark or stifling was teeming with sound. Outdoors, the parking lot was a quiet spot to practice the viola.
But even this was an oasis compared to what was on the other side of the walls. The Congo is, after all, a war-torn country -- has been for 60 years. This is where most of the musicians live, on unpaved streets with little in the way of running water, electricity or sanitation. The musicians don't get paid for playing in the orchestra. Some work in the market, selling whatever they can. Very few people in Kinshasa make more than $50 a month or live past 50.
Sylvie Mbela's life has gotten even more demanding since she started in the orchestra 17 years ago. She's got three kids now. There are no daycare centers in the neighborhood, so the kids are always with her, never far from her fiddle.
But when she turns from mother to musician, she says she has left this planet. She is not in the Congo anymore.
For years, Sylvie and the orchestra played on but only in Kinshasa -- no one outside the Congo knew anything about them until 2010. That's when two German filmmakers made a documentary which was shown in Germany. It so inspired musicians in Germany, they sent down instruments and then themselves to give master classes.
For more information on the documentary "Kinshasa Symphony," click here
Opera vocalists Rolf Schmitz-Malburg and Sabine Kallhammer came to teach technique and diction. And if you ever questioned that music is the universal language, watch this a German-speaking teacher tutoring a French-speaking African how to sing an aria in Italian. But when Rolf and Sabine moved onto the full choir it wasn't so easy.
Bob Simon: Were they pleased to see you? Do you think that they said, "Oh, how wonderful we have two white people here to teach us how to play music"?
Sabine Kallhammer: They had experiences with other white people, so I can really understand that they were careful, and a little shy. But they really were open to learn.
At times they weren't sure what they were learning or why. What was this all about? The exercises are designed to loosen you up, the Germans explained and, after a while, they did.
Sabine Kallhammer: And then they started to sing for us, and then we were, like, ah--
Sabine Kallhammer: Their faces change when they do their music.
Sabine Kallhammer: I mean if you live in Kinshasa there is no culture life here, so these people have to find a way to go to some other places. Making music is one way to go on a trip, a cheap trip because you can just close your eyes, they do that very often and they are somewhere else.
Rolf moved onto the next class. That's where we met two tenors, brothers Carrime and Valvi Bilolo. They live in the countryside, 10 miles from Armand's place. They took us there. The boys' parents, two brothers and a sister share a three-room blockhouse. Carrime and Valvi certainly had to learn the importance of harmony growing up here, so by the time they met Armand, harmony was second nature.
Bob Simon: When did you join the orchestra?
Carrime Bilolo: En 2003, le 8 Novembre 2003. [Translation: The 8th of November 2003.]
Bob Simon: The 8th of November in 2003.
Carrime Bilolo: Yes.
Bob Simon: Why do you think you remember the exact date?
Carrime Bilolo: Bon c'est la naissance pour nous - [Well, he said, it's like a birth for us in this symphony orchestra, so it's a date we can't forget.]
And this is how they get to rehearsal. Six days a week, 90 minutes each way. Some would call it a trek. For them, it's a commute. When they get downtown, the last stretch is on a bus. What keeps them going? The music, always the music.
Sabine Kallhammer: They come here every day. They sing, and they go home. It's really amazing.
Bob Simon: It's pretty difficult to relate to that, isn't it?
Sabine Kallhammer: Yeah. Yeah. I don't think that anybody would do that with this conditions, in our country, no.
The boys and the choir have quite a repertoire now: Bach, Mendelssohn, Handel and, of course, Beethoven. The week we were there, the orchestra was rehearsing Beethoven's Ninth Symphony. Not exactly starter music, but Armand was determined to take it on and, like a good general, he reviewed all his troops.
The choir, OK. The strings? Not bad. But the full orchestra? Not quite.
French horns, he said, "You're hitting it too hard..."
"Be mindful of the echo", he told the string section.
Finally, it all came together and on the night of the performance, in this rented warehouse, Beethoven came alive. It's called the Ode to Joy, the last movement of Beethoven's last symphony. It has been played with more expertise before...but with more joy? Hard to imagine.
Thanks for reading CBS NEWS.
Create your free account or log in
for more features.