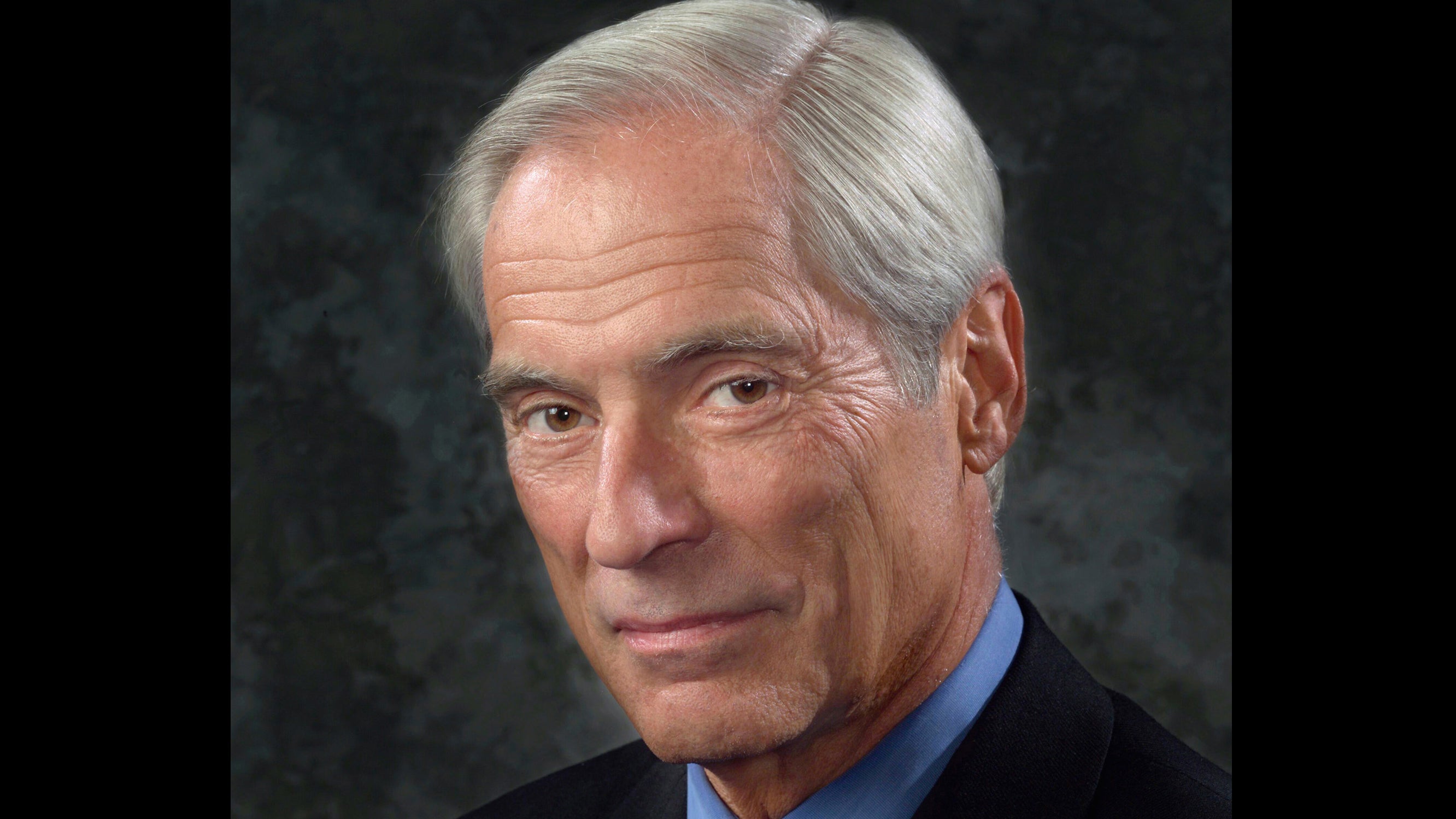 60 Minutes correspondent Bob Simon, whose decades of foreign reporting for CBS News, especially from the Middle East, where he was captured and tortured by the Iraqi Army during the Persian Gulf War, earned him singular respect and an unprecedented number of awards for his field reporting, died earlier Wednesday in a car accident in New York City.
He was 73 and lived in New York City.
Simon was preparing a 60 Minutes report on the Ebola virus and the quest for a cure for it for this Sunday's broadcast. He was working with his daughter, Tanya, a 60 Minutes producer with whom he collaborated on several stories for the program.
---
To contact 60 Minutes about Bob Simon, email rememberingbobsimon@cbsnews.com
"Bob Simon was a giant of broadcast journalism, and a dear friend to everyone in the CBS News family. We are all shocked by this tragic, sudden loss. Our thoughts and prayers are with Bob's extended family and especially with our colleague Tanya Simon," said CBS News President David Rhodes.
"It's a terrible loss for all of us at CBS News," said Jeff Fager, executive producer of 60 Minutes. "It is such a tragedy made worse because we lost him in a car accident, a man who has escaped more difficult situations than almost any journalist in modern times. Bob was a reporter's reporter. He was driven by a natural curiosity that took him all over the world covering every kind of story imaginable. There is no one else like Bob Simon. All of us at CBS News and particularly at 60 Minutes will miss him very much," said Fager.
The message the peripatetic Simon left on the voicemail of his New York office phone for many years said it all: "I am out of the office and may be for months..." Such was the wanderlust of a journalist who reported thousands of stories, 90 percent of them from overseas, during a 47-year career at CBS News. With his movie-star looks, a taste for risk and a way with words, Simon was the embodiment of the intrepid foreign correspondent. He even rode a motorcycle to the scenes of many of the stories he covered in Israel, where he was based for a good part of his career. He began riding a motorcycle again after turning 70, taking a trip from East Hampton to Maine and back in a single day in the summer of 2013.
In the early-to-mid-1980s, he covered domestic and foreign news as a national correspondent, but he preferred to traipse the globe, where he found the stories that earned him over 40 major awards, including 27 Emmys, believed to be the most ever earned by a reporter for fieldwork. In 1999, he was singled out by television's oldest and most prestigious awards to receive a rare personal honor for his body of international reporting. The citation from the Peabody Awards Committee read, in part: "In an age when neophytes with cell phones, websites and mini-cams claim to be journalists and when the debate on critical global issues often takes on a shrill tone amplified by thousands of extremist voices, Bob Simon's reports for "60 Minutes II" and "60 Minutes" ring with reason, truth and informed insight..."
Central to that Peabody award was Simon's story "Shame of Srebrenica," a "60 Minutes II" report he did on the failure of UN peacekeepers to prevent the massacre of over 8,000 civilians in the Bosnian War, the worst European war crime since WWII. The report also earned him electronic journalism's highest honor, the DuPont-Columbia University Silver Baton.
His last award, fittingly, was the Special President's Lifetime Achievement award from the Overseas Press Club - its highest honor -- given to him in April 2014. The year before, he earned another Peabody, his fourth, for his remarkable story "Joy in the Congo," about the world's only all black symphony orchestra founded amid the unlikeliest of circumstances in the heart of the African continent.
Simon covered 35 overseas conflicts and he nearly paid the ultimate price many times. In addition to several short detentions, wounds and other close calls, he was imprisoned for 40 days by Iraqi forces during the opening days of the Persian Gulf War in 1991.
It was shortly after publicly criticizing the military's tight controls on the media that he and the other three members of his CBS News' coverage team in Saudi Arabia set off un-escorted to the country's border with Iraqi-occupied Kuwait in hopes of finding the first ground fighting. They were doing a stand-up inside Kuwait when an Iraqi army jeep approached and took them before they could get back across the border; it was a week before an Iraqi Army deserter told authorities Simon and his crew were in Iraqi Army custody. As CBS News tried desperately to free them, it quietly lobbied the news media to refrain from mentioning that Simon was Jewish, fearing his Islamic captors would kill him. In fact, the Red Cross ID he carried was issued to him with an incorrect religion: Protestant. It was an error the official handing out the cards advised him not to correct and it could have saved his life, especially in the first contact with the Iraqi soldiers. But during an interrogation and beating, an Iraqi captain slapped him and forced open his mouth and then, spitting into his mouth, called him a Jew. "I would have killed him if I could have. ..." Simon told reporters at a press conference days after his release. "And I would have had no more remorse than I had every morning when I got up and killed a cockroach in my room." Besides a starvation diet, he and his crew endured regular beatings and death threats, light deprivation, and they nearly died when allied bombs partially destroyed the Baghdad prison that held them.
Those 40 days affected him the rest of his life. Simon wrote about the ordeal in his book Forty Days (Putnam, 1992). He told the Los Angeles Times, "...This was the most searing experience of my life," he said. "...I wrote about it because I needed to write about it."
Simon's war reporting began in 1969 when, after two years of proving himself in New York, he was posted to the London Bureau. He covered Biafra's war for independence in Nigeria and the troubles in Northern Ireland, where he was beaten severely by a Protestant mob in Belfast. He went to Saigon in 1971 to cover the Vietnam War and its spillover to Cambodia. His reporting earned him the coveted title of correspondent, which CBS News announced in the summer of 1972. The dangerous assignment also brought him his first honors, an Overseas Press Club award for his television reports on the North Vietnamese spring offensive. He returned in 1975 to cover the American pullout and left Saigon on one of the last helicopters, again winning accolades from the OPC for his radio dispatches on the final days of the war.
He continued to be drawn to hot spots, getting his first taste of the perpetual violence in the Middle East, the region he became best known for covering, in the Yom Kippur War between Israel and Egypt in 1973. He then covered wars in Portugal and Cyprus. He was sent to the Tel Aviv bureau in July 1977 and reported on Egyptian President Anwar el-Sadat's historic visit to Israel. "Miracles never cease," he said, as he told the story he called one of the three biggest he ever covered. It won him his sixth OPC awards, this one for Best Radio Spot News.
He spent the next four years reporting from Israel and got a great scoop - and scare -- in December 1978. Simon found out Golda Meir had died before even Prime Minister Menachem Begin was told. He reported the news on CBS Radio immediately and asked Begin, who had just finished a speech, what he thought of her passing. The PM was unaware? So how could it be true wondered Simon. He was mortified, thinking he made the blunder of his career, but the news turned out to be true.
He came back to the States in the summer of 1981 to replace Diane Sawyer as State Department correspondent. Despite his Washington posting, he managed to get overseas to cover conflicts in the Falkland Islands of Argentina and in Beirut, Lebanon, where he learned he would be named a national correspondent. The new assignment meant domestic reporting chores, such as the 1984 elections and stories on American culture. But Simon still went to war zones in Guatemala, El Salvador and India and covered other foreign stories, such as President Reagan's trips abroad. He also returned to Vietnam, where his series of reports on the 10th anniversary of the end of the war for the "CBS Evening News" won him his third Emmy.
In 1987, he was sent back to Tel Aviv as the bureau's principal correspondent and over the next 20 years, he became more well-known in Israel than in the U.S. He reported from every Middle Eastern country at the time except for Iraq. Most of the time, the story was in Israel, but his talent was put to use wherever the big news overseas broke out. He was reporting from the streets of Bucharest when the Romanian Dictator Nikolae Ceausescu was toppled and he wound up held at gun point for several hours. He was in Tiananmen Square for the student protests in China, doing reports that were part of CBS Radio News coverage that won a 1989 Peabody.
The main story in Israel at the time was the First Palestinian Intifada, and he found victims on both sides of the conflict, often angering the Israeli government - something he would do often in his career. In one infamous story, Simon's cameraman used a telephoto lens to capture the agonizing images of Israeli soldiers using rocks to break the bones of young Palestinians who had hurled stones at them.
He often rode to the violent scenes on his motorcycle. The bike gave him an advantage he said, when roads became clogged in the aftermath of Palestinian suicide bomb attacks, he could ride on the shoulder past the traffic jams.
Simon found another advantage in Israel, this one by intentionally losing on the tennis court to the country's Prime Minister, Yitzhak Rabin. A regular husband-wife doubles game would end on a handshake if the prime minister lost, recalled Simon in a 60MinutesOvertime segment for the 60 Minutes Web site. But if Rabin and his wife won, Simon and his wife, Francoise, would be invited to the PM's home, where a scotch-drinking Rabin gave Simon good information for stories.
If their relationship made the assassination of the popular prime minister in 1995 harder to cover for Simon, he was never better. His reports on the assassination, a 60 Minutes interview he did with Israeli opposition leader Benjamin Netanyahu, and his funeral report formed the core of coverage that won 60 Minutes and the "CBS Evening News" a joint Peabody award. The "CBS Evening News" reports he did also took two Emmys.
A few months later, in 1996, he began contributing several stories a year to 60 Minutes, beginning with a profile of the terrorist group Hezbollah. Most of the stories were from the Middle East, but the news magazine work gave Simon more time to craft thoughtful pieces and profiles, including an amusing, Emmy-winning interview with Italian actor/filmmaker Roberto Benigni. He would report over 200 stories for the broadcast and its spin-off, 60 Minutes II, over the next 19 years, doubling his already prodigious amount of awards.
Starting in 1999, he became a principal correspondent for "60 Minutes II," getting the new weeknight magazine off to a strong start with memorable stories and eight awards for his work on the program in its first four seasons. Among those was the much honored "Shame of Srebrenica," a report on the infamous massacre in the Bosnian War which also won an Emmy. Others that won Simon and the new program Emmys included "The Lost Children," about orphans from the UK sent to Australia, where many were abused, and "The Lost Boys," on the odyssey of several thousand boys fleeing the Sudanese civil war, a story Simon followed up on for 60 Minutes in 2013.
When he was named a full-time correspondent for 60 Minutes in 2005, he began doing some of his finest work, taking the 60 Minutes audience to faraway places on exotic stories. In the Indian Ocean, he reported on the sea-going Moken people, so nomadic that their language had no words for "time," "hello" or "goodbye." On the Island of Flores in the same region, he reported on the evolutionary notion that on small islands, big animals eventually get smaller so they can live on less food. Standing in a cave where the remains of what scientists surmise were a smaller form of humanoid dubbed a Hobbit, Simon said to a scientist, "What you are picturing...is that at some point where we are standing now, there were a bunch a very little people, sitting around and cooking a very little elephant." Both stories won Emmys.
Of all the remote and exotic places Simon had experienced throughout his long career, none compared to Greece's "Holy Mountain," where he came in late 2010 to document the lives of Orthodox Christian monks. It was the first time in 31 years that cameras were allowed to capture the setting and tradition of constant prayer that had not changed in over a thousand years. "Mt. Athos" became an instant 60 Minutes classic.
Simon continued to provide the 60 Minutes audience with great insights into the swirling issues of the Middle East, particularly Israel's worst enemies, the suicide bombers. He conducted interviews with failed suicide bombers, including Palestinian women, and the terrorist commanders who orchestrated the plots. He scored two major news-making interviews for 60 Minutes in 2003 after the start of the Iraqi War: the first Western interview with militant Iraqi cleric Muqtada al Sadr and another with his exiled Shiite rival, the Ayatollah al-Hakim, who was assassinated shortly after the interview.
Robert David Simon was born in the Bronx, New York, on May 29, 1941, a few blocks from Yankee Stadium. He was an only child. His father, a German immigrant, worked on Wall Street; his mother, a Byelorussian immigrant, was an accountant. The family eventually moved to Jackson Heights, Queens, and then to Great Neck on Long Island, where he graduated from the local high school in 1958 and headed to Middlebury College in Vermont for his freshman year. Simon transferred to Brandeis in fall 1959, where he majored in history and earned his bachelor's degree in 1962.
He then got his taste for the international life when he went to France to study history and politics at the University of Lyon on a Fulbright teaching fellowship. With five months between academic years, he had plenty of time to satisfy his wanderlust, he skied in Europe. He worked on a kibbutz for a summer. Simon returned to the U.S. and worked briefly as a foreign affairs officer for the U.S. State Department before moving on to a security position with the U.S. Mission to the UN. There he met CBS News United Nations Correspondent Richard Hottelet, who helped him get a job at CBS News in 1967.
He began as a reporter-assignment editor in New York and went to work reporting on the protests against poverty and the Vietnam War on the college campuses and the inner cities before going overseas to start his remarkable career.
He is survived by his wife Francoise; daughter, Tanya, her husband, Dr. Evan Garfein, and his beloved grandson Jack, the joy of his life, pictures of whom adorned his office.
Thanks for reading CBS NEWS.
Create your free account or log in
for more features.