Grade School Visual And Performing Arts Programs Spark Future Career Paths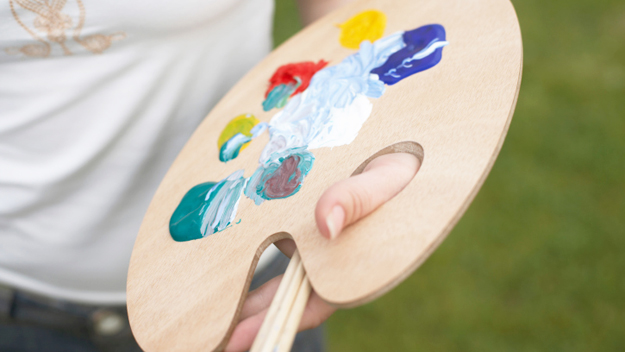 Painting (Photo Credit: Thinkstock)
This article is presented in partnership with CA Lottery.
Visual and performing arts have been required subjects for children in California schools since 2000. California's State Board of Education adopted specific content standards for these subjects a year later, identifying goals that include artistic perception, creative perception and historical and cultural context. For elementary school kids, this is very good news. More than just a capricious nod to the budding Picassos among us, a focus on the arts, including painting and drawing programs, support brain development, emotional intelligence and problem solving skills. It can also provide a tactile experience, providing sensory stimulation and a sense of mastery. Arts programs in young children have been shown to increase feelings of self-esteem, leading to potential career choices later in life within applied art fields, such as fashion design, decorative arts and industrial design.
A Focus on Careers and Career-Related Skills
The Visual and Performing Arts Content Standards for California Public Schools (PDF) emphasizes a grade-by-grade focus, allowing for children's learning styles, interests and abilities to be addressed and creating consistency between grades.
Children as young as pre-kindergarteners are given instruction throughout a wide range of contexts, seen through a visual arts lens. The Content Standards include an emphasis on a Careers and Career-Related Skills module, which gets kids thinking and experiencing art in practical ways. This focus extends throughout elementary school, introducing broad-based, future applications within the applied arts fields.
The curriculum for each grade includes:
Pre-Kindergarten – Discussions about how favorite picture books and stories come alive through art illustration.
Kindergarten – Learn about the types of media artists use to create works of art, such as paintings, ceramics and sculpture.
First Grade – Acquire an understanding about seeing the art and the artist's vision in everyday objects, like furniture and cars.
Second Grade – Learn about community-centric artists and their craft, with a focus on various mediums like ceramics, print-making and sculpture.
Third Grade – Explore the inquiry, how do artists, like architects and industrial designers, affect people's lives?
Fourth Grade – Learn how cultures and time periods affect the lives of artists and the type of art they make.
Fifth Grade – Research how artists, like architects and animators, have an impact upon our everyday environment.
Children Benefit and So Do Schools
It's a critical time for arts education in California's public schools. In order to enhance learning of the arts and produce well-rounded students and future citizens, the State adopted instructional materials in visual arts and other subjects for grades K-8. Current law allows school districts to use this earmarked funding for materials after purchasing the materials they require for language arts. Studies indicate that children do better and learn better when art is part of the curriculum. Schools thrive too, with happier, well-rounded children in attendance, ready to learn and take on the world.
Corey Whelan is a freelance writer in New York. Her work can be found at Examiner.com.
Thanks for reading CBS NEWS.
Create your free account or log in
for more features.