Multi-Vehicle Crash On Roosevelt Boulevard Leaves 11-Year-Old Boy, Woman Dead, Others Injured
PHILADELPHIA (CBS) -- An 11-year-old boy and a 34-year-old woman are dead after a violent crash in Philadelphia's Olney section Saturday morning that left five others injured, police say. The crash happened on the 4300 block of Roosevelt Boulevard around 12:10 a.m.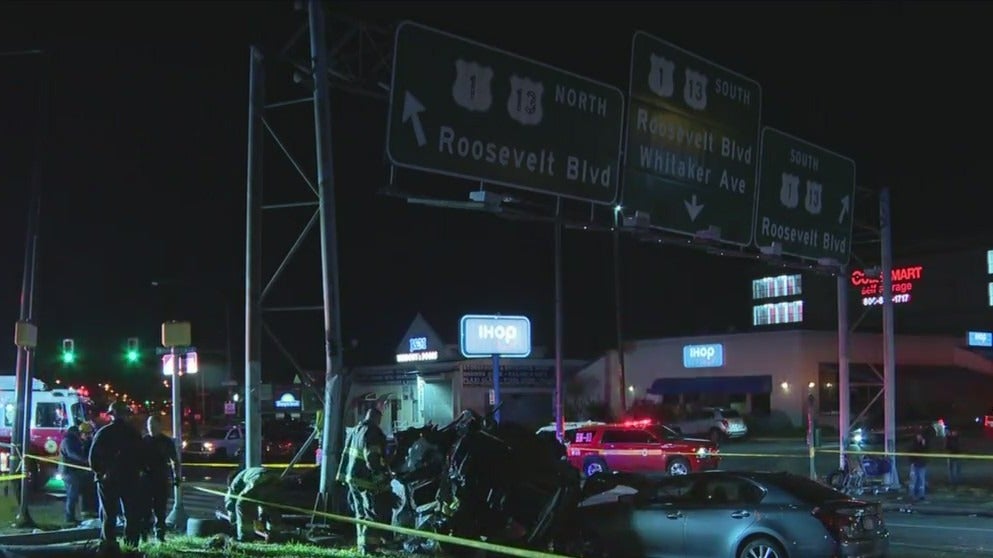 Police say a 2007 Chevrolet Tahoe was traveling southbound on Roosevelt Boulevard in the outer lanes when the operator, a 57-year-old man, lost control of the vehicle, struck the curb, and flipped the vehicle into two other cars that were stopped at a red light on Whitaker Avenue.
The 11-year-old boy, later identified as Tai'rhey Brown, and 34-year-old Amber Shanta Brown were passengers in the Tahoe. Officials pronounced them dead on the scene.
"It's scary," Jasmine Abney, of Northeast Philadelphia, said.
She held her 3-year-old son tight, and 12-year-old niece close as they cross the street next to remnants of a deadly accident just hours before.
The 57-year-old driver of the Tahoe was transported to Einstein Medical Center and placed in critical condition. A 15-year-old boy and a 12-year-old girl were also inside the vehicle. The boy was placed in critical condition, while the girl is in critical but stable condition, according to police.
Both people inside a Lexus stopped at the red light were taken to Einstein with non-life-threatening injuries, police say. The person inside the other car involved in the crash didn't suffer any injuries.
"It's always been a problem with speeding," Abney said. "No cars ever stop when you're walking or crossing the street."
Investigators told CBS3 speed was a factor in the crash, saying the Tahoe was going a high rate of speed at the time of the collision.
"After the Tahoe struck the overhead sign at Whittaker and the boulevard, it was dislodged from its base," Chief Inspector D.F. Pace.
"You had to have force for that to happen," Abney said.
Residents told Eyewitness News this is not unusual for this intersection.
"It's kinda sad," North Philadelphia resident Heriberto Jackson said. "Roosevelt Boulevard is a place where nonsensical accidents usually happen."
The cleanup from the crash led to traffic issues in the surrounding streets. However, the focus now turns to neighbors and visitors being on high alert.
"I'm constantly looking both ways when I'm crossing," Jackson said.
It's not only traffic that's affected. Businesses in the area have seen a drastic difference in customers. Kazi Juber, a local Sunoco employee, said it's hurting business.
"All morning no customer. This side bad. This side bad. Closed. No customer coming inside," Juber said.
The accident investigation division is reviewing surveillance video from nearby stores to reconstruct the scene.
CBS3's Alecia Reid contributed to this report.
Thanks for reading CBS NEWS.
Create your free account or log in
for more features.